How to Crafting POE Omniscience Amethyst Ring with High Attributes?
Welcome Exiles! In today's Profit Crafting article, we'll be discussing how to craft an Omniscience Amethyst Ring with high attributes. This guide will take you through the step-by-step process of creating a powerful ring that can greatly enhance your character. So let's dive right in!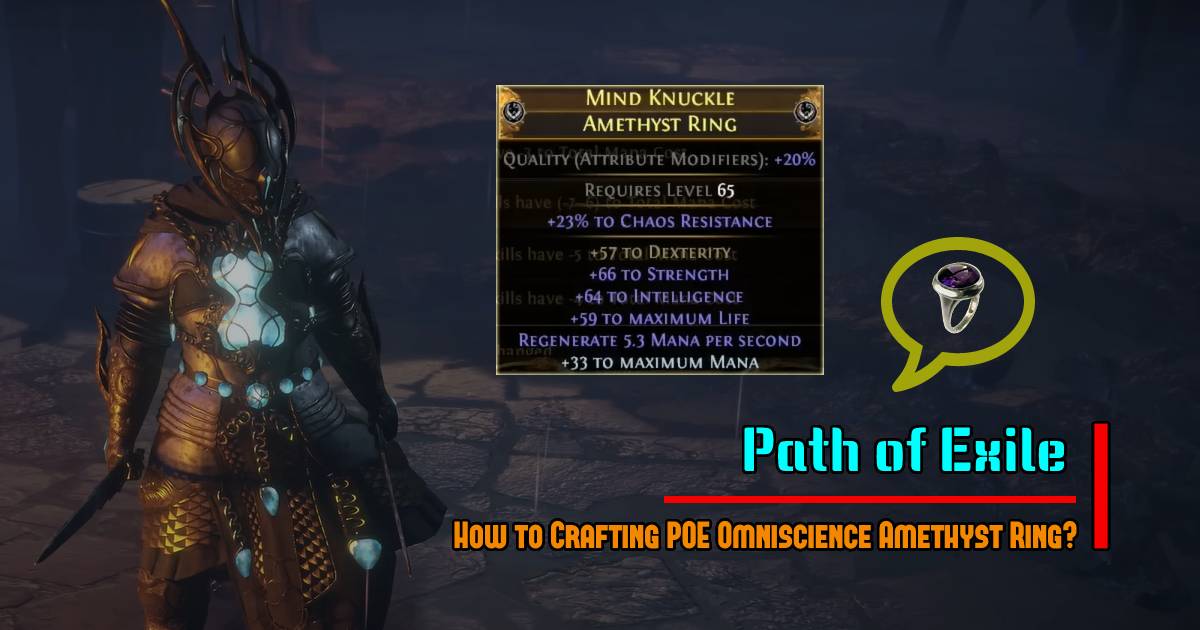 ↖ Look for a fractured amethyst ring
Firstly, we need to acquire a suitable base for our crafting project. Look for a fractured amethyst ring with either strength and dexterity or intelligence as the fractured modifiers. Tier 1 fractures can be quite expensive, so a tier 2 fractured ring will suffice. You can find one through trade, and it shouldn't cost more than a divine. Once you have the base, let's begin the crafting process.
↖ Remove any existing modifiers
Start by scouring the ring to remove any existing modifiers, reducing it back to a magic item. After that, apply 10 intrinsic catalysts to add 20% quality to the attributes of the ring. This will increase the potential of the final crafted item. Next, we'll use Blessed Orbs to maximize the implicit modifier of the ring, bringing it to a 23% roll.
↖ Roll the ring using essences
Now it's time to roll the ring using essences. We'll be using Deafening Essences of Spite to force Tier 1 intelligence onto the ring. Since the ring already has a fractured dexterity modifier, we can't remove it. With the essence crafting, we're aiming to hit high tiers for all three attributes. At this point, we have two out of three attributes covered, so we need to focus on obtaining a high-tier strength roll for the remaining suffix. If we succeed in getting a Tier 1 strength roll with a maximum roll, it would be perfect. However, since all six slots are currently occupied, we'll need to use a Null's Inclination and hope for a prefix. If you accidentally remove the strength or intelligence modifier, you'll have to go back to using essences to find a suitable base.
↖ Using the crafting bench
Moving on, we must craft Suffixes cannot be changed using the crafting bench. This can be done either by spending two divine orbs or by using a Wild Bristle Matron bult, which only costs one divine orb. With the suffixes locked, we can proceed to the next step.
↖ Suffixes and prefix
Now we want to unveil the Life mod as a prefix. Since the suffixes are locked, we can use a Veiled Chaos Orb to add a veiled prefix to the ring. To unveil the crafted ring, we'll need to use Jun, the Veiled Master. This step ensures that our ring obtains the desired life roll as a prefix. Once again, perfection!
↖ Mod
Lastly, we'll replace the Beechcraft with the Non-channeling skills have -7 to mana cost mod. This is an unveiled mod that provides a powerful attribute to the ring. If you don't have this mod unlocked yet, don't worry. You can leave the ring as is or seek to unlock the mod through additional crafting methods.
↖ Pricing
Your Omniscience Amethyst Ring is now complete, with one open prefix remaining. If the buyer wishes to exalt slam the ring, they can do so at their discretion. In terms of pricing, the exact values of the attributes will have a significant impact on the final value. However, as a rough estimate, a ring of this caliber could fetch anywhere between 8 and 10 divines.
The total cost of crafting this ring was just under four divines, including the base fractured ring, essences, and the Wild Bristle Matron. Keep in mind that prices may vary based on market fluctuations. We hope you found this crafting guide helpful in your path to creating powerful items in Path of Exile.
Most Popular Posts
Popular Category Lists