PoE Unique Dissolution of the Flesh Crimson Jewel Mechanics Guides
Welcome to another fascinating article where we explore the intricacies of Path of Exile. Today, we'll dive into an obscure interaction involving Dissolution of the Flesh, a unique tool dropped exclusively by the Searing Exarch boss. This mechanic adds a layer of complexity and opens up new possibilities for character builds. Join us as we delve into this lesser-known aspect of the game and discuss its potential implications.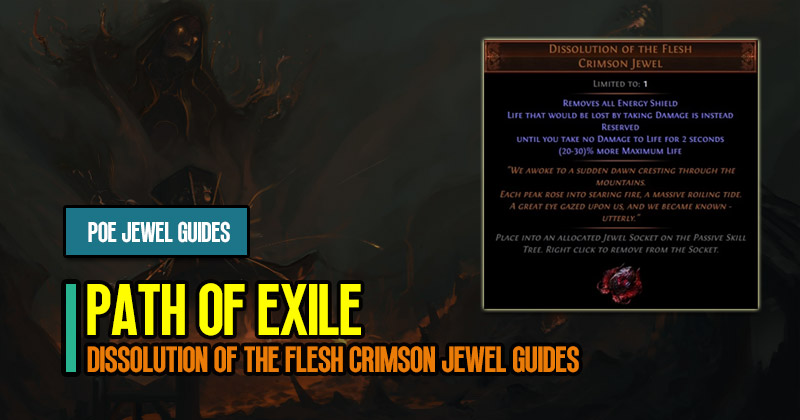 ↖ Understanding the Interaction
To begin, let's briefly explain the interaction and then showcase how it functions in-game. When Dissolution of the Flesh is socketed into your build, reserving 100% of your life will result in death. Initially, this may seem straightforward. However, what sets this mechanic apart is its interaction with reservation skills.
Typically, reserving life with reservation skills lowers your effective health. Yet, with Dissolution of the Flesh active, whenever you take damage that would reserve your entire life and potentially kill you, the oldest reservation skill will automatically become unreserved. In turn, you'll begin reserving life in place of that skill instead.
↖ Demonstrating the Mechanic in-game
To provide a clearer understanding, let's showcase this interaction in action. Imagine a character equipped with Dissolution of the Flesh and three reservation skills linked with Arrogance Support. When activating these skills, life starts to reserve, reducing your effective health. However, as you take damage, the oldest reservation skill will drop off, allowing you to continue reserving life against that pool of health.
The significance of this interaction lies in mitigating one of Dissolution of the Flesh's downsides—losing all energy shield. This unique jewel removes your access to Eldritch Battery, a powerful mechanic that enables additional auras through Divine Bastion. By utilizing the reservation mechanics explained earlier, you can now reserve additional auras against your life, essentially maintaining your effective health pool while enjoying the benefits of offensive auras.
↖ Synergies and Considerations
Arrogance Support: This gem synergizes well with Dissolution of the Flesh, as it offers increased life reservation efficiency. However, keep in mind that Arrogance Support comes with a high reservation multiplier, making it challenging to reserve high-cost auras.
Petrified Blood: Combining Dissolution of the Flesh with the Petrified Blood keystone and overleech mechanics can be problematic if you reserve more than 50% of your life. Such reservations may prevent access to the full potential of overleech.
Prism Guardian & Blood Magic: An interesting synergy emerges with Prism Guardian, a unique shield that allows socketed gems to reserve life instead of mana, along with increased reservation efficiency. This enables you to reserve multiple damage auras against your life without suffering from exorbitant reservation multipliers. Combining it with Blood Magic and additional life reservation efficiency can further enhance your build's potential.
↖ Intended Mechanic or Bug?
While this interaction opens up exciting possibilities for build customization, the question arises: Is this an intended mechanic or a bug? Speculatively, it appears that Dissolution of the Flesh has a higher priority in the reservation order compared to reservation skills. When damage would normally be fatal, Dissolution of the Flesh supersedes reservation skills and reserves life in their place. However, it remains uncertain if this behavior is intentional or unintentional.
↖ Conclusion
The peculiar interaction involving Dissolution of the Flesh adds a new dimension to character building in Path of Exile. It provides an avenue to reserve offensive auras against your life without compromising your effective health. While synergies with skills like Arrogance Support, Petrified Blood, and Blood Magic exist, the standout combination lies with the Prism Guardian shield, which allows for efficient life reservation while preserving access to your mana pool for defensive auras.
Most Popular Posts
Popular Category Lists