How to Create Strong Diablo 4 Builds?
Today we're going to talk about how to make a good build in Diablo 4. This article won't go into the exact specifications of the build you should play, but with the information available through data mining and beta testing, we have a good understanding of what makes a strong build in Diablo 4. So let's get started!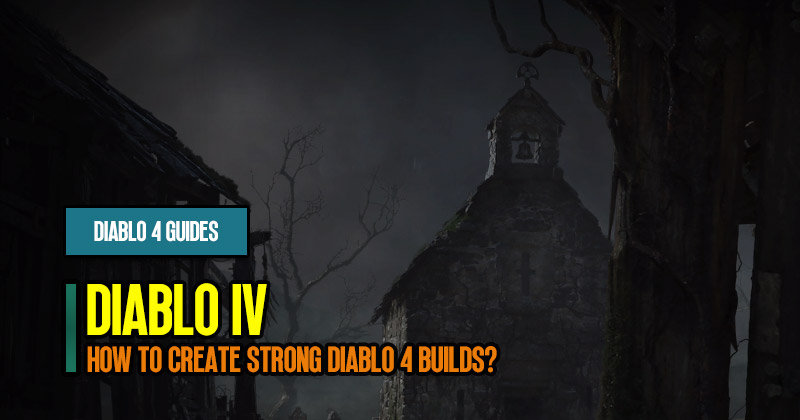 ↖ The Goals of a Build
When starting a new character in Diablo 4, you'll have a basic skill that serves as a filler or provides a unique effect. However, as you level up, these basic skills won't keep up with the core skills that constitute the bulk of your damage. So, one of the main goals of a Diablo 4 build is to replace your basic skill with more powerful ones.
↖ Damage Buckets
Understanding how damage scales in Diablo 4 is crucial for building an effective character. Damage multipliers in the game fall into different categories called damage buckets.
Here's a breakdown of these buckets:
All Damage: This includes your skill tree and legendary aspects. Your main stat, like intelligence for Sorcerers, also contributes to all damage.
Attack Speed: Some skills in Diablo 4 multiply your character's damage based on attack speed.
Critical Hit Chance: Crit chance is additive. If you have 50% crit chance and then gain an additional 30%, you'll have a total of 80% crit chance.
Critical Strike Damage: This multiplier affects the damage of critical hits.
Damage Versus: This bucket includes damage bonuses against targets with specific conditions, such as burning, crowd control, or being an elite.
Damage While Healthy: Some skills provide a damage multiplier based on your character's health condition.
Damage With: This multiplier depends on the conditions of your skills. For example, if you have damage with burning and damage with basic skills, it affects the damage output of skills like Firebolt.
Damage Vulnerable: Vulnerable damage is significant in Diablo 4. The baseline vulnerable damage is 20%, but you can increase it with gear and Paragon points. Having a high uptime on vulnerable status is crucial for an effective build.
↖ Defensive Options
In Diablo 4, every character needs multiple defensive options. Damage reduction is an important aspect of survivability. Aim to have around 90% damage reduction across various sources. Additionally, having a big defensive cooldown ability is vital for tough situations.
↖ Balancing Clearing and Bossing
To excel in Diablo 4, you'll want a character that can clear dungeons efficiently and handle bosses effectively. Most characters should be able to handle both aspects reasonably well. However, there might be specific builds optimized for boss encounters.
↖ Considerations for Conditional Mechanics
In Diablo 4, everything is conditional. Skills, damage bonuses, and defensive abilities rely on specific conditions being met. It's essential to assess the consistency of these conditions in your endgame build. For example, relying on reduced damage from burning targets may not be reliable if your skills don't consistently apply the burning effect.
↖ Lucky Hit
Pay attention to skills with lucky hit mechanics. Lucky hit chance can vary depending on the skill, and some skills grant additional hits under specific conditions. Understand how lucky hit mechanics work for your chosen skills and factor them into your build strategy.
In conclusion, building a strong character in Diablo 4 requires understanding the damage buckets, choosing effective defensive options, and considering conditional mechanics. While the exact best build may still be uncertain, investing time in theory crafting and practice will give you an advantage when the game is released.
Most Popular Posts
Popular Category Lists