Diablo 4 Hardcore Guide: Essential Hotkeys and Macros Tips
Diablo 4 offers an exhilarating hardcore mode that challenges players to brave the treacherous world of Sanctuary with the constant threat of permanent death. Optimising your gameplay and making the most of available resources is crucial to survive and thrive in this unforgiving mode. This guide discusses a critical aspect of hardcore play and offers tips to avoid untimely demise during intense encounters.
↖ Mastering the Art of Hotkeys for Consumables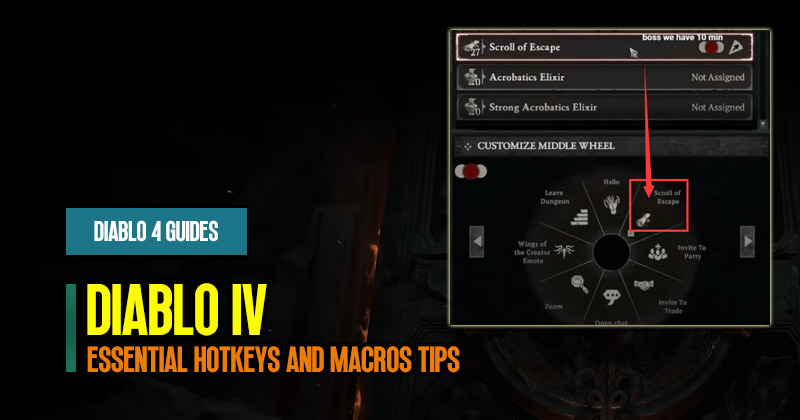 One of the critical survival elements in Diablo 4's hardcore mode is effectively utilizing consumables like the Scroll of Escape or Elixir of Cleansing. These items can be lifesavers, providing an escape route or mitigating dangerous debuffs.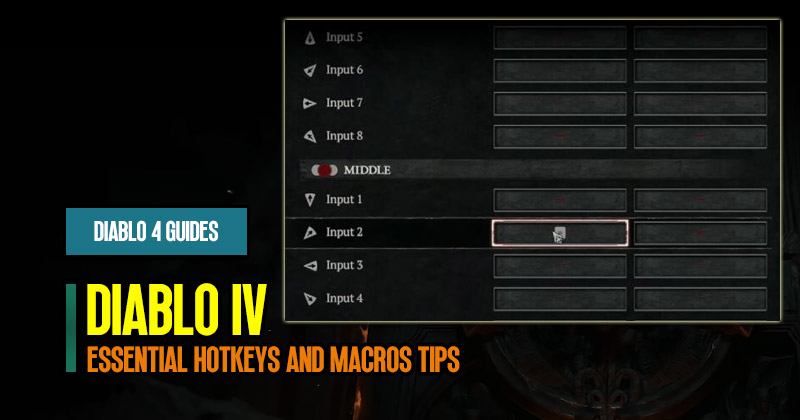 ↖ Configuring Hotkeys for Consumables
To ensure quick and efficient use of consumables, navigate to the options menu and find the controls section. Scroll down to the "Wheel Left," "Wheel Middle," and "Wheel Right" options. While using the mouse wheel like a controller may be tempting, we recommend setting up specific hotkeys for each consumable.
↖ Assigning Hotkeys for Quick Response
Choose a consumable, such as the Scroll of Escape, and assign it to a hotkey of your preference. This can be done by clicking on the corresponding control input field and pressing the desired key or mouse button. Setting a dedicated hotkey eliminates the risk of misclicking or struggling with mouse positioning during critical moments.
↖ Creating Macros for Efficiency
For players seeking ultimate convenience, consider creating macros that execute a sequence of actions rapidly. For instance, you can set up a macro that presses one hotkey, pauses briefly, and then presses another. This can be particularly helpful when using multiple consumables in quick succession.
↖ The Benefits of Hotkeys in Hardcore Mode
Having consumables readily accessible through hotkeys offers several advantages for hardcore players. First and foremost, it significantly reduces the response time during emergencies, allowing you to react swiftly when your character's health or safety is in jeopardy. Moreover, hotkeys streamline the gameplay experience, eliminating the need to navigate menus or rely on imprecise mouse-wheel scrolling.
↖ Conclusion
Surviving in Diablo 4's hardcore mode requires skill, strategy, and optimal resource management. One aspect that should not be overlooked is setting up hotkeys for consumables, enabling quick and efficient access to crucial items when facing dangerous encounters. Following these tips and customizing your controls to suit your playstyle'll enhance your chances of emerging victorious in the challenging world of Diablo 4's hardcore mode.
Most Popular Posts
Popular Category Lists