Diablo 4 Patch 1.0.2 Shred Werewolf Gold Farming Druid Build
This guide will introduce you to the fastest Druid build in Diablo 4, the Shred Werewolf. This build revolves around the Primal Shred upgrade, which allows you to teleport to mobs every time you use the Shred skill. With high mobility and devastating crit damage, this Druid build excels in Diablo 4 Gold Framing. While there are two unique items that complement the build, they are not essential to play it effectively. We will walk you through the starting point of the build and how to transition into its final form.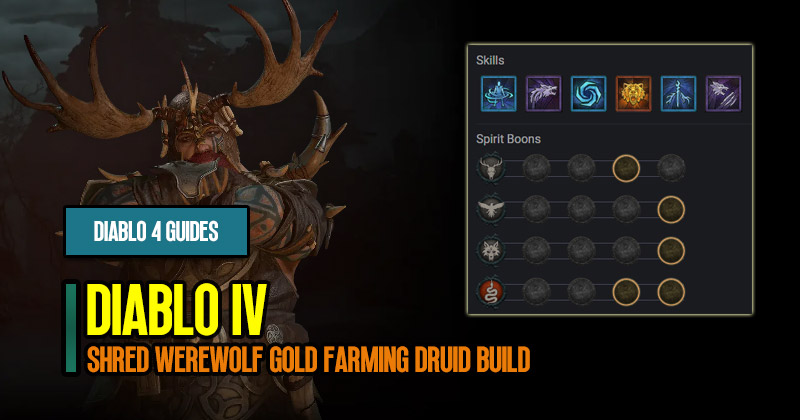 ↖ Build Overview
The Shred Werewolf build focuses on utilizing the Primal Shred upgrade, which enables teleportation to enemies with every Shred attack. The core mechanic of this build is the combination of the unique items, Waxing Gibbous and Tempest Roar. Waxing Gibbous grants 100% crit chance on all werewolf skills for a short duration after killing a monster, while Tempest Roar allows the use of storm skills in direwolf form. The build capitalizes on these effects to achieve high crit chance, damage reduction, and self-healing.
Build Links: https://d4builds.gg/builds/2bf62731-c202-4dfe-92b0-a99e22302f1a/
↖ Playstyle
The playstyle of the Shred Werewolf build revolves around finding weaker monsters to trigger Waxing Gibbous and then diving into packs of stronger enemies. By doing so, you can take advantage of the high crit chance and deal devastating damage. The build excels at both AoE clearing and boss fights, allowing you to quickly dispatch hordes of enemies or delete bosses with a well-prepared crit combo.
↖ Skills
Storm Strike (upgraded): Provides damage reduction and applies vulnerability to enemies, making it useful for boss fights and tougher encounters.
Shred (upgraded): The core attack skill of the build, teleporting to enemies and dealing increased crit damage. Also provides self-healing.
Cyclone Armor (upgraded): Offers constant damage reduction, which is crucial for melee characters diving into packs of enemies.
Hurricane (upgraded): Combos with Waxing Gibbous, providing a 100% crit chance. Offers damage reduction and self-healing through the Masochistic passive.
↖ Aspect and Upgrades
Grizzly Rage (upgraded): Transforms you into a direwolf, providing damage reduction and making you unstoppable while active. Combos with Rampaging and Supreme Grizzly Rage for fortify bonuses and damage reduction.
Lupine Ferocity (upgraded): Every sixth werewolf skill hit critically strikes, providing additional damage output and synergizing well with Hurricane.
↖ Recommended Uniques and Gear
Tempest Roar (Helmet): Allows the use of storm skills in direwolf form, enhancing your capabilities.
Waxing Gibbous (Weapon): Provides 100% crit chance on werewolf skills for a duration after killing a monster.
Disobedience (Pants): Offers significant armor, enhancing survivability.
↖ Optimal Affixes on Gear
Focus on acquiring damage reduction, fortify, and crit chance affixes on your gear. Look for items with high item power and duration on Waxing Gibbous. Cooldown reduction and invenom ranks are also valuable on the necklace.
Conclusion:
The Shred Werewolf build in Diablo 4 offers exceptional speed, damage, and survivability. With the Primal Shred upgrade, you can teleport to enemies effortlessly, dealing devastating crit damage. While the unique items, Waxing Gibbous and Tempest Roar, enhance the build, they are not essential for its core mechanics.
Most Popular Posts
Popular Category Lists