Diablo 4 Haunted Refuge Dungeon: Farming EXP, Gold and Items Guides
Welcome to Haunted Refuge, an eerie dungeon nestled in the world of Diablo 4. This once sacred place, an old decayed church, now lies in ruins, flooded by both water and the presence of menacing creatures. Prepare to explore its haunting depths, for there is no final boss lurking within its confines. If you dare to face the horrors that await, venture forth to Hawezar, where Haunted Refuge awaits your arrival. Today we have an exciting farming guide for Diablo 4. This guide explores excellent dungeons for farming experience, Gold and Items: Haunted Refuge and Additional Farming Locations.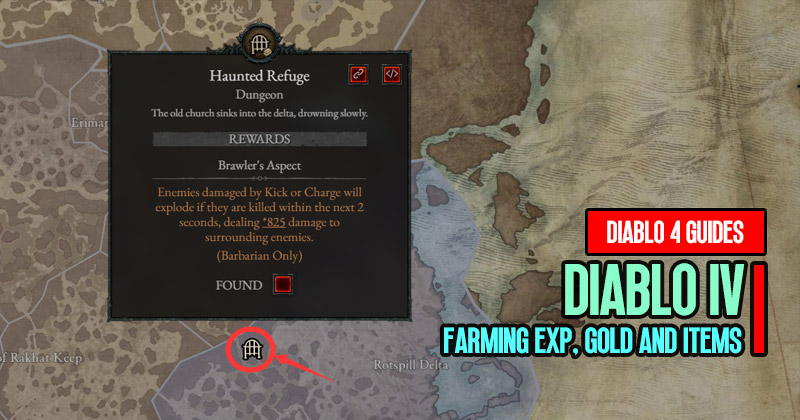 ↖ Location
Haunted Refuge - Act 5, accessible from Backwater. It takes approximately 20 seconds to travel from Backwater to the dungeon entrance.
The Haunted Refuge dungeon is situated just north of Backwater, near the ruins of Rocket Keep (previously known as Iron Hold). Some speculate that the name "Backwater" might reference Blackwater from Game of Thrones, but that's open to interpretation. For our guide, we'll refer to it as Haunted Refuge.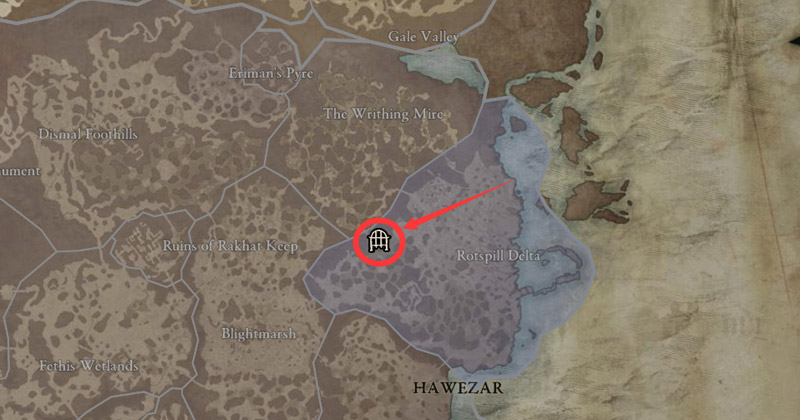 ↖ Dungeon Layout and Mechanics
Haunted Refuge and Uldur's Cave share similar mechanics with the Slay All feature. However, there are some differences to note. In Haunted Refuge, you must complete the first part of the dungeon and find two objectives. These objectives can be retrieved simultaneously by splitting your party, with each player going after one item. When one player returns an objective, it resets the cooldown for the rest of the team, allowing for faster progress.
↖ Farming Tips
Group Play Recommended: It is recommended to tackle these dungeons with a party of two or more players. This way, you can efficiently divide and conquer, maximizing your farming efficiency.
Coordination is Key: Communicate with your team to plan your movement across the map and ensure smooth progress. Splitting up to retrieve objectives simultaneously can speed up the process.
Take Advantage of Cooldown Resets: When a player returns an objective, it resets the cooldown for the entire team. Use this opportunity to maintain a fast pace and reduce downtime.
Efficient Monster Clearing: If you've retrieved an objective and are waiting for your team to return, you can clear nearby monsters without rushing ahead. Once your team regroups, move on to the next part together.
↖ Haunted Refuge vs Uldur's Cave
Haunted Refuge offers the best farming experience due to its narrow map size and high monster density. The slay-all feature is available in a more confined space, allowing for effective teamwork and faster farming. On the other hand, Uldur's Cave provides various monsters, including humanoids, which may drop certain items at higher rates. However, Uldur's Cave has more backtracking and a slower experience gain than Haunted Refuge.
↖ Additional Farming Locations
↖ - Demon's Wake
Although slightly challenging, Demon's Wake remains a viable farming spot with numerous elite packs. However, be prepared for tougher encounters.
↖ - Sirocco Caverns (Solo Farming)
If you prefer solo farming, Sirocco Caverns is a good option. Check out our guide on this dungeon for more details.
↖ Note on Experience Reduction
As you level up beyond 95, you may experience a reduction in experience gains and Diablo 4 Gold. Monster levels become fixed at level 95, causing a slight decrease in experience earned. Keep this in mind while comparing your experience gains to those shown in the guide.
Collecting Stones and Storm Carvings
The dungeon is divided into three parts. The first part involves collecting Stones from Pedalair for the pedestals and storm carvings. This section takes around two minutes to complete. Although the mob density isn't exceptionally high, it's worth clearing the area for approximately 240,000 experience points. If you're in a group, it becomes quicker and more accessible, but for solo players, efficiency is key. Avoid unnecessary detours and focus on clearing the area efficiently.
Conclusion
With the knowledge gained from this guide, you are now equipped to embark on fruitful farming expeditions in Diablo 4. Haunted Refuge and Sirocco Caverns provide excellent experience gain and item drops opportunities. Remember to adapt your farming approach based on your party size and playstyle.
Most Popular Posts
Popular Category Lists