Diablo 4 Ring of Mendeln Maximizing Power of Necromancer Builds
In Diablo 4, the Ring of Mendeln is an often misunderstood item with tremendous potential for supercharging a minion build. This guide aims to clarify its mechanics and address the misconceptions surrounding it. With the Ring of Mendeln, players can empower their minions and unleash devastating attacks. Learn how to make the most of this powerful item in your Necromancer build.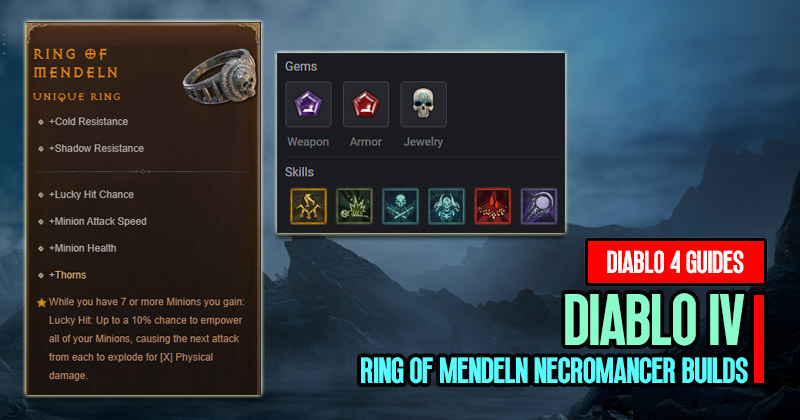 ↖ Understanding the Ring of Mendeln
The Ring of Mendeln grants you a lucky hit chance when you have seven or more minions. This lucky hit chance can range from 1% to 10%, as indicated by the "up to 10" prefix. When triggered, it empowers all of your minions, causing their subsequent attacks to explode for a whopping 13,000 physical damage. To clarify, the 10% chance refers to the lucky hit triggering, not the chance to activate the Ring of Mendeln.
↖ Stacking Lucky Hit Chance
To effectively utilize the Ring of Mendeln, increasing your lucky hit chance is crucial. The higher the chance, the more frequently you'll trigger lucky hits and empower your minions. Look for items that provide lucky hit chance bonuses. For example, the How from Below offers a 16.5% bonus. It's important to note that lucky hit chance bonuses stack additively, not multiplicatively. Combine these bonuses to maximize your overall lucky hit chance.
↖ Optimizing Weapon Choice
While using the Ring of Mendeln, your weapon choice becomes crucial. The Bloodless Scream, although popular, does not grant any lucky hit chance. However, each weapon type in Diablo 4 offers specific bonuses. Scythes, for instance, always provide lucky hit chance, and the higher the item level, the higher the lucky hit chance bonus. Consider using one-handed weapons to take advantage of their consistent lucky hit chance.
↖ Build Link
https://d4builds.gg/builds/912d0255-6a65-497a-9ccf-1e8715b166cf/
↖ Necromancer Skill Rotation
Understanding your skill rotation is essential to make the most of the Ring of Mendeln.
Here's a breakdown of a recommended Necromancer skill rotation for a minion build:
Blight: Use Blight as a slower and immobilizer. The 15% damage bonus is not critical, as the explosions from lucky hits will be your primary source of damage.
Corpse Explosion: Utilize Corpse Explosion as your main damage-dealing skill, inflicting overwhelming shadow damage on your opponents.
Grim Harvest: Allocate a single point to Grim Harvest, as the abundance of Essence generated by cult majors will provide ample resources. Additional corpse bonuses can be obtained through the Reaper's Talon.
Iron Golem: Deploy the Iron Golem to make enemies vulnerable. Combine it with Decrepify to further increase your damage output.
Gloom and Terror: Invest points in Gloom and Terror for bonus damage on yourself. Together with Shadow Blind, these skills enhance your survivability.
Talon's Addict: While Talon's Addict may seem appealing, it is not recommended due to its conditional nature. Focus on abilities that consistently contribute to your build's effectiveness.
Hellbend Commander: While Hellbend Commander provides damage, it doesn't complement the playstyle of a minion-focused build. Instead, prioritize skills that offer defense and inspire your minions.
Conclusion:
The Ring of Mendeln is a game-changing item for minion-focused builds in Diablo 4. By understanding its mechanics and optimizing your lucky hit chance, you can unleash devastating explosions with your minions' attacks. Remember to fine-tune your skill rotation to make the most of this item. Experiment with different equipment and continuously improve your build to conquer higher-level dungeons.
Most Popular Posts
Popular Category Lists