Guild Wars 2 Mystic Clovers: 8 Method to Obtain Lots of Them Without Relying on Mystic Forge
In this guide, we will explore various methods to acquire a large number of Mystic Clovers in Guild Wars 2 without relying on Mystic Forge. Whether you're crafting legendary items or simply looking to stock up on Mystic Clovers, these alternative sources will help you avoid the uncertainty of Gambling in Mystic Forge. Read on to discover the different vendors, activities, and rewards that can provide you with an abundance of Mystic Clovers.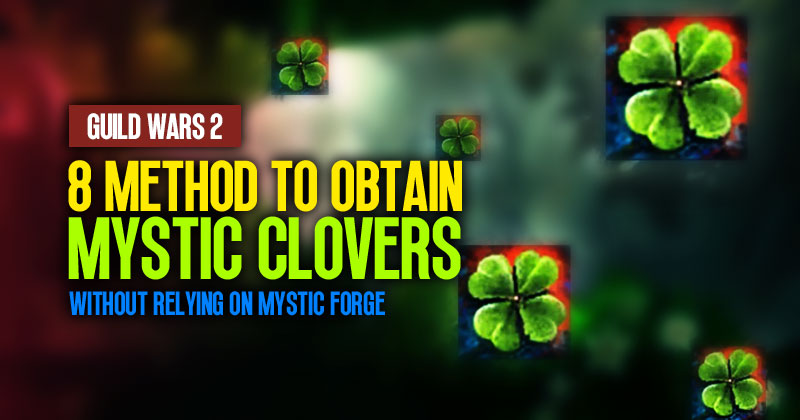 ↖ Fractals
One of the primary sources for Mystic Clovers is the Fractals of the Mists. Visit the vendor known as "4373" and navigate to the bottom of their offerings. Here, you will find Mystic Clovers available for purchase. Each Mystic Clover will cost 150 Fractal Relics, 2 Mystic Coins, 2 Globes of Ectoplasm, and 2 Spirit Shards. It is important to note that you can buy a maximum of 10 Mystic Clovers per week. Keep in mind that the weekly reset in Guild Wars 2 occurs on Monday morning.
↖ Dragon Strike Missions
After completing Dragon Strike Missions, head to the Short Collector Vendor located near the Strike Mission portal in Arborstone. Access the vendor's "Weekly Sales" tab to find the "Mystical Overseer." Similar to Fractals, you can purchase a maximum of 5 Mystic Clovers per week. The cost remains the same as mentioned earlier, but you will also need a Green Profit Short, obtained during the Dragon Strike Missions. Remember, the weekly reset occurs on Monday morning.
↖ World vs. World
In the world of World vs. World (WvW), you can acquire Mystic Clovers from the Duncan Vendor. Look for the vendor in various maps within WvW and select the Mystic Clovers option. Unlike previous methods, this vendor requires Badges of Honor and Skirmish Tickets instead of Spirit Shards. For each Mystic Clover, you will need 20 Skirmish Tickets, 10 Badges of Honor, 2 Globes of Ectoplasm, and 2 Mystic Coins. You can purchase a maximum of 5 Mystic Clovers per week.
↖ Aerodrome
Visit Aerodrome and locate the Basic Magnetite Vendor. In the vendor's menu, navigate to the "Exchanges" option, where you can purchase Mystic Clovers using Magnetite Shards. Each Mystic Clover will cost 30 Magnetite Shards, 2 Mystic Coins, 2 Globes of Ectoplasm, and 2 Spirit Shards. Similar to previous methods, the maximum limit is 10 Mystic Clovers per week.
↖ Daily Login Rewards
By logging in daily and collecting your rewards, you can earn Mystic Clovers as part of the monthly login cycle. On the 28th day, when you receive the Gift of Loyalty, select the Legendary Crafting Materials option, and you will receive seven Mystic Clovers.
↖ PvP Reward Tracks
PvP reward tracks offer a consistent way to obtain Mystic Clovers. They are divided into three types: one-time special tracks, tracks that provide extra rewards for first-time completion, and repeatable tracks. The first two types usually reward between 6 to 14 Mystic Clovers, while most repeatable tracks grant two Mystic Clovers upon completion. To identify tracks that award Mystic Clovers, hover over the final chest and check the rewards. Look for the Mystic Clovers as one of the listed rewards.
↖ PvE Reward Tracks and Drizzlewood Coast
Drizzlewood Coast offers a PvE reward track that functions similarly to PvP reward tracks. Speak to the vendor in Reservoir Cove, access the "Daily Material Donations" tab, and purchase commendations using specific items. These commendations act as a progression for the reward track. Upon completion, you will receive a box containing various rewards, including Mystic Clovers. Refer to our detailed guide (link provided in the description) for a comprehensive overview of this vendor's mechanics.
↖ Living World Season 3 and Silverwastes
By unlocking the Amber Bay map in Living World Season 3, you gain access to a vendor that sells Magic-Warped Bundles. These bundles require 1250 Unbound Magic and 40 silver each. Opening these bundles provides a chance to obtain Mystic Clovers. Similar vendors exist in other Living World Season 3 maps, but they are not recommended due to potential losses. Additionally, the Silverwastes' Silverwastes Shovel and Mistwarden reward tracks offer Mist-Warped Bundles that have a chance of containing Mystic Clovers.
Conclusion:
By utilizing the sources mentioned above, you can gather a substantial number of Mystic Clovers without relying on the randomness of the Mystic Forge. Experiment with different methods based on your playstyle and preferences. We hope this guide has been helpful in your quest for Mystic Clovers.
Most Popular Posts
Popular Category Lists