Diablo 4 Efficient XP Farming: Shattered Tribute Side Quest | Early Game
Diablo IV specifically focuses on a side quest. It is designed for players who have reached level 20 or higher and offers a reliable way to gain experience points quickly. In this guide, you can efficiently farm XP and level up your character in the early stages by Shattered Tribute Side Quest. Keep in mind that game updates and patches may affect the effectiveness of this method, so it's important to stay informed about any changes made by the developers.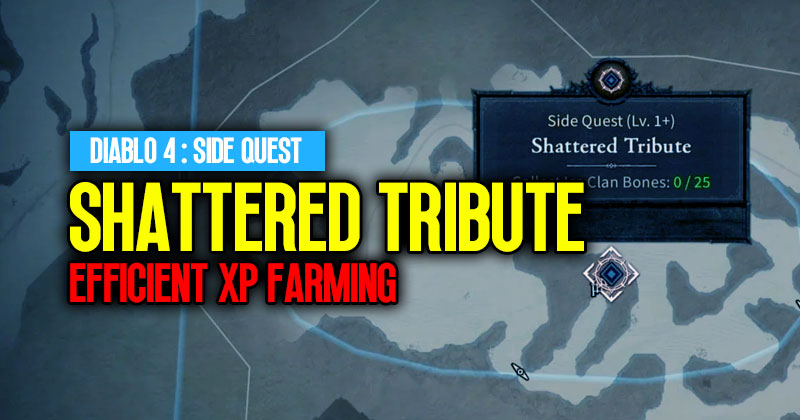 ↖ Accessing the XP Farm
Open your map and locate KyovaShad.
Head towards the right side of the map to find the Bear Tribe Refuge point of interest.
Upon arrival, the area will be filled with enemies and a boss. Defeat them to complete the initial encounter.
Interact with the shrine in the area to make it accessible for D4 farming.
↖ Initiating the Side Quest
Look for an NPC with a quest marker in the vicinity of the Bear Tribe's Refuge.
Interact with the NPC to initiate the side quest called "Shattered."
Accept the quest and prepare to enter the dungeon.
↖ Exploring the Dungeon
Proceed into the dungeon by following the quest marker.
Inside the dungeon, you will encounter various enemies and challenges.
Progress towards the top-right section of the dungeon for more intense battles.
Engage and defeat the enemies to earn XP.
↖ Farming Tips
Focus on defeating the regular enemies (ads or mobs) rather than collecting clan bones.
Avoid collecting the icons that pop up on the top right corner of the screen to minimize distractions.
Make use of elixirs during battles to maximize your efficiency.
This farming method is suitable for both solo and group play.
↖ Repeating the Process
After defeating the boss in the dungeon, teleport outside and travel back to the Bear Tribe's Refuge.
Activate the side quest again and re-enter the dungeon to repeat the farming process.
You can rinse and repeat this method as many times as you desire to accumulate XP and level up quickly.
Conclusion:
The side quest XP farm in Diablo 4 provides an efficient method for early game leveling. By following this guide, you can repeatedly engage in challenging battles and earn substantial amounts of XP. Remember to adapt your character build and strategies as the game evolves through patches and updates. Enjoy the farming process, and if you found this guide helpful, please leave a thumbs-up and consider subscribing for more Diablo 4 content.
Most Popular Posts
Popular Category Lists