Diablo 4 Patch 1.0.2 Combo Points Twisted Blades Rogue Build
In this Diablo 4 guide, we will discuss the updated version of the level 100 Combo Points Twisted Blades Rogue build. This build focuses on maximizing damage output and survivability through optimized gear, stat priority, skill choices, and an improved Paragon board. We will also touch upon the upcoming poison imbue dungeon farming Diablo 4 Gold and Items build.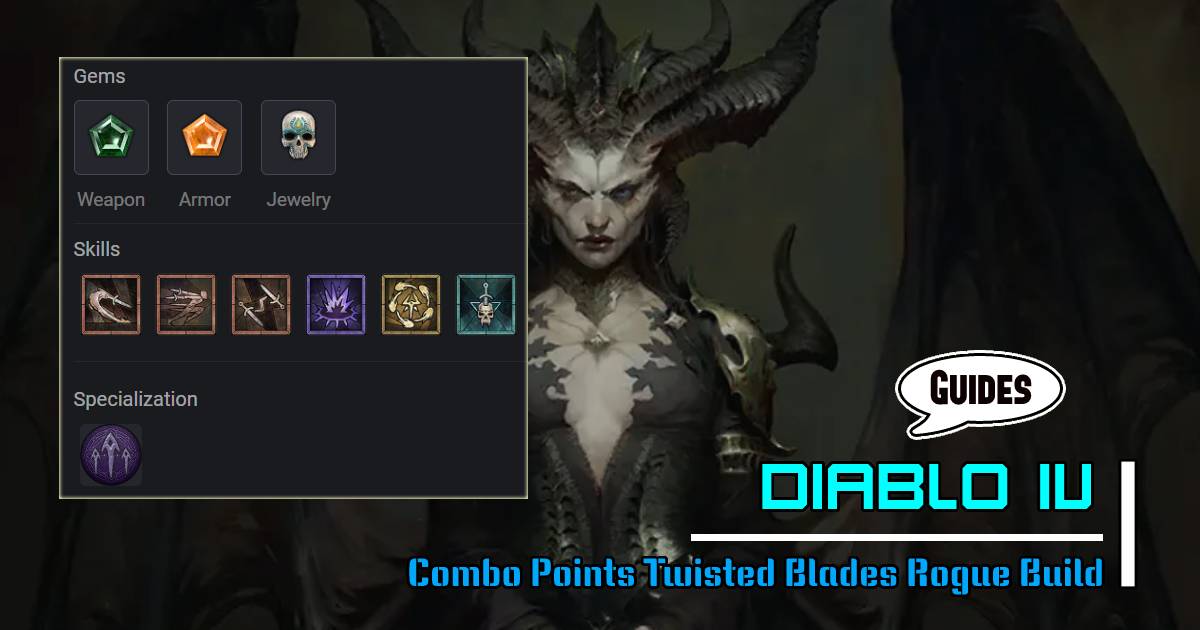 ↖ Build Links
https://d4builds.gg/builds/4081f836-0e3e-4e6c-8928-b7c3ac8c5b47/
↖ Gear and Stat Priority
Helmet: Opt for a helmet with life, armor, cooldown reduction, and dexterity. If needed, prioritize intelligence or strength to meet Paragon thresholds. All-stat is also a viable option.
Chest Plate: Look for a chest plate with life, damage reduction from close-range attacks, damage reduction, and armor percentage. As you progress to higher-tier dungeons, armor percentage becomes less significant due to scaling, but it's still important.
Gloves: Obtain gloves with ranks to Twisted Blades, critical chance, attack speed, and a fourth roll of dexterity, all-stat, or lucky hit chance.
Pants: Temerity's pants are preferred for the damage increase against poison mobs. Alternatively, opt for pants with life, damage reduction from close-range attacks, and ranks to Dark Shroud within the Shrouding aspect. Legendary pants offer higher survivability.
Boots: The best-in-slot boots are Penitent Greaves for increased damage. If unavailable, choose boots with dexterity or all-stat, movement speed, damage reduction while injured, and energy cost reduction with the Ravengers aspect for an extra Shadow Step charge and cooldown reduction.
Weapons: For the crossbow, prioritize vulnerable damage, critical damage, core damage, and dexterity with the Blade Dancer's aspect. One-handed swords should have high item power, critical damage, vulnerable damage, core damage, and dexterity. Aspect options include Rapid for increased attack speed, Expectant for more damage, or Vengeful for increased crit chance.
Jewelry: Amulet should have dexterity percentage, ranks to Malice or Weapon Mastery, cooldown reduction, and ideally, damage reduction with the Conceited aspect for damage increase. Replace amulet with Edge Masters if using legendary pants. Rings should focus on critical chance, critical damage, vulnerable damage, and a fourth roll of life, lucky hit chance, or resource cost reduction. Use Energizing aspect if available, otherwise Umbrals.
Jewel Sockets: Use Topaz gems for armor sockets and Emeralds for weapon sockets.
↖ Skills
The skill tree remains largely unchanged, with the exception of the Mastery skill. Close Quarters Combat offers significant damage and attack speed bonuses. However, if you feel squishy or aim to tackle higher-tier dungeons, Momentum provides damage reduction and energy regeneration.
↖ Paragon Board
The Paragon board has undergone a complete overhaul, optimizing its pathing and incorporating new rare nodes. The standout addition is the legendary node Tricks of the Trade, which grants a 25% damage increase to the Cutthroat skill when using the Marksman skill. This synergizes well with the constant swapping between Puncture and Twisted Blades. The updated Paragon board provides substantial improvements to the build's overall performance.
Conclusion:
With the updated level 100 Combo Points Twisted Blades build, you can experience doubled damage output and increased survivability. Follow the gear recommendations, prioritize stats accordingly, and utilize the optimized Paragon board for maximum efficiency. Be sure to check the D4 builds linked in the description for a comprehensive overview of gear, skills, and the Paragon board. Stay tuned for the upcoming poison imbue dungeon build for further end-game options.
Most Popular Posts
Popular Category Lists