Diablo 4 Patch 1.0.2 Foreign Shot and Penetrating Shot Rogue Build
The Foreign Shot build in Diablo 4 offers players a unique and dynamic playstyle as a long-range rogue. While it may not be a proper sniper build, this variation of the Penetrating Shot build addresses some of the concerns raised by the community regarding boss damage and consistent area-of-effect damage. This Diablo 4 build guide will explore the skills, aspects, gear, and gameplay strategies that make the Foreign Shot build effective and enjoyable to play.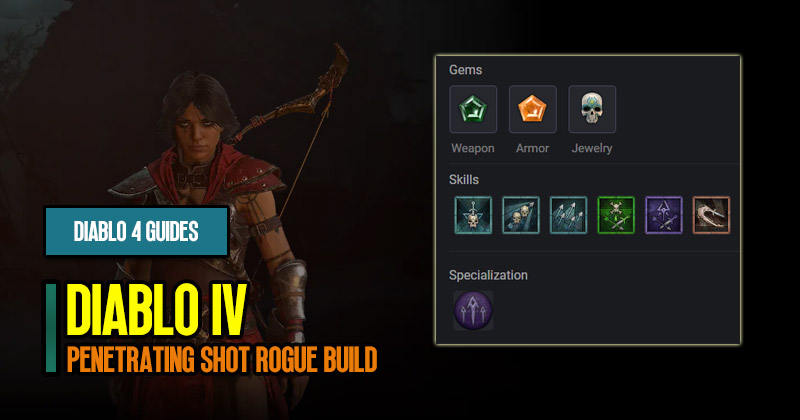 ↖ Skills Overview
Primary Spender: Penetrating Shot - This skill is the main source of general AOE damage in the build, forming the core of the Foreign Shot playstyle.
Basic Skill: Puncture - Used to generate combo points, enhancing the effectiveness of spender skills. It offers a faster and more dynamic alternative to the Forceful Arrow skill.
Secondary Skill: Rapid Fire - Added to the build based on feedback from the community, this skill provides valuable single-target damage, making it ideal for dealing with shield minions, bosses, and high-priority targets.
Movement Skill: Shadow Step - Chosen for its versatility, allowing players to escape tight corners, crowd control, or any challenging situation. Depending on personal preference, alternative options include Dash, Concealment, or Cow Traps.
Imbuements: Shadow and Poison - These imbuements enhance the damage of Penetrating Shot, with Shadow providing superior AOE damage and Poison amplifying single-target damage. They significantly impact the effectiveness of the build.
↖ Build Link
https://d4builds.gg/builds/7c673e8a-3924-402f-82c0-59a3a40af187/
↖ Key Aspects
Edgemasters: This aspect amplifies your damage based on your energy level. Higher energy levels result in more damage, making maintaining high energy at all times crucial.
Aerostorms: This aspect addresses the issue of dealing with straggling enemies. After using Penetrating Shot on a pack, it provides additional damage to clear out remaining mobs.
Trick Shot: Utilizing the explosive potential of this aspect requires grouping enemies tightly before using Penetrating Shot. The more enemies clustered, the stronger the AOE damage and synergy with imbuements.
↖ Core Damage Loop
The key skill rotation for the Foreign Shot build follows this sequence:
Activate an imbuement.
Use Puncture three times to generate combo points.
Use Penetrating Shot for massive AOE damage or Rapid Fire for single-target damage.
Repeat steps 2 and 3.
Activate the next imbuement.
↖ Gear Recommendations
Helmet: Cooldown reduction and ranks of Shadow or Poison imbuement.
Chest: Aspect of Might, damage reduction, total armor, and ideally, Dodge chance or damage reduction from closer/distant enemies.
Gloves: Penetrating Shot ranks, lucky hit chance or Critical Strike damage with imbued skills.
Pants: Defensive stats like total armor, damage reduction, and damage reduction from closer/distant enemies. Consider imbuement skill cooldown reduction.
Boots: Movement speed, energy cost reduction, and optional defensive/offensive stats like dexterity or Dodge chance.
Weapons: Crossbows are recommended for the 60% vulnerable damage bonus. Prioritize vulnerable damage, core skill damage, crit strike damage, and crit strike damage with imbued skills.
Rings: Critical Strike chance, crit strike damage, crit strike damage with imbued skills, and vulnerable damage.
Amulet: Cooldown reduction or imbuement skill cooldown reduction, percent damage, and two additional stats of choice based on personal preference.
Most Popular Posts
Popular Category Lists