Diablo 4 Speed Clearing Rapid Fire Rogue Build
In Diablo 4, the Rapid Fire skill is a formidable ranged core skill that offers immense damage potential. While it may not excel at clearing large packs of AOE enemies, the concentrated burst of Rapid Fire is incredibly powerful and can even one-shot bosses with the right gear setups. In this Diablo 4 Build, we will cover a general-purpose Rapid Fire build for the Rogue class, as well as an alternate build focused on traps for speed clearing. Follow along to learn how to play this build effectively and dominate the game.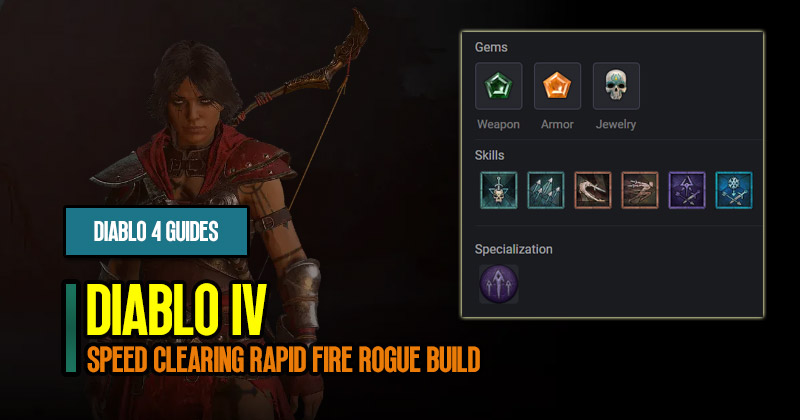 ↖ The Rapid Fire Rogue Build
The Rapid Fire Rogue build is a hybrid range build that combines range skills with a Paragon board specialized in close-range damage. This approach allows you to benefit from defensive abilities that support your close-range attacks. Rapid Fire, while not effective from a distance, becomes a devastating skill when used up close.
↖ Build Link
https://d4builds.gg/builds/0b157583-8b10-4628-ad1c-96da98d0c4da/
↖ Skills
Basic Skill: Puncture (recommended for combo point generation)
Spender: Rapid Fire (the core skill of the build)
Imbuement Choices: Shadow imbuement (for increased AOE damage) and Cold imbuement (for crowd control)
Movement Skills: Dash and Shadow Step (to navigate dangerous situations and escape crowd control)
↖ Gear Recommendations
Gear plays a crucial role in maximizing the potential of the build.
Here are some stat lines to consider for specific gear pieces:
Helmet: Dexterity, ranks of Shadow Imbuement, and cooldown reduction.
Chest Piece: Percent total armor, damage reduction from close and distant enemies.
Gloves: Attack speed, Rapid Fire crit strike chance, and lucky hit chance.
Pants: Percent total armor, damage reduction, and dodge chance.
Boots: Dexterity, energy cost reduction, dodge chance, and movement speed.
Bow: Vulnerable damage, dexterity, crit strike damage with imbued skills, and core skill damage.
Sword (Primary): Crit strike damage, vulnerable damage, dexterity, and basic skill damage (swap to core skill damage if possible).
Sword (Secondary): Match the stats of the primary sword or use Condemnation, Rapid Aspect, or Smiting Aspect.
Rings: Vulnerable damage, crit strike damage, crit strike chance, and lucky hit chance.
Amulet: Depending on your needs, prioritize defensive stats for high-level nightmare dungeons or damage stats for speed clearing.
↖ Aspects
Umbra's Aspect: Grants stacks of Dark Shroud periodically as you crit with Marksman skills, providing additional defensive bonuses.
Edge Masters: Provides a flat 40 damage increase to Rapid Fire when your energy is consistently high.
Aspect of Might and Aspect of Disobedience: Two defensive aspects that stack defensive values as long as you stay active and use basic skills.
↖ Tips and Tricks
Play close range: Utilize the passive skills Sturdy and Siphoning Strikes to gain defensive benefits by staying close to enemies. Rapid Fire is more effective when used up close.
Use Shadow Imbuement properly: As Rapid Fire lacks AOE damage, make sure to group enemies and use Shadow imbuement to maximize your clearing potential.
Effectively utilize combo points: Combo points amplify the damage of Rapid Fire significantly. Learn to generate and spend combo points efficiently to delete elites and bosses with a single shot.
Most Popular Posts
Popular Category Lists