Diablo 4 Classes Tier List: DPS, Gearing Difficulty and Build Diversity in Patch 1.0.3
The most recent update Patch 1.0.3 for Diablo 4, released on June 27th, has significantly changed the game. Players are eager to know which characters and builds reign supreme in the updated meta. However, it's essential to consider various factors, such as gear availability and gameplay style, as not all characters perform equally in all situations. This guide presents a tier list based on factors like damage output, gearing difficulty, and build diversity to help you choose the best character for your playstyle in Diablo 4.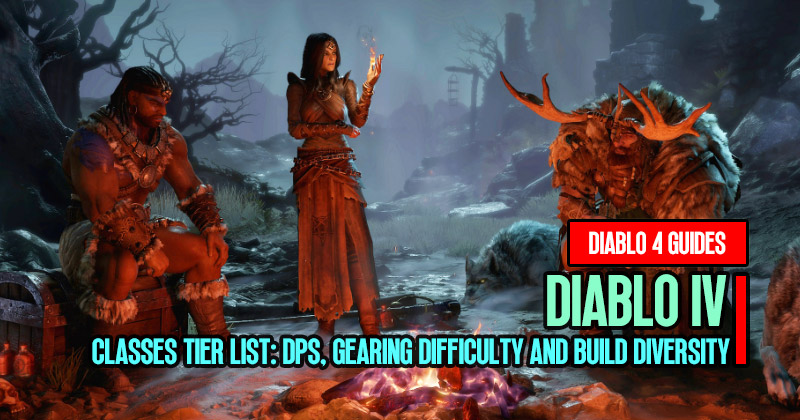 ↖ Based on Damage Output
To gauge damage output, we'll consider Uber Lilith as a benchmark, as it's the most challenging content in the game.
Based on this metric, the tier list for raw damage output looks like this:
↖ - S Tier:
Rogue (with Twisting Blades aspect)
Sorcerer (with Frost Nova and Immobilizing Bar)
- A Tier:
Necromancer (with Bone Spear)
Druid (with Storm Wolf)
- B Tier:
Barbarian (with triple shouts and Wrath of the Berserker)
Sorcerer (with Frozen Orb)
- C Tier:
Rogue (with Flurry and Penetrating Shot)
↖ Based on Gearing Difficulty and Build Diversity
Consider gearing difficulty and build diversity, which is vital for most players aiming to reach World Tier 4 (around level 70 to 80) content.
- S Tier:
Barbarian (Core skills are versatile and easily viable in various builds)
- A Tier:
Sorcerer (While core skills require cooldown reduction, they offer diversity in gameplay)
Druid (Pulverize and Storm Wolf builds provide decent build diversity)
- B Tier:
Rogue (Twisting Blades build is efficient for early gearing)
Necromancer (Bone Spear build dominates, but other builds need specific unique items)
- C Tier:
Sorcerer (Arc Flash build is melee and less suitable for high-end content)
Conclusion:
Choosing the best character in Diablo 4 depends on various factors, including your playstyle, gearing preferences, and intended content level. For those looking for raw damage output, Rogue and Sorcerer builds excel in Uber Lilith encounters. However, for a more balanced approach, considering build diversity and gearing ease, Barbarian, Sorcerer, and Druid are excellent choices.
Most Popular Posts
Popular Category Lists