Diablo 4 Guulrahn Canals Dungeon: The Insane XP and Gold Farming Guide
Welcome back, fellow Diablo 4 adventurers! We have an exciting discovery to share in today's article. Prepare yourself for one of the most incredible XP and D4 Gold farming dungeons in the game. Trust us, you don't want to miss out on this!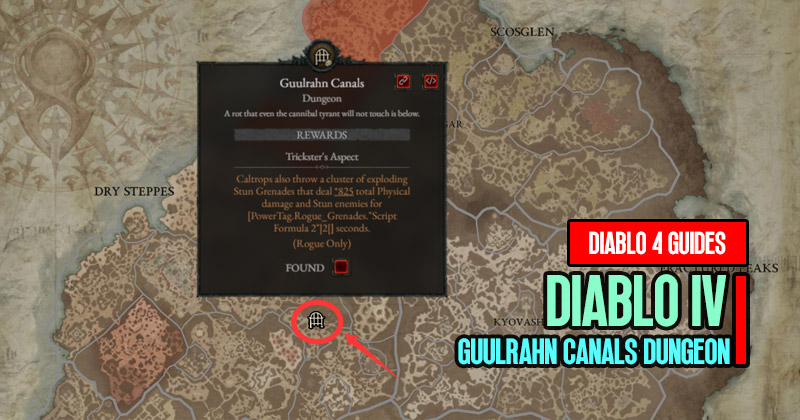 ↖ 1.0.3 Patch Changes
After the 1.0.3 patch, Blizzard made some drastic adjustments to nightmare dungeons in terms of XP and Gold gains. The dungeon we're about to introduce is absolutely mind-blowing. It's called Guulrahn Canals, located here on the map. Last night, I gathered two of my friends and ventured into this dungeon, armed with Night Messages. The XP and Gold gains were simply insane. Just take a look at my XP bar before and after completing the dungeon. Even though the enemies were significantly higher level than me, we could breeze through the dungeon at lightning speed.
↖ Farming Strategy
If you have Night Messages or crafting materials like Message Urns, we highly recommend trying this farming method. Start by teleporting to the Oculus Gate and head to Guulrahn Canals. As a solo player, you can expect to earn upwards of 34 million XP per hour. If you have a team, the efficiency will be even greater. In fact, it's safe to say that the XP gains could nearly double when playing in a group.
↖ Dungeon Layout
The layout of Guulrahn Canals is relatively straightforward. However, what sets this dungeon apart are the events. Every time I've run this dungeon, there have been at least three events, and they are truly intense. You can witness the gameplay footage on the screen right now. These events often involve challenging groups of enemies that can be overwhelming, but the rewards are well worth it.
↖ Resetting the Nightmare Dungeon
To reset the nightmare dungeon, return to Guulrahn Canals. Run past the enemies, kill the elite, and grab the Jailer's Key. Now, exit Guulrahn Canals and head back to your nightmare dungeon. Progress through the dungeon until you reach the last part, but do not complete it. Avoid killing the boss or finishing any necessary objectives. Just before completion, leave the dungeon. It's that simple. Return to Guulrahn Canals again to reset the nightmare dungeon by completing the first objective. Travel back to the nightmare dungeon, and you'll notice that everything has reset. This process takes only an additional 30 seconds to a minute, but the XP gains from farming the same dungeon repeatedly are absolutely insane.
↖ Loot and Rewards
Guulrahn Canals is a fantastic dungeon for XP and Diablo 4 Gold farming and a treasure trove of loot. The drops are plentiful, and you can expect many legendaries and unique items. Although my luck wasn't extraordinary during my runs, my friends managed to obtain five or six uniques each. The potential for acquiring rare and powerful gear is truly endless.
Conclusion:
The Guulrahn Canals is an incredible dungeon that offers both exceptional XP and Gold gains and bountiful loot. While the post-patch changes have amplified its potential, it remains relatively unexplored by many players. However, mark my words, this dungeon is bound to become popular as more adventurers discover its benefits. Remember to adjust the enemy levels to optimize your efficiency while farming, aiming for a range of three to ten levels above your own.
Most Popular Posts
Popular Category Lists