PoE Leafy Shade Keystone: Mechanics, Interactions, and Use in Builds
In this Article, we'll cover many Path of Exile's Keystone passive skills, discussing their mechanics, interactions, and use cases in various builds. Today's focus is on Leafy Shade, one of the more recently added Keystone passives introduced as part of the overhaul of the defensive system in patch 3.16. This Keystone is located on the passive core tree at the top right, close to the Shadow starting point.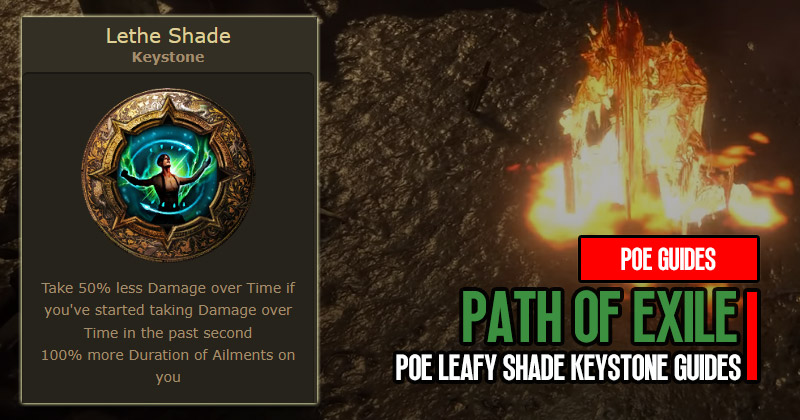 ↖ Leafy Shade provides two modifiers
100% More Duration of Ailments on You: This modifier doubles the duration of any ailments inflicted on your character. Ailments in Path of Exile include both damaging ailments (e.g., poison, ignite, bleed) and non-damaging ailments (e.g., chill, freeze, shock).
Take 50% Less Damage Over Time if You've Started Taking Damage Over Time in the Past Second: This modifier significantly reduces the amount of damage you take from any damage over time effect for the first second that it is dealing damage to your character.
↖ Understanding the Downside
The 100% More Duration of Ailments on You is the downside of Leafy Shade. By default, each ailment has a base duration, which can be modified by various sources in the game. The Keystone's modifier affects the duration of all ailments, whether they are damaging or non-damaging. It's essential to consider your character's build and other defensive mechanics to mitigate the downside effectively.
↖ Interactions and Mechanics
Ailment Duration Modifiers: The duration of an ailment is influenced by relevant modifiers, both from the inflicting entity and the receiving character. For example, if a monster has a 100% increased ignite duration modifier and the character has Leafy Shade allocated, the ignite duration will be further multiplied by 100%, resulting in a 200% increase in duration.
Ailment Duration Immunities: Certain sources in the game grant ailment immunities. If your character becomes immune to an ailment, that ailment will have no effect on you, even though it can still be inflicted. However, reflected ailments (e.g., from unique items like The Fulcrum or Maligaro's Restraint) are not affected by modifiers to ailment duration on you.
↖ Minimizing the Downside
To mitigate the downside of 100% More Duration of Ailments on You, consider gaining forms of ailment immunity. For example, using the Purity of Elements Aura grants elemental ailment immunity, and other unique items or modifiers can provide specific ailment immunities.
↖ Exploiting the Upside
The Take 50% Less Damage Over Time if You've Started Taking Damage Over Time in the Past Second modifier is highly beneficial for bossing characters or controlled environments where you can anticipate sources of damage over time. By identifying the immunities you need and cleansing damaging ailments with flask modifiers, Leafy Shade provides exceptional damage reduction against damage over time effects during boss encounters.
Conclusion:
Leafy Shade is a powerful Keystone that excels in controlled environments and bossing scenarios. By understanding and mitigating its downsides through ailment immunities and other defensive mechanics, you can make the most of its damage reduction capabilities. Whether you're dealing with heavy damage over time effects or seeking a strong defense against damaging ailments, Leafy Shade can significantly enhance your character's survivability.
Most Popular Posts
Popular Category Lists