Diablo 4 Item Breakpoints Guide: Season 1 Maximizing and Unlocking Massive Power
In Diablo 4, understanding item BreakPoints is crucial for optimizing your gear's potential. While many players are familiar with the concept, we're here to share an extra tip that can significantly impact your item's stats. By focusing on sacred items and strategically upgrading them, you can unlock powerful bonuses that go beyond incremental improvements. In this guide, we'll delve into the mechanics of item BreakPoints and reveal how you can attain an incredible power boost by surpassing the 725 item power threshold.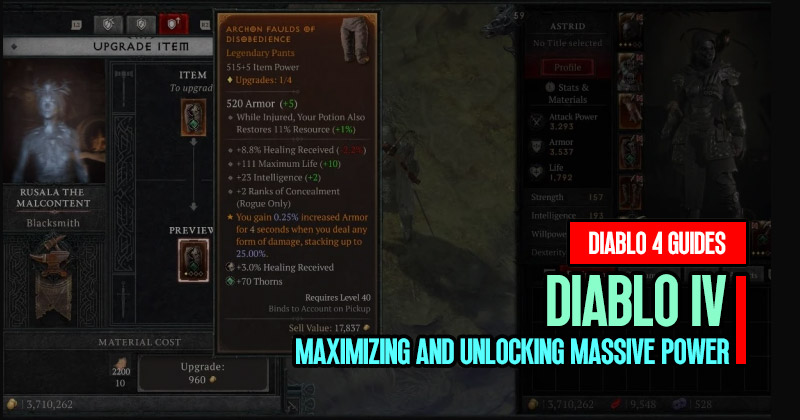 ↖ Item BreakPoints Explained
Item BreakPoints are specific thresholds where the properties of your gear experience a significant shift. These BreakPoints, which occur at 425, 525, 625, and 725 item power levels, affect both the minimum and maximum ranges of core stat rolls. When you reach a break point, not only do the maximum values increase, but the floor of the stats also rises. To gain a comprehensive view of these changes, we recommend enabling Advanced Tooltips in the gameplay settings.
↖ Item Power Breakpoint Levels in Diablo 4
| Level | Power Range |
| --- | --- |
| Level 1 | 1 - 149 |
| Level 2 | 150 - 339 |
| Level 3 | 340 - 459 |
| Level 4 | 460 - 624 |
| Level 5 | 625 - 724 |
| Level 6 | 725+ |
Based on your current progress in the game, with a level 59 character and a highest item power weapon at 711, you are nearing the final Breakpoint tier. By the end of the Nightmare difficulty, you will likely reach the Level 6 Breakpoint tier. It's important to understand the significance of these hidden stats and make strategic decisions about when to upgrade your items. In certain cases, investing extra resources to surpass a Breakpoint tier can be worthwhile for the increased benefits it provides.
↖ Upgrading Sacred Items
To illustrate the impact of item BreakPoints, let's consider a sacred item with an initial item power of 607. As you gradually upgrade this item, you'll notice incremental stat increases until you reach the critical break point at 725. Up to this point, the upgrades are relatively minor, but once you surpass 725, the improvements become substantially more substantial.
↖ A Massive Power Surge
When you elevate a sacred item beyond 725 item power, you'll witness an extraordinary transformation. Instead of marginal upgrades, you'll experience a massive boost in both the minimum and maximum values of your gear's stats. For example, let's examine a sacred item with 39.2 vulnerable damage and 37.8 vulnerable damage in the secondary stats. Upon reaching the break point, these stats will soar to 46.2 and 26.7, respectively. Furthermore, the all-stats stat will shift to the minimum roll, indicating a significant increase in its potential.
↖ Ancestral-Level Power at Your Fingertips
By reaching and surpassing the 725 item power threshold, you can attain gear with stats comparable to ancestral-level items, even while remaining at level 53 and World Tier 3. This means that during Season 1, acquiring a sacred item with 700+ item power will enable you to enjoy colossal stat boosts, rivaling the most potent gear available.
↖ Comparing Item Power Levels
It's worth noting that not all item power levels yield the same extraordinary upgrades. While surpassing 725 delivers the monumental breakthrough, subsequent upgrades to 825 and beyond only provide minor enhancements. The true pinnacle lies at the 725 mark, where your gear will experience the most substantial increase in power.
↖ Conclusion
Understanding item BreakPoints and strategically upgrading your sacred items can give you a remarkable edge in Diablo 4. By identifying and surpassing the critical 725 item power threshold, you'll unlock massive stat improvements that rival ancestral gear. Remember to keep an eye out for sacred items with 700+ item power during Season 1 to experience these jaw-dropping power surges. Embrace the potential of item BreakPoints and ascend to new heights of power in the world of Diablo 4!
Most Popular Posts
Popular Category Lists