Diablo 4 Season 1 Bleed Rend Barbarian Insane Damage and Stun Combos Build
The Bleed Rend Barbarian build in Diablo 4 is a powerful and exciting playstyle that focuses on dealing massive damage through bleeding effects and stunning enemies. This guide will walk you through the mechanics of the build, gear recommendations, and skill choices to maximize your effectiveness as a Bleed Rend Barbarian.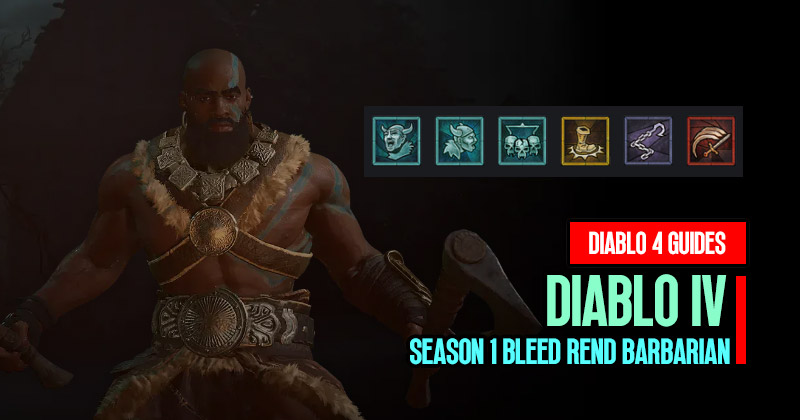 ↖ About Rend Skill
Rend serves as the primary source of damage in our build, boasting incredible Bleed potential. To maximize its effectiveness, we employ a hit-and-run strategy, swiftly moving past our enemies to gather them in one place. Once grouped, we turn around, activate our buffs, and unleash Rend upon them, ensuring their swift demise. While Rend excels at dealing with individual targets, its limited range hampers its clearing capabilities. Fortunately, the inclusion of Furious Rend in our build aids us in managing our Fury resources effectively.
↖ Mechanics of the Build
The Bleed Rend Barbarian build revolves around the interaction between the Unlucky Hit passive and the Skull Breaker weapon. Unlucky Hit grants a 30% chance to stun bleeding enemies, while Skull Breaker deals 80% of the total bleed damage as physical damage when stunning a bleeding enemy. This allows you to deal devastating direct damage while keeping the bleed effects intact.
↖ Build Detail Link
https://d4builds.gg/builds/1a08dfd0-8969-494f-821e-48f54644f202/
↖ Gear Recommendations
Weapon Choice: Use a two-handed weapon with high bleed damage and stun chance. Consider switching to Berserk Gripping for even more stun chance and damage output.
Lucky Hit: Seek gear with Lucky Hit bonuses to increase your chance to stun enemies.
Bleed Damage: Look for items that enhance bleed damage, such as increased bleed duration, bleed damage scaling, or additional bleed effects.
↖ Skill Choices
Numbing Wrath: This skill provides additional crowd control effects and damage reduction against bleeding enemies.
Ground Stomp: Use Ground Stomp to stun enemies and trigger Skull Breaker's direct damage effect. This skill also helps generate Fury.
Berserking: Activate Berserking for increased damage and attack speed. Combined with the Skull Breaker effect, this skill allows you to unleash devastating damage on stunned enemies.
Rend: The core skill of the build, Rend inflicts bleeding on enemies, which triggers Skull Breaker and sets up your damaging combos.
↖ Playstyle Tips
Focus on stunning and bleeding enemies: Utilize the stun chance from Unlucky Hit and other sources to trigger Skull Breaker's direct damage effect. Apply Rend to enemies to inflict bleed effects.
Pay attention to crowd control: Ground Stomp and other crowd control skills are crucial for setting up your damaging combos and controlling the battlefield.
Gear optimization: Upgrade and extract your gear to maximize bleed damage and stun chance. Upgrade your weapons to enhance your direct damage output.
Conclusion:
The Bleed Rend Barbarian build offers an exhilarating playstyle in Diablo 4, combining bleeding effects and stunning mechanics to deal devastating damage to your enemies. With the right gear, skills, and playstyle, you can become a formidable force on the battlefield. Experiment with different variations of the build and enjoy your adventures as a Bleed Rend Barbarian in Diablo 4!
Most Popular Posts
Popular Category Lists