Diablo 4 Season 1 Solo Hardcore Whirlwind Barbarian Build
Welcome to LOLTANK Diablo 4 guide for solo hardcore Barbarian build. This guide'll showcase a robust Whirlwind build, focusing on enhanced mobility, healing, and damage output. This build will be your ticket to success in the race, aiming for zero deaths and reaching the top spot on the leaderboard. We'll cover the skill tree, gear choices, and essential paragon points to help you dominate the competition.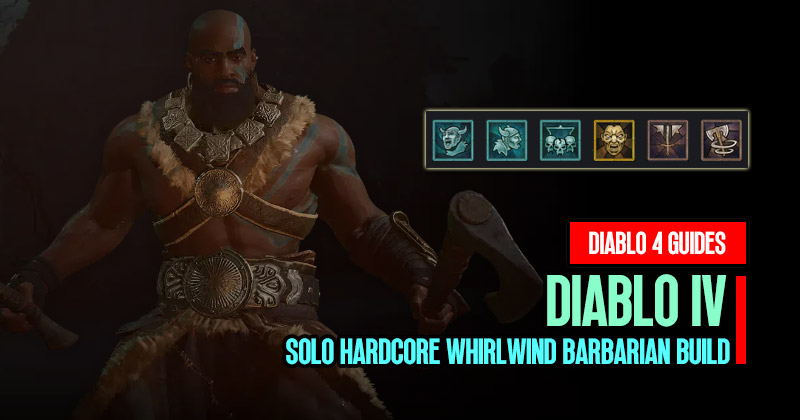 ↖ What is the Whirlwind skill?
In Diablo 4, Whirlwind is a powerful skill available to Barbarians. It enables them to perform a rapid spinning attack, dealing damage to nearby enemies. Whirlwind is located in the Barbarian's Skill Tree as part of the Core Cluster. Active Skills like Whirlwind can be upgraded up to Rank 5, and players have the option to Enhance and Upgrade the skill to unlock additional features and effects. Active Skills are depicted by large square icons in the Skill Tree menu.
↖ Build Detail Link
https://d4builds.gg/builds/f3becf52-ad65-4726-83cb-2bd63ee29fd8/
↖ Level 1-35 Skill Tree
- Enhanced Lunging Strike (Basic Skill)
- Whirlwind (Recommended if using a slashing weapon: Fury | If using a bludgeoning weapon: Final Whirlwind)
- Endless Fury (Until unlocking Tactical Stomp and Tactical Brutality)
- Swiftness (Recommended after unlocking Tactical Stomp and Tactical Brutality)
↖ Level 35-55 Skill Tree
- Combat Lunging Strike (For increased damage and speed on crits)

- Whirlwind (Alternating between Violent and Furious depending on weapon type)
- Tactical Rally Cry
- Tactical Challenging Shout
- Mighty War Cry
- Call of the Ancients (Boss killing DPS)
- Unbridled Rage
↖ End Game Skill Tree (World Tier 4+)
- Pressure Point (Moved points from Tactical Rally Cry)
- Whirlwind (Same as before)
- Prolific Fury
- Swiftness (Maxed out)
- Territorial (Moved points from Tactical Challenging Shout)
- Echoing Fury
- Wallop and Concussion (Mace build)
- Unbridled Rage (Same as before)
↖ Gear
While leveling, gear choice is limited, so focus on survival and damage.
Use gems based on your weapon type (amethyst for slashing, diamond or skull for bludgeoning).
| Slot | Recommendations |
| --- | --- |
| Weapon | Two-handed Mace (or Two-handed Sword if preferred) |
| Helmet | Look for Maximum Life |
| Chest | Look for Maximum Life |
| Pants | Look for Maximum Life |
| Gem | Slashing Weapon: Amethysts; Mace: Diamonds or Skulls |
↖ Paragon Points
Invest in "Exploit" for more damage.
Prioritize "Maximum Life" for survivability.
Use "Core Skill Damage" or "Close Combat Damage" depending on your preference.
Distribute the rest of the points according to your needs (e.g., Cooldown Reduction, Resource Cost Reduction).
↖ Malignant Hearts
These are powerful endgame items, each with unique bonuses.
Malignant Pack: Grants cycling bonuses every 20 kills.
Malignant Barber: Absorbs damage on crits, causing explosions afterward.
Malignant Tempting Gape: Boosts crit damage significantly, but non-crits deal less damage.
Conclusion:
With this mighty Whirlwind Barbarian build, you'll be ready to tackle The Race to 100 in Diablo 4's solo hardcore mode. Focus on efficient skill allocation, gear choices, and paragon points to optimize damage, survivability, and mobility. Don't forget to experiment with the optional Malignant Hearts to tailor your build further.
Most Popular Posts
Popular Category Lists