WOW Patch 10.1.7 Gold-Making Strategies: Specific Professions, Transmog and Valuable BoE Items
Welcome back, fellow WoW players! In this guide, we'll delve into the exciting gold-making opportunities presented by the upcoming Patch 10.1.7, currently on the PTR. This relatively small patch comes with a bunch of achievement changes that can lead to substantial gold gains. By strategically investing in specific professions, transmog items, and farming valuable BoE items in Legacy raids, players can unlock substantial profit-making potential.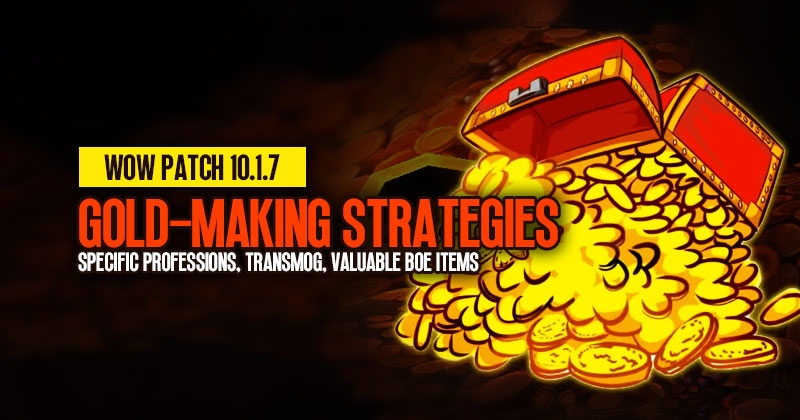 ↖ Profession Achievement Revamp
With Patch 10.1.7, each primary profession will receive new achievements. While most players may not immediately think of gold-making opportunities here, smart traders can take advantage of certain achievements to make a fortune.
Alchemy:
Achievement: Craft 15,000 Potions with the Alchemy Profession.
Potential Gold-Making Strategy: Identify the cheapest potion to craft and mass-produce it to complete the achievement. Sell the excess potions on the auction house for profit.
Blacksmithing:
Achievement: Craft 15,000 Items with Blacksmithing.
Potential Strategy: Many players will focus on crafting Dense Grinding Stones to achieve this goal. Consider investing in materials needed for Sulfuron Hammer crafting, as it may increase in demand due to the achievement.
Inscription:
Achievement: Craft Each of the Following Shirts and a Pair of Tuxedo Pants with a Tailoring Profession.
Potential Strategy: As players seek these specific shirt recipes for achievement, the demand for the patterns might rise. Keep an eye on the auction house and consider farming Wrath of the Lich King patterns to sell for profit.
↖ Transmog and Appearance Changes
Certain achievements require players to craft or obtain specific transmog items, leading to potential fluctuations in the market.
Blacksmithing:
Achievement: Successfully Craft Warblade of Hakkari Reborn.
Potential Strategy: Warblade of Hakkari Reborn is a sought-after transmog, and the demand for materials required for crafting this item may rise. Consider investing in materials like Sulfuron Ingot, Dark Iron Bars, and Blood of the Mountain.
Leatherworking:
Achievement: Start a Fashion Trend by Crafting Each of the Following Stylish Hats.
Potential Strategy: The demand for Cobra Scales and Heavy Netherweave Leather may increase as players craft multiple hats for the achievement. Consider solo farming these materials for profit.
↖ Mining and Enchanting
Certain achievements involve melting or extracting specific materials, leading to increased demand.
Mining:
Achievement: Melt Enchanted Elementium Bars Five Times.
Potential Strategy: Materials required for crafting Enchanted Elementium Bars, like Arcanite Bars and Elementium Ingots, may experience higher demand. Invest in these materials or consider solo farming them for profit.
Enchanting:
Achievement: Extract Elements from 50 Gas Clouds with the S.A.F.E. Remote Extractor.
Potential Strategy: Players may prefer to buy the S.A.F.E. Remote Extractor from the auction house rather than farming it. Keep an eye on the extractor's price and consider selling it for profit.
↖ Solo Farming Through Legacy Raids
Blizzard has made some adjustments to the drop rates of Bind-on-Equip (BoE) items in these raids, creating an excellent opportunity for enterprising players to make a fortune. Below is a table summarizing the key points from the information provided about understanding the changes to Legacy raids and optimizing gold farming in World of Warcraft:
| Topic | Description |
| --- | --- |
| Legacy Raids Change | In patch 10.15, Blizzard increased the drop chance of valuable BoE items from trash mobs in Legacy raids. Previously rare items are now more accessible. |
| Identifying the Target Raid | Choose a specific raid, such as "Antorus, the Burning Throne" in Legion, known for valuable BoE items. |
| Choosing the Right Difficulty | Run the raid on different difficulties (LFR, Normal, Heroic, Mythic) to obtain various item appearances. |
| Choosing the Right Class | Armor-class-specific appearances require the appropriate character to target the desired item. |
| Utilizing Add-ons | Use add-ons like "All The Things" to track available items and appearances and optimize farming strategy. |
| Staying Ahead of the Curve | Act quickly before the market floods with items. Early adoption allows for higher prices and more gold. |
| Diversifying Your Farming Locations | Explore various Legacy raids with unique BoE items to maximize gold-making opportunities. |
| Community Testing and Sharing | Join gold-making communities for insights, updates, and new farming spots from other players. |
This table provides a concise overview of the key steps and strategies for making gold through farming valuable BoE items in Legacy raids in World of Warcraft.
Conclusion:
Patch 10.1.7 in WoW introduces exciting achievements that can open up numerous gold-making opportunities. By identifying which achievements drive demand for specific items, you can strategically invest in materials or transmog items to maximize your profits. Remember, timing is crucial, so keep a close eye on the market and capitalize on the right moments to sell your goods. Good luck, and happy gold-making in Azeroth!
Most Popular Posts
Popular Category Lists