Diablo 4 Season 1 Leveling Guide: From Early Game To Mid-game And Endgame
In Diablo 4, efficient leveling is crucial to progress through the game and reach the endgame content. This guide will cover the best leveling strategies for each stage of the game, from early game to mid-game and endgame. Additionally, we'll address some frequently asked questions about leveling.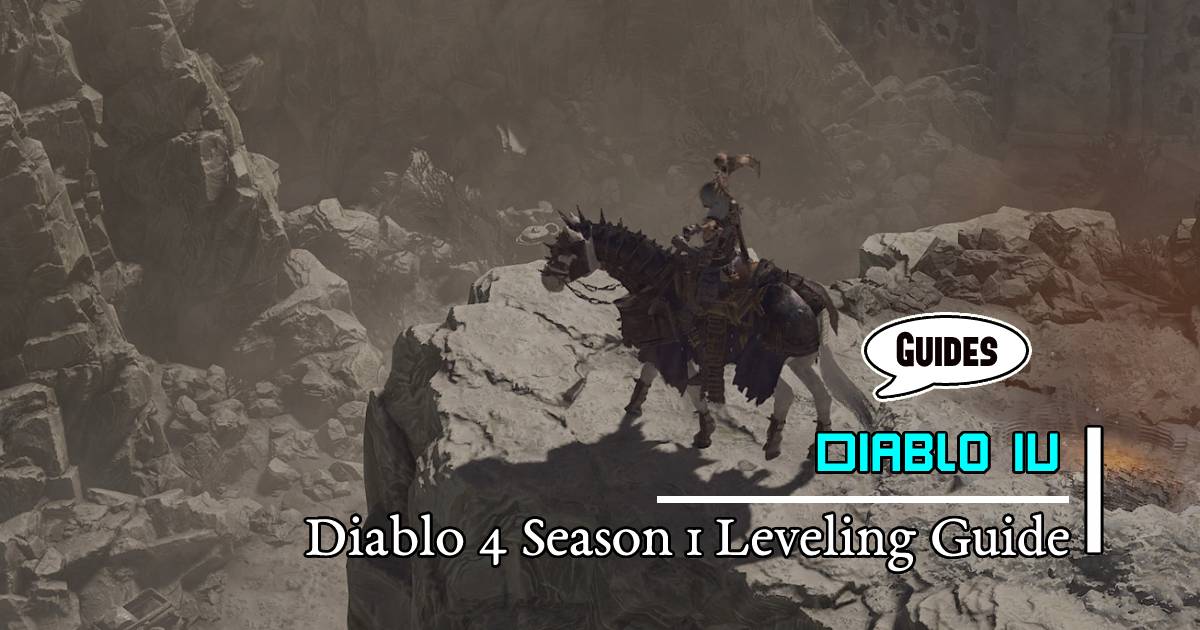 ↖ Early Game Leveling (1-50)
Stronghold Resetting: Killing everything in a stronghold except the boss, then leaving the game or party, and repeating the process. This method takes advantage of higher-level enemies, providing an XP multiplier and plenty of elites. Recommended strongholds are Cordragon Stronghold and Temple of Ron Rot.
Tree of Whisper Caches: A lesser-known method but very efficient. Myths surround these caches, but they are potent for leveling 1 to 50. They provide XP, renowned, and codex aspects.
↖ Mid-Game Leveling (World Tier 3)
Nightmare Dungeons: Initially, run dungeons 1 to 3 to unlock the ability to craft sigils. However, repeatedly running Nightmare Dungeons at World Tier 3 is not the most efficient way to level. Focus on preparing for the World Tier 4 Capstone fight.
Double-Dipping Experience Farms: Seek out areas that offer multiple rewards, such as Grim favor, renowned, and gear. PvP areas, Hell Tides, and dungeons with side quests are great options. Efficiently farm while doing activities that give the best bang for your buck.
↖ End Game Leveling (World Tier 4)
Nightmare Dungeons: Once you reach World Tier 4, Nightmare Dungeons become the best experience farm. Running these dungeons with a group and efficiently resetting them provides a significant amount of XP and Diablo 4 Gold.
Efficient Nightmare Dungeon Reset: To reset a nightmare dungeon, one player must start a nightmare sigil. Another player then becomes the leader and passes it back to the first player. The first player declines to return to their world state, becoming the host of the dungeon. After completing the dungeon, the host leaves the party, allowing for infinite resets.
↖ Recommended Nightmare Dungeons
| Dungeon | Experience per Hour | Description |
| --- | --- | --- |
| Ulder's Cave | Excellent | Well-known for high efficiency and XP gain. |
| Sarat's Lair | Excellent | A new favorite, offers great experience per hour. |
| Mercy's Reach | Good | Viable choice with solid experience gains. |
| Nostrava Deepwood | Good | Another good option for leveling efficiently. |
↖ Enemy Level Considerations
Efficiency Over High Levels: Killing enemies significantly higher than you, like 20-30 levels above, isn't always the best strategy. Focus on clearing enemies as quickly as possible, as the XP reward doesn't scale well with higher-level foes.
Optimal Efficiency: Killing enemies around 5 levels above you is often a good balance between experience gain and speed. Always prioritize efficient kills rather than attempting to tackle enemies that are much higher in level.
↖ Tips for Resetting Nightmare Dungeons
Someone in your group needs to start a Nightmare Sigil.
Once inside the dungeon, have another player pass you the party leader.
Choose not to share your world progress when passed leader. Complete the dungeon without saving it to your world state.
After completing the dungeon, the player who chose not to share world progress should leave the party, not the game.
The dungeon will be reset, and the process can be repeated efficiently with different players and sigils.
Following this leveling guide, you'll progress smoothly through the different stages of Diablo 4. Remember to focus on efficiency, double-dipping farms, and optimizing your leveling experience for the best results.
Most Popular Posts
Popular Category Lists