Diablo 4 Patch 1.1.1 Glitch: Infinite XP and Legendary Farming Exploits
Welcome to the Diablo 4 Patch 1.1.1 Glitch Guide! In this guide, we'll dive into the world of exploits that are still operational post-update. Discover how to gain infinite XP, farm legendary items, and harness hidden advantages that can give your gameplay a significant boost. Let's we explore the latest glitches that have survived the patch and learn how to make the most of them in your Diablo 4 adventures.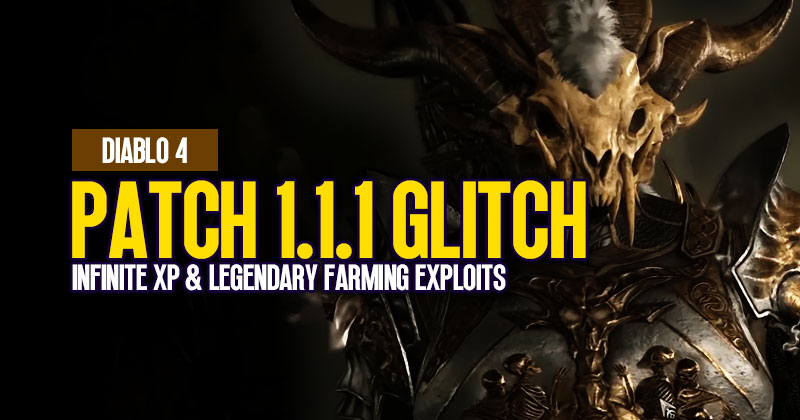 Note: Glitches and exploits can be subject to changes, so make sure to use them responsibly and be aware of any potential risks.
↖ 1. Raffle Heart Farming Exploit (No Longer Working)
Unfortunately, the raffle heart farming exploit, which allowed players to repeatedly acquire invokers and wrathful hearts, is no longer effective after patch 1.1.1. The glitch has been patched, and players will no longer receive the desired equipment. However, we've got other methods to share!
↖ 2. Infinite XP Exploit - Wayward Soul Quest
Requirements: Access to the Wayward Soul quest and a nightmare dungeon.
Locate the Wayward Soul quest within a nightmare dungeon.
Activate the quest/event and follow the ghost.
Stay away from the green swirling effect in the middle.
Claim the first objective and then move away from the orange zone.
Allow the ghost to progress and fail the event.
Re-enter the orange zone to spawn enemies.
Rinse and repeat for infinite XP.
Benefits: Besides XP, this method is helpful for completing whisper tree events and Helltides.
↖ 3. Hell Tides Event & Easy Legendary Farm
Requirements: World tier 3 and World tier 4 unlocked.
Start Hell Tides event on World tier 3.
Collect Cinder from enemies.
Exit and change to World tier 4.
Re-enter the game and interact with a mystery chest for legendaries.
Note: This method works well for obtaining legendaries quickly.
↖ 4. Legendary Unique Farm - Engineer Side Quest
Requirements: Access to the Engineer side quest.
Complete three quests in the Bear Dry Refuge.
Speak to the leader to unlock the dungeon.
Clear the dungeon to find legendary items.
Note: Avoid completing the quest to prevent it from ending.
↖ 5. AFK Farming Method for Necromancers
Requirements: A Necromancer Character.
Locate the dark Ravine area.
Utilize skeletal warriors with the right build.
Allow minions to do the work in events or dungeons.
Stay in one spot and let minions take down enemies.
Caution: Be cautious of potential AFK bans; use this method responsibly.
Conclusion:
By using these effective glitches and exploits in Diablo 4 patch 1.1.1, you can maximize your XP gain and acquire legendary items efficiently. Keep in mind that game updates can impact these methods, so stay informed and enjoy the benefits while they last. Happy farming!
Most Popular Posts
Popular Category Lists