Diablo 4 Season 1 Fast Leveling AOE Fireball Sorceress Build
In this guide, we're diving into the exciting world of the Fireball Sorceress, post-patch 1.1.1. After some thrilling gameplay, we're here to share our insights, strategies, and tips for a powerful and explosive journey through Diablo 4. While our build is still a work in progress, we're confident that our Fireball Sorceress will become a force to be reckoned with, even in the toughest challenges like T100. Join us as we explore the skills, paragon points, and items that make this Diablo 4 build a blazing success.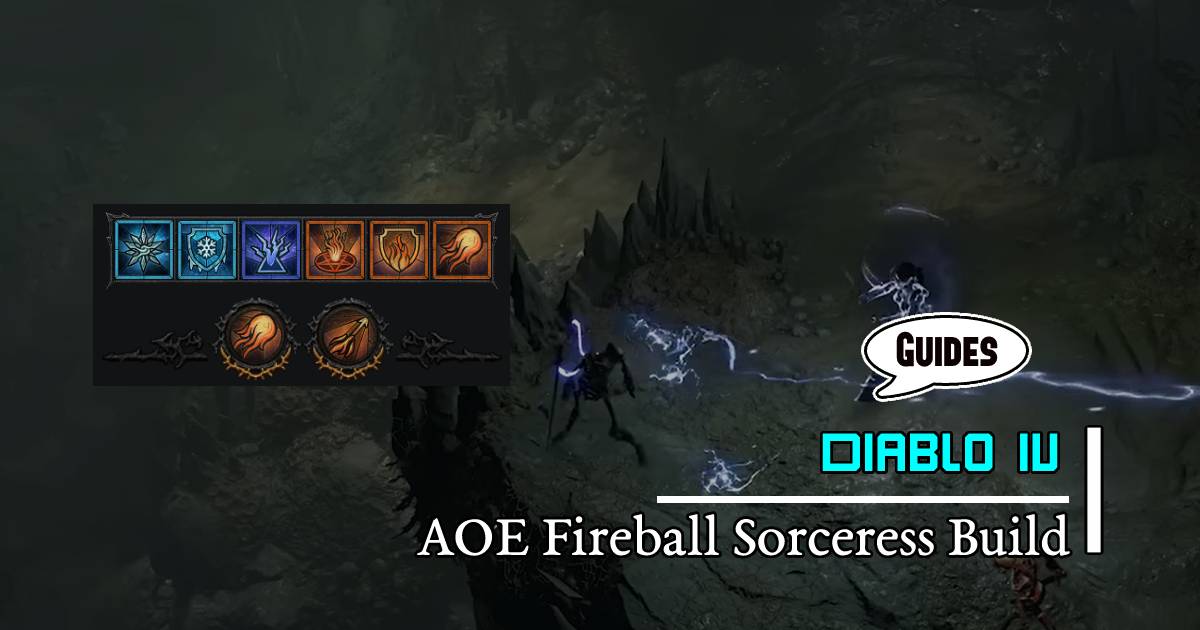 ↖ The Fireball Sorceress Overview
Our Fireball Sorceress focuses on harnessing the fiery element to deal massive area-of-effect (AOE) damage, allowing us to annihilate enemies and bosses alike. With the recent buffs, this build has proven to be a smooth progression through the World Tier ranks, making it a top choice for those who enjoy explosive gameplay.
↖ Build Planner
https://maxroll.gg/d4/planner/5pgmp0h9
↖ Skills: Unleashing the Inferno
Let's delve into the heart of our build by examining the skills that make our Fireball Sorceress so potent:
Fireball: Our main damage-dealing ability. With the right runes, Fireball turns into a devastating AOE spell, allowing us to obliterate hordes of enemies.
Destructive Fireball: Enhances crit damage, amplifying the destructive potential of our fireballs.
Inferno: The ultimate skill that pulls enemies together and eliminates their Mana cost. Perfect for dealing massive damage and crowd control.
Teleport: Ensures smooth movement across the battlefield, helping us position ourselves for maximum carnage.
Frost Nova: Inflicts vulnerability on enemies, amplifying our damage output and ensuring even tougher foes fall before us.
Flame Shield: A defensive and movement ability that offers immunity and resource cost reduction, allowing us to stay in the fight longer.
↖ Paragon Points: Boosting our Blaze
Strategically allocating our Paragon points is crucial to enhancing our Fireball Sorceress's prowess:
Board of Devastation: Maximize crit chance and damage to ensure our fireballs hit with incredible force.
Board of Endurance: Improve movement speed and survivability with armor, life, and barriers.
Elemental Summoner Board: Amplify elemental damage and increase Mana efficiency for sustained casting.
↖ Items: Fueling the Flames
Equipping the right items is key to unlocking the true potential of our Fireball Sorceress:
Prodigies Aspect: A must-have aspect for restoring Mana during combat, essential for our fireball-spamming gameplay.
Flame Feeder Gloves: Amplifies damage against burning targets, synergizing perfectly with our fiery arsenal.
Territorial Glyph: Enhances damage reduction against close enemies, ensuring our survivability during intense battles.
Searing Heat Legendary Note: Increases crit chance, maintaining consistent damage output in combat.
Resource Generation and Minor Cost Reduction: Optimize gear with resource generation and cost reduction to keep our Mana flowing smoothly.
↖ Conclusion: The Fiery Path Ahead
As we continue to develop and optimize our Fireball Sorceress, we're confident in its potential to dominate the Diablo 4 universe. The satisfying explosions, devastating AOE damage, and strategic playstyle make this build a thrilling choice for adventurers who seek explosive gameplay. Keep an eye out for updates as we progress toward level 100 and fine-tune our gear and skills.
Most Popular Posts
Popular Category Lists