Diablo 4 Season 1 Fastest Farming AFK Mass Minion Necromancer Build
Welcome to the ultimate guide for the fastest AFK Mass Minion build for the Necromancer in Diablo 4. With this build, you'll breeze through dungeons, level up rapidly, and tackle enemies 10 to 20 levels above you while feeling nearly invincible. This guide will focus on efficiency, speed, and ease of play, enabling you to dominate dungeons effortlessly with just one hand.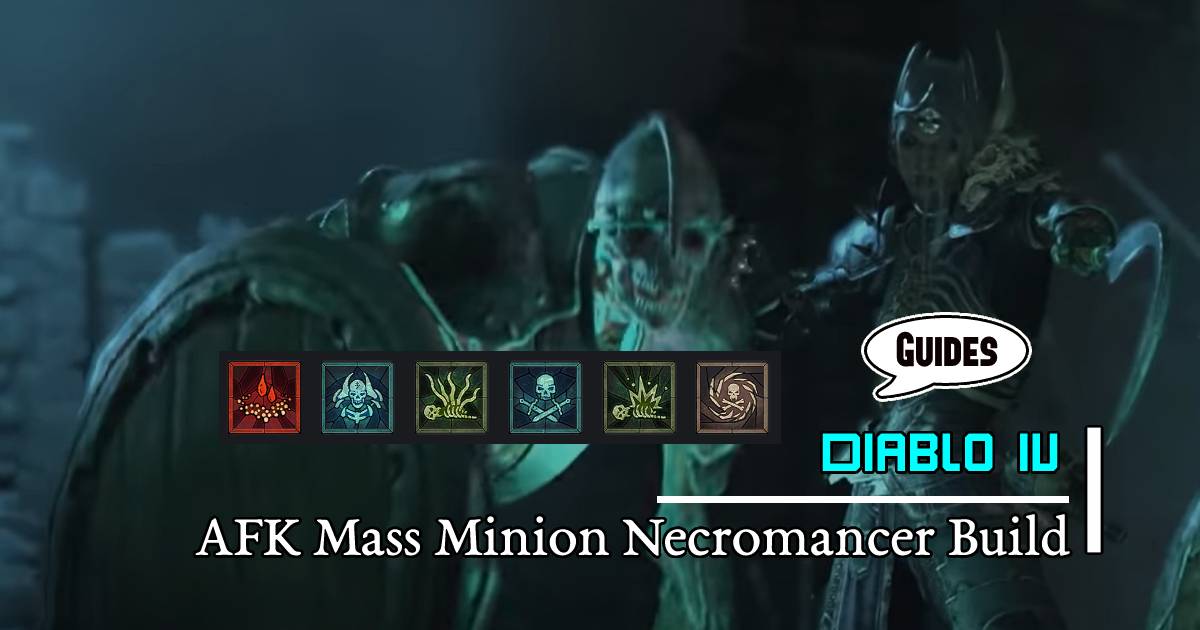 ↖ Leveling up with Unstoppable Speed
With this build, you'll witness the Necromancer's minions conquering challenges that would normally prove daunting. Imagine clearing dungeons significantly higher in level, all while you barely lift a finger. The core of this build revolves around maximizing the potential of Blood Mist, granting you virtual invincibility. This build isn't solely about damage and defense – it's about efficient leveling and dungeon farming.
↖ Build Planners
https://d4builds.gg/builds/bd647b54-1e9c-4588-9d5a-53395f2c8cac/
↖ Key Components and Gear
↖ - Malignant Hearts
Three key malignant hearts are essential for the build's success: Sacrilegious Malignant Heart, Decrypted Aura Malignant Heart, and Barber Wrathful Malignant Heart. These hearts provide automatic activation of corpse skills, curses, and additional damage potential.
↖ - Core Skills
Raise Skeletons and Golem: Your minions deal damage while you remain practically untouched.
Corpse Tendrils: Pulls and stuns enemies, applying vulnerability.
Blood Mist: Grants invincibility and synergy with other skills and stats.
Corpse Explosion: Your primary damage skill, useful for quickly clearing enemies.
Bone Storm: Offers damage and damage reduction.
↖ Skill Tree Highlights
↖ - Core Skills:
Maximize skills like Raise Skeleton Mastery and Skeletal Warrior Mastery to enhance minion performance.
Invest in skills like Corpse Explosion and Blood Mist to optimize damage and survivability.
↖ - Corpse and Macabre Skills:
Prioritize Corpse Tendrils for its crowd control and vulnerability effects.
Strengthen your minions with Reaper's Pursuit and related skills for enhanced movement speed and damage.
↖ Curse Skills
With Decrypted Aura Malignant Heart, Curse skills become automatic, applying curse effects effortlessly.
↖ Gear and Legendary Aspects
Cooldown reduction, damage reduction, movement speed, lucky hit chance, and Critical Strike damage are key gear stats.
Legendary aspects like the one that empowers Skeletal Mages and enhances Blood Mist's Shadow damage boost your power significantly.
↖ Paragon Board Allocation
↖ - Starter Board
Prioritize Exploit for increased vulnerable damage.
↖ - First Paragon Board
Choose Cold Leader for additional damage.
Emphasize minion damage, attack speed, and Cult Leader for maximizing minion potential.
Select Scent of Death for increased damage to crowd control enemies.
↖ - Flesh Eater Paragon Board Path
Amplify your magic notes and increase damage to cursed enemies.
Utilize the Flesh Eater node to gain damage bonuses after consuming corpses.
Wither Paragon Board Path:
Enhance shadow damage over time with Scourge.
Activate the Wither node for increased shadow damage.
↖ Conclusion
The Diablo 4 Fastest AFK Mass Minion build for the Necromancer is designed to let you speed through dungeons, level up rapidly, and feel nearly invincible while doing so. By focusing on speed, minion power, and smart gear choices, you'll dominate the game with ease. Remember that this build isn't designed for the highest-tier content but excels at efficient leveling and dungeon farming Diablo 4 Gold and Items. Embrace the power of minions and master the art of speed in Diablo 4!
Most Popular Posts
Popular Category Lists