RuneScape Efficient Necromancy Training Beyond Level 90 Guides
In this guide, we'll explore an efficient method for training Necromancy in RuneScape, particularly focusing on training beyond level 90. This method is applicable from level 90 all the way to 200 million experience, with potential XP rates reaching as high as 3 million experience per hour. We'll cover the requirements, setup, event details, and tips to optimize your training.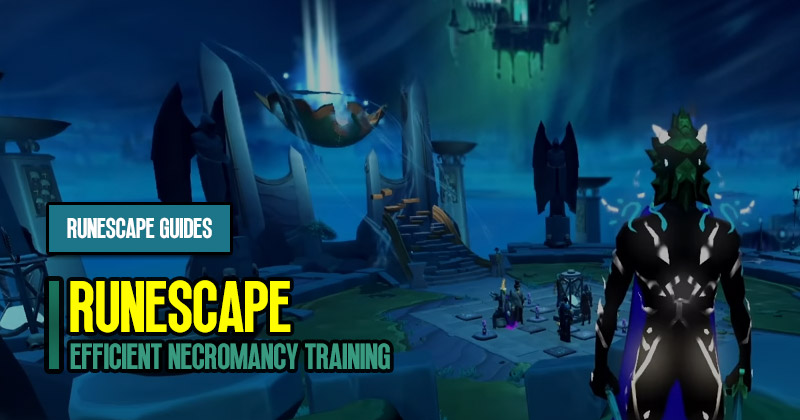 ↖ Requirements
Level 90 Necromancy.
Access to the Grand Exchange for required materials.
Optional: Supreme Overloads for a boost (useful at level 90 but replaceable with extreme necromancy potions).
Optional: Bladed Dive or Dive ability for quicker event completion.
Completion of the Medium City of Task set for a 6% experience gain increase from ritual events.
↖ Method Overview
The method involves performing rituals and encountering events at the Ritual Site to gain Necromancy experience. There are two main ritual options: Powerful Communion (level 90) and Powerful Essence (level 95). The choice between these rituals depends on whether you need Souls or Runescape GP as a long-term goal.
↖ Event Details
Wandering Soul: Click the wandering soul before it crosses the site.
Sparkling Glyph: Click the sparkling glyph to restore it.
Shambling Horror: Click the monkey and then the tile with green smoke.
Corrupt Glyphs: Click the glyphs in the order of the Roman numerals displayed.
Soul Storm: Interact with the soul storm in its three tiers.
Defile Event: Siphon the miasmic blob six times, following a specific strategy.
↖ XP Rates and Setup
Base glyphs + Attraction 3 glyphs are used.
Attraction 3 glyphs require 107 Necromancy, which can be boosted temporarily.
Extreme necromancy potions can boost you to level 106 (requires waiting until level 91).
Events spawn on a schedule with specific timings.
↖ Cape Perks
The level 99 Cape allows the use of additional alteration glyphs stored in the cape.
Attraction 3: Boosts attraction to 700%.
Speed 3: Shortens the ritual length by 12 seconds.
Speed 2: Provides slightly more time for event completion.
↖ Tips and Considerations
Use Bladed Dive or Dive ability for quicker event access.
Avoid completing events on glyphs to prevent rubber banding.
Avoid spam casting spells for experience due to high costs.
Use experience boosts after the embargo for even higher XP rates.
Maintenance of Torso sticks is necessary for optimal XP gains.
↖ Conclusion
This guide has covered an efficient method for training Necromancy in RuneScape beyond level 90. By following this method and fine-tuning your approach, you can achieve impressive XP rates and work your way towards level 200 million experience. Remember that while this method is highly active, it offers great rewards and will always be available for your training needs.
Most Popular Posts
Popular Category Lists