POE 3.22 Cold Righteous Fire Inquisitor Build: Versatile League Starter & Friendly Budget
Welcome to the POE 3.22 Cold RF Inquisitor League Starter Build Guide. This innovative build combines the power of cold damage over time effects with the classic Righteous Fire setup, resulting in a unique and efficient League starter. In this guide, we'll explore an innovative take on the traditional RF (Righteous Fire) build by infusing it with cold damage over time mechanics. This unique combination offers both efficient offense and solid defense, making it a fantastic choice for a smooth league start.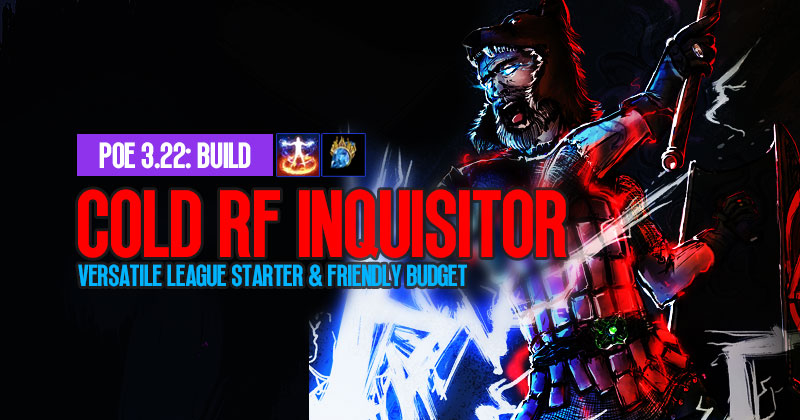 PoB Link: https://pobb.in/5QqkTqw8muv7
↖ Build Overview
The Cold RF Inquisitor focuses on a combination of cold damage over time effects and the powerful Righteous Fire skill. This unique synergy provides exceptional clear speed and solid single-target damage, making it an ideal choice for both mapping and boss encounters. By utilizing cold damage scaling and RF's burning damage, you'll enjoy a smooth and effective playstyle.
↖ Defenses and Key Mechanics
Defensively, this build excels by achieving a suppression cap, utilizing Grace and Determination auras, and incorporating evasion mitigation. The build features around an 8K hybrid life and energy shield pool in the early-to-mid game, ensuring survivability. Its major offense comes from Elemental damage over time setup enabled by big multipliers from Righteous Fire, Bone Chill, and the "Empowered" support gem. This innovative setup enhances clear and provides better coverage for smoother mapping.
↖ Pros & Cons
+ Unique Synergy: Combines RF with cold damage over time for a refreshing playstyle.
+ Efficient Clear Speed: Fast mapping due to RF and cold damage synergy.
+ Strong Single-Target Damage: Effective against bosses without sacrificing clear speed.
+ Versatile League Starter: Balances offense and defense for smooth league entry.
+ Solid Defenses: Achieves suppression cap, uses auras, and has hybrid life/ES.
+ Innovative Mechanics: Creative use of support gems for enhanced damage.
+ Adaptable Leveling: Clear leveling path with gradual RF integration.
+ Aura Efficiency: Utilizes multiple auras for offense and defense.
+ Unique Item Options: Offers customization with unique gear exploration.
- Complex Mechanics: Challenging for newcomers due to unique mechanics.
- Gem Setup Complexity: Requires managing multiple gem setups.
- Gear Requirements: Specific items might be time-consuming to acquire.
- Synergy Dependency: Build effectiveness relies on specific mechanics.
- Leveling Time: It takes time to reach full potential.
- Resource Investment: Demands PoE currency and time for optimization.
- Cursing Limitation: Limited utility curse flexibility.
- Learning Curve: Requires learning RF and cold damage mechanics.
- Reflect Vulnerability: Careful management is needed against elemental reflection.
↖ Leveling
Start with the Rolling Magma setup and Ranger Ascendancy.
Progress to Rolling Magma linked with Elemental Proliferation, and add Combustion to a 3-linked blue socket.
Focus on reaching Explosive Impact, then move toward the Elemental Dominion area for Righteous Fire access.
At level 16, you can transition to the Righteous Fire setup using fire resistance and life regen from Ruby Rings.
Early Game (Level 28+)

Transition into the Cold DoT setup around level 45, utilizing Vortex and Cold Snap.
Focus on the skill tree, prioritizing life regen and damage nodes.
Farm for Vortex, Cold Snap, and other cold damage gems.
Aim to achieve Eldritch Battery to enable running multiple auras.

Mid-Game

Continue building the skill tree, picking up key nodes like Spiritual Aid and Pious Path.
Transition to the full Righteous Fire setup, using both Vortex and RF for clearing.
Use Armor Brand linked with RF for additional damage over time.
Maximize AOE with AOE clusters on the tree for smoother clearing.

End-Game

Focus on reaching the suppression cap using gear, flasks, and passive nodes.
Use Essence of Delirium for the gloves to enhance Cold DoT damage.
Prioritize mods that boost damage, life, and regen on gear.
Experiment with unique items like "Legacy of Fury" rings for elemental damage scaling.
↖ Skill Tree Progression
Focus on reaching the suppression cap using gear, flasks, and passive nodes.
Use Essence of Delirium for the gloves to enhance Cold DoT damage.
Prioritize mods that boost damage, life, and regen on gear.
Experiment with unique items like Legacy of Fury rings for elemental damage scaling.
↖ Gem Setup
Main Body Setup: Utilize Vortex and RF as your primary clearing skills. Supports benefit both skills, and an Increased Area of Effect can be used for smoother mapping.
Secondary Damage Setup: Run a second damage setup in your gloves, focusing on increased AoE and spell damage.
Aura Setup: Prioritize determination, discipline, and Grace auras. Consider adding Divergent Haste for extra offensive power.
Movement Skills: Leap Slam is recommended for movement, providing a smooth and engaging experience.
Casting Damage Taken Setup: Use Cast When Damage Taken (CWDT) linked with Molten Shell to enhance your survivability.
↖ Gear and Flasks
Weapon: Look for a weapon with generic damage over time multipliers.
Shield: Seek a suppression base shield with a cold multiplier essence mod.
Helmet: Prioritize life regeneration and flat life modifiers. An Essence of Delirium can provide the desired damage over time multiplier.
Boots: Legacy of Fury is a powerful implicit, enhancing your elemental damage. Scorching life regen is valuable for sustainability.
Amulet: Consider a Bench Crafted Focused Shock amulet for ailment scaling.
Belt: Look for a belt with flat armor and evasion or a stylish Crown of the Pale King for extra life and defenses.
Jewels: Power of Purpose jewel provides armor scaling. Consider other jewels with relevant modifiers to enhance your build.
Flasks: Utilize unique flasks like the Basalt Flask for additional armor, and a Quicksilver Flask for mobility. A Cold flask with the Warding modifier for curse immunity is recommended.
Conclusion:
The Cold RF Inquisitor offers an innovative approach to traditional RF builds. This league starter build balances offense and defense through creative cold DoT mechanics and RF synergies. The build's efficiency shines in both clearing and single-target damage, making it an excellent choice for a smooth league start and beyond. As you gear up, consider exploring further elemental damage scaling options for optimal end-game performance. Good luck, and enjoy your journey with this unique build!
Most Popular Posts
Popular Category Lists