Diablo 4 Elixirs Guide: Enhance Your Potions and Power Strategy
In this Diablo 4 guide, we're diving into the fascinating world of potion crafting and elixir mastery. We'll walk you through how to upgrade your healing potions, craft powerful elixirs, and make the most of incense buffs to aid you and your party on your perilous journey. So, let's get started!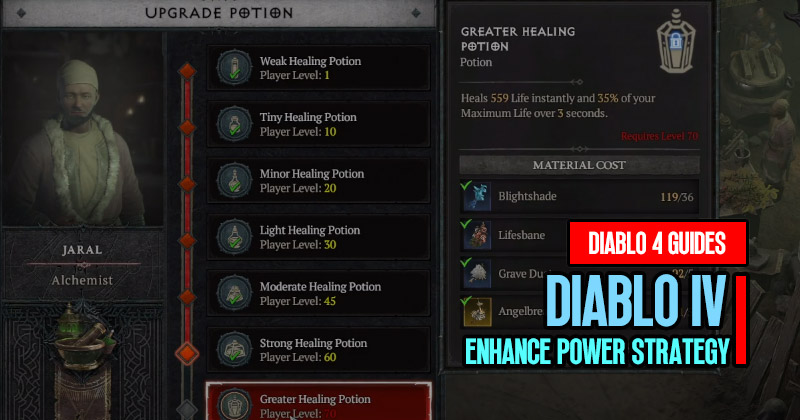 ↖ Finding Your Favorite Alchemist
The first step on your journey towards alchemical greatness is to locate your favorite Alchemist. Whether it's Cheryl in Cat Bardu or any other Alchemist in main cities across the zones, these talented individuals hold the secrets to unlocking your potential. Once you've found your chosen Alchemist, it's time to explore the array of options they offer.
↖ Upgrading Healing Potions
Your healing potions are a lifeline in the treacherous world of Diablo 4. Visiting your Alchemist offers a golden opportunity to upgrade them. Engage with the Alchemist and choose the option to upgrade your healing potion. This step is paramount for ensuring you have the best healing capabilities. Keep an eye on the level requirements for each upgrade; timing is key to maximizing the benefits.
↖ Crafting Elixirs for Power
Elixirs are your companions in battle, granting temporary buffs that can make the difference between victory and defeat. The crafting menu of your Alchemist will reveal an array of elixirs waiting to be crafted. As you level up, new elixirs become available, each with its own unique effects and level requirements. Craft elixirs that complement your playstyle and objectives. Remember, elixirs not only provide bonuses but also grant experience percentages, so use them to your advantage.
↖ Refining Resources and Incense
Aside from crafting elixirs and upgrading healing potions, your Alchemist's arsenal includes the ability to refine resources and create incense buffs. Refining resources lets you convert materials into what you need, ensuring nothing goes to waste. Incense buffs are area-specific, providing temporary stat boosts to you and your nearby party members. Keep in mind that these buffs are localized and don't persist after death.
↖ Mastering Your Strategy
Crafting, refining, and enhancing are all essential aspects of your alchemical journey. To optimize your strategy, consider the challenges you face. If a particular dungeon boasts enemies with elemental damage, craft elixirs that grant resistance to that element. Tailoring your approach will elevate your effectiveness in battle, making your Alchemist a true ally.
↖ A Final Word
As you venture deeper into the realm of Diablo 4, remember that your Alchemist holds the key to unlocking your potential. From upgrading healing potions to crafting elixirs and refining resources, your Alchemist's offerings are indispensable. Your character's growth is inextricably linked to the choices you make at the Alchemist's table.
↖ Conclusion
In conclusion, Embracing the art of alchemy in Diablo 4 offers a dynamic way to bolster your strength and resilience. Upgrading your healing potions, crafting elixirs to suit your strategy, and using incense buffs strategically will greatly enhance your adventures. So, go forth, brave adventurer! Craft, refine, and empower yourself on your path to glory. Until next time, may your potions be potent and your battles victorious.
Most Popular Posts
Popular Category Lists