FFXIV Moogle Treasure Event: Each Tier Reward & How to Get?
Welcome to this guide on the FFXIV Moogle Treasure Trove 10th Anniversary Hunt event! In this event, you'll have the opportunity to acquire various rewards by running content and earning Moogle tomestones. These tomestones can then be exchanged for items at the itinerant Mughals in the capital cities. This guide will walk you through the rewards available at different tomestone tiers and help you decide what's worth farming. Let's start by breaking down the rewards available at each tier.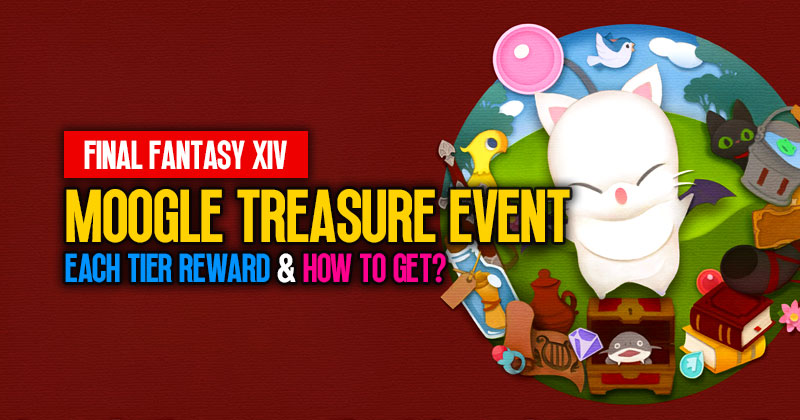 ↖ Event Overview
During the Moogle Treasure Trove: The 10th Anniversary Hunt event, you'll be participating in various content to earn tomestones. These irregular tomestones can be exchanged for rewards at the Itinerant Moogle NPCs in capital cities. We'll start by examining each reward tier and discussing which items are worth your effort.
↖ 100 Tomestone Tier
Fat Cat Parasol: This unique item is worth 100 tombstones. It offers a cool and distinctive appearance that's highly appealing compared to previous unique items.
Both Ways Hairstyle: While this can be purchased from the market board for a significant price, spending 100 tombstones on it is worth considering.
Samurai Barding: If you appreciate Chocobo bardings, the 100 tombstones for this item might be worth it. However, Chocobo bardings may be less sought after.
Warrior of Light Card: Obtained through Gold Saucer gold card packs, this card is quite rare. Consider the 100 tombstones only if you're into collecting Triple Triad cards.
Shiva Emote: Although available for 2-3 million gil on the market board, 80 tombstones might still be a reasonable price for collectors or fans of the emote.
Slash Sweat Emote: Farming this emote through Palace of the Dead might be time-consuming. If you value your time, using 100 tombstones to get it could be a good choice.
High Five and Sweep Up Emotes: These emotes can be bought for 1,800 Skybuilder scripts each or on the market board for 200,000-500,000 Gil. Depending on your preference, using tombstones or scripts may be more efficient.
Slash Guard Emote: Obtained by exchanging 50 Botany Clusters, it might be worth using 50 tombstones to save the farming time required.
Various Mounts: The mounts in this tier, like Fat Chocobo and Typhon, can often be solo-farmed from their respective content. Consider using 50 tombstones to save time if you don't already have them.
Emet-Selch Triple Triad Card: A rare Triple Triad card, the 100 tombstones might be worth it for collectors or players seeking this card.
Various Orchestrion Rolls: Crafting these rolls can be time-consuming and involve Extreme Trials. If you need to get up for the grind, spending 150,000+ gil per roll might be worthwhile.
↖ 50 Tomestone Tier
Various Mounts from Extreme Trials: Farming these mounts with friends is possible, but if you're short on time or a solo player, using 50 tombstones could save you the hassle.
Various Orchestrion Rolls: Since these rolls are from level 70 dungeons and can be soloed, farming them unsynced might be a better choice than using 50 tombstones.
Sky Blue Parasol: Depending on your availability for Skybuilder scripts or if you want to save time, 50 tombstones might be a good deal.
Toad Head and Toad Suit: These can be obtained by participating in the "The Head, the Tail, the Whole Damn Thing" FATE. Using 50 tombstones might be more convenient than waiting for the FATE to spawn.
↖ 30 Tomestone Tier
Reveling Kamoy and Other Mounts: Farming these level 70 Extreme Trial mounts unsynced with friends could be more efficient than using 30 tombstones.
Sigma Escape V4 Orchestrion Rolls: Since you can solo these dungeons at level 80, it's better to farm them for these rolls instead of using 30 tombstones.
Pixie Beast Tribe Orchestrion Roll: If you already have the Pixie Beast Tribe levelled, spend your Fae Fancies to obtain this role. Otherwise, farming the beast tribe might be a more efficient use of your time.
Garden Skates Orchestrion Roll: Farming this Pixie Beast Tribe Orchestrion Roll might be worth the effort if you're interested in completing your collection.
↖ 20 Tomestone Tier
Furniture Items: Most of the furniture items in this tier can be bought from the market board for a lower price than using 20 tombstones. It's recommended to skip these and save your tombstones for other rewards.
↖ 10 Tomestone Tier
10-Year Anniversary Portrait: If you're a collector or like the look of this unique item, it's worth getting for your Adventurer's Portrait Frame.
Triple Triad Cards: The listed cards can be farmed or bought on the market board, so using 10 tombstones for them isn't the most efficient option.
↖ 1 Tomestone Tier
Various Accessories and Minions: Most of these items can be obtained through different means in the game, so it's generally not worth using your tombstones for them.
↖ How to Obtain Rewards?
Alliance Raids: Participate in alliance raids such as The Copied Factory, The Puppets' Bunker, and others to earn 14 Tomestones per completion.
PvP Modes: Engage in larger PvP modes, like Hidden Gorge, Onslaught, and more. Earn either 6 or 10 Tomestones depending on the mode.
Unreal Trials: If you haven't already, dive into Unreal Trials to earn additional rewards while honing your skills.
Leveling Dungeons: Clear various dungeons, including the Endwalker leveling dungeons, to accumulate Tomestones.
Normal Raids: Complete normal raids such as the 24-player Alliance Raids to earn 4 Tomestones of Pageantry.
↖ Tips for Maximizing Rewards
Prioritize alliance raids and PvP modes for efficient Tomestone farming.
Consider joining forces with others for faster completion of harder content.
Use this opportunity to catch up on Unreal Trials and level up your character.
Explore the options available and choose activities that match your preferences and playstyle.
Conclusion:
The Moogle Treasure Trove 10th Anniversary Hunt event offers a wide array of rewards, and your choices will depend on your preferences, playstyle, and time availability. Consider your goals, whether you're a collector, a solo player, or a group player, when deciding what items to farm with your tombstones. This guide should help you make informed decisions and get the most out of the event. Good luck, and enjoy the rewards!
Most Popular Posts
Popular Category Lists