Path of Exile 3.22 8-Mod Mapping Currency Framing Strategy
In the ever-evolving world of Path of Exile, currency farming strategies can make all the difference in your wealth and progress. One of the most lucrative methods is the 8-Mod Mapping strategy, which involves maximizing your map's modifiers for increased loot drops. In this guide, we'll delve deep into this strategy, exploring three different approaches to suit various playstyles and gear levels.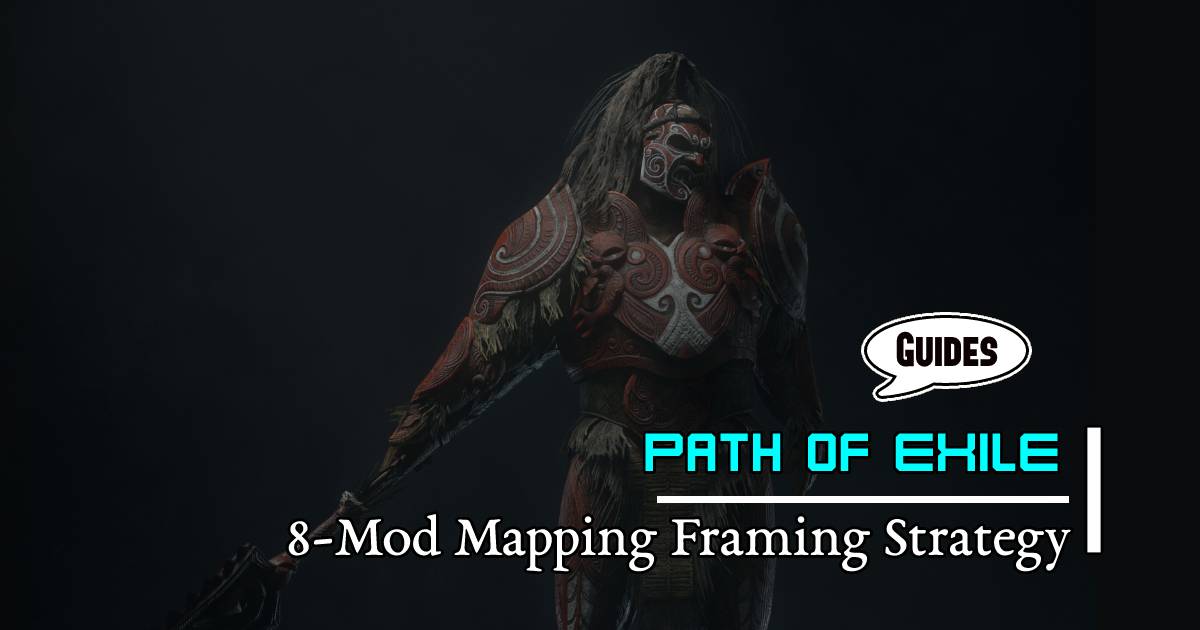 ↖ Beyond and Ambush Combo
Key Nodes: Endless Tide, Ambush, Cartographer's Strongboxes, and Racecourse Boxes.
Why Choose This Strategy: This tree capitalizes on the synergy between the Beyond and Ambush mechanics, flooding your maps with extra monsters and strongboxes.
Tips: Beyond mobs can be challenging, so a strong build is recommended. Be prepared for increased risk and rewards as you dive into this intense strategy.
Atlas Passive Trees: https://maxroll.gg/poe/poe-atlas-tree/s3010q22
↖ Delirium for More Mapping
Key Nodes: All the Map Dupe nodes and the additional tier bonus node.
Why Choose This Strategy: This tree emphasizes duplicate maps to run more of them. Ideal for those who struggle with Delirium encounters' difficulty or simply prefer to focus on maximizing map quantity.
Tips: This strategy may yield slightly less profit per hour compared to the Beyond and Ambush combo but is safer and more manageable for some builds.
Atlas Passive Trees: https://maxroll.gg/poe/poe-atlas-tree/r1010qdw
↖ 8-Mod Sextant Strategy
Key Nodes: 8-Mod Sextants, Legion Compass, Polished Divination Scarab (or Gilded Legion Scarab), and Endless Tide.
Why Choose This Strategy: Perfect for those who want to buy 8-mod maps instead of selling them. It involves running Legion encounters and offers an alternative to dealing with map sales.
Tips: This strategy is more demanding and may require a robust build to tackle Delirium and Legion encounters simultaneously.
Atlas Passive Trees: https://maxroll.gg/poe/poe-atlas-tree/q8010qis
↖ How to Run the Maps
To maximize your efficiency in running these 8-mod maps, follow these steps:
Head to the Boss: Begin by rushing to the map's boss while opening all the strongboxes on your way. Prioritize opening them immediately for more Divination Cards.
Activate Shrines: Click on the Shrines as you encounter them, as it's more efficient than returning later.
Defeat the Boss: After clearing the way and maximizing your loot potential, confront the map's boss.
Clear the Rest of the Map: Once the boss is defeated, finish clearing the remaining monsters and loot.
↖ Conclusion
The 8-Mod Mapping strategy in Path of Exile is a powerful method to accumulate wealth and gear. By choosing one of the three strategies outlined in this guide, you can tailor your approach to your build, playstyle, and gear level. Remember, the profitability of these strategies can vary based on factors such as your build's strength and the current market conditions. Whether you prefer the challenge of Beyond and Ambush, the reliability of Delirium, or the convenience of 8-Mod Sextants, these strategies can significantly boost your Poe currency gains and enhance your Path of Exile experience.
Most Popular Posts
Popular Category Lists