FFXIV Patch 6.5 News: Release Date and Key Features
Welcome to the exciting world of Final Fantasy XIV! In this guide, we'll delve into the details of the eagerly anticipated Patch 6.5, set to launch in early October 2023. From captivating artwork to thrilling new features, we'll explore what's in store for adventurers, including the main scenario quest Growing Light, new dungeons and trials, weapon enhancements, tribal alliance quests, and much more. So, fasten your seatbelts as we embark on a journey through the latest updates and mysteries of Eorzea!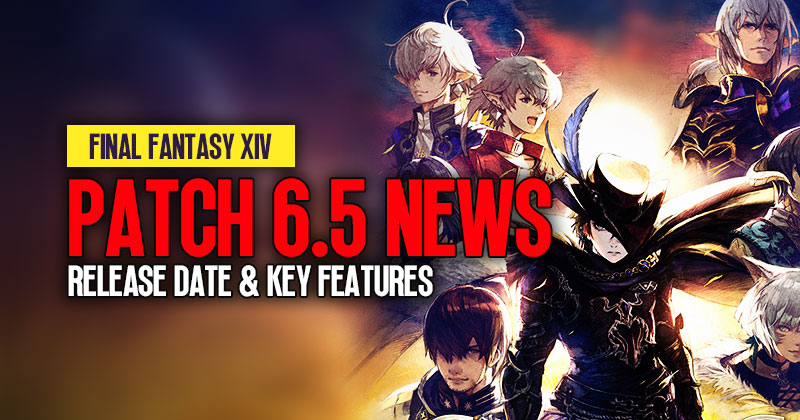 ↖ Artwork Revealed
First and foremost, let's talk about the gorgeous artwork that graces the special site. As you can see, it features a captivating scene with our beloved characters from patches 6.1 through 6.5, and at the center of it, all is Zero. The symbolism here is intriguing – it appears that Zero may be going through some significant changes, potentially shedding her void nature and regaining some of her humanity. The anticipation of her interactions with René in this patch is palpable, and we can't help but wonder about her fate.
↖ Release Date Speculation
The special site confirms that Patch 6.5 will be arriving in early October 2023. If we look at past release patterns, we can expect the patch to drop around October 3rd. Keep in mind that the next Letter from the Producer Live is scheduled for September 23rd at the Tokyo Game Show. Historically, patches release around 10 to 11 days after a Live Letter, so October 3rd is a strong possibility.
↖ Key Features of Patch 6.5
Let's delve into the exciting features that Patch 6.5 will bring:
| | |
| --- | --- |
| Main Scenario Quest | The central storyline continues to unfold, and Zero's journey will take her to the First, as hinted in the latest screenshots from the Live Letter. How her encounter with René will unfold and whether she will survive remain intriguing questions. |
| New Alliance Raid Dungeon | Prepare to explore this thrilling new alliance raid and uncover the mysteries hidden within. |
| The Lunar Subterrain | Embark on a new dungeon adventure as you traverse the enigmatic Lunar Subterrain. |
| New Trial | Get ready to face off against Zerus, the final boss from Final Fantasy 4, in this epic trial. |
| New Variant Dungeon | Prepare for the challenges of Alolo Island and its Savage version, both arriving in 6.51. |
| New Unreal Trial | While some might say Thoron is overhyped, it's making a return as an Unreal Trial. The catch? It will be at the Unreal item level, potentially adding new challenges to the fight. |
| Additional Duty Support | All main scenario dungeons in Patch 6.5 will be covered under Duty Support. Gather your party for these eight-man trials as you progress through the story. |
| Tarro's Grand Endeavors | The finale of Tarro's Grand Endeavors is set for Patch 6.55, following the Japanese FanFest in January. Stay tuned for exciting developments! |
| Weapon Enhancement Quest | Gear up with best-in-slot weapons as you take on the challenging task of accumulating 1500 Totems. Get ready for more grinding! |
| Tool Enhancement Quest | Learn the secrets of the Splendorous Tools, which are particularly useful for expert crafters. The end results remain a mystery, but they promise to be shiny! |
| End Walker Tribal Alliance Quests | These quests make their return after a hiatus during Shadowbringers. Brace yourself for thrilling tribal quests and, hopefully, a unified villain storyline. |
| New Custom Deliveries and Margaret | Margaret seems to be in desperate need of sleep, but she's back with new custom deliveries. Help her get some rest as you embark on these missions. |
| 14 Fall Guys Collaboration | Get ready for the highly anticipated collaboration with Fall Guys in Patch 6.5x. This collaboration will introduce a new attraction in the Gold Saucer, resembling the Fallu Miname itself but as a gate. |
| Xbox Version Open Beta Testing | An open beta for the Xbox version of FFXIV is on the horizon, with the full release expected next year. |
| Expanded Free Trial Starter Edition | Prepare for an enhanced free trial experience, complete with a video series showcasing the 60 and 70 portions of the game. Perfect for newcomers and veterans alike. |
| Island Sanctuary Updates | Explore the latest updates to the Island Sanctuary, which were revealed during the Live Letter. |
| Crystalline Conflict | Engage in epic battles in the new arena, set in the Seoli Desert. New PVP gear, mounts, minions, emotes, and fashion accessories will also be introduced. |
Conclusion:
Keep your eyes peeled for updates on this exciting crossover. As we eagerly await the release of Patch 6.5 in early October, stay tuned for more information, including details from the upcoming Letter from the Producer Live event. Until then, adventurers, keep exploring, battling, and uncovering the mysteries of Eorzea!
Most Popular Posts
Popular Category Lists