Path of Exile Dunes Map Farming Divines Strategy Guides
In this Path of Exile guide, we're going to dive deep into a successful map farming strategy in Dunes. Whether you're a seasoned player or just looking to maximize your loot returns, this strategy will provide you with valuable insights to efficiently accumulate divination cards, currency, and more. We'll explore the key elements of this strategy, including map mods, scarabs, sextants, gear, and the passive skill tree.
Atlas Skill Tree: https://poeplanner.com/a/TVj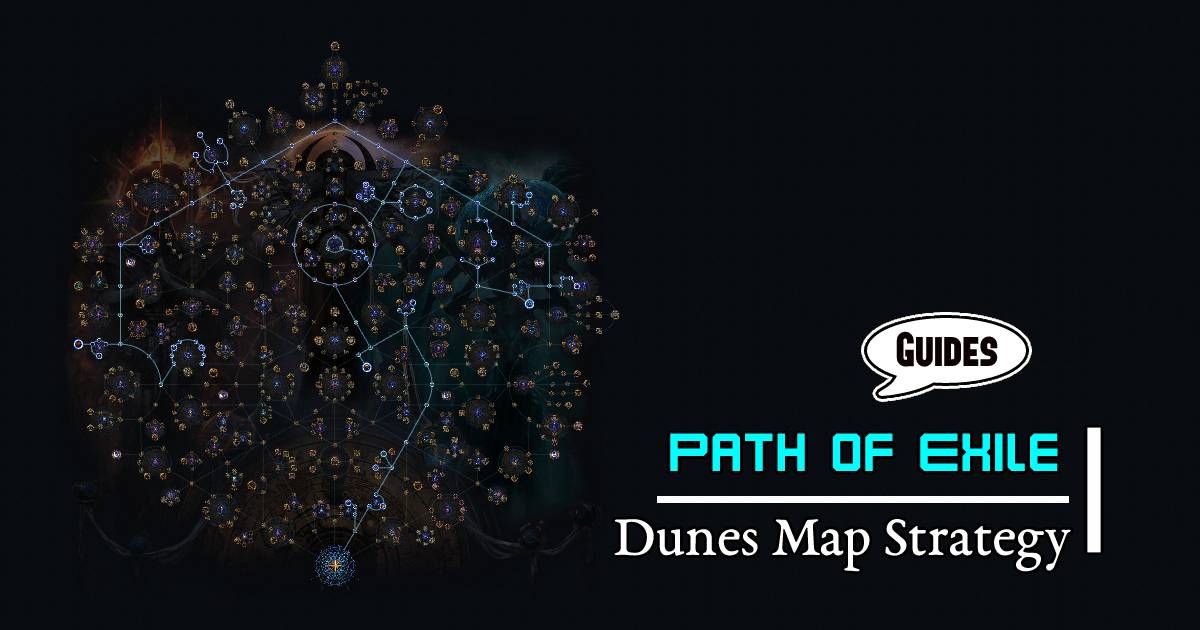 ↖ Map Selection and Quantity
To maintain consistency, we recommend running 28 Dunes maps in one farming session. This allows for a substantial loot haul while catering to players with limited daily playtime. Dunes maps are chosen due to their speedy completion time, making them ideal for this strategy. Unlike Crimson Temple, which can be a bit of a slog, Dunes provides a fast-paced farming experience.
↖ Map Mods and Scarabs
Juicing up your maps is crucial for maximizing returns. While you can go for eight mods, it's not necessary. Focus on maintaining a map quantity of around 100. For scarabs, start with Gilded Divination Scarabs but consider switching to Rusted Divination Scarabs halfway through your farming session to save currency without sacrificing loot quality.
↖ Scarab Selection
Gilded Ambush Scarab: Ideal for extra content, but Rusted Ambush Scarabs work well if you're on a budget.
Polished Legion Scarab: Stick with this choice unless you're running Magic Find, as it prevents generals from slowing you down.
Gilded Reliquary Scarab: Optionally, you can swap this for Tormented Spirits or Cartography Scarabs based on your preference.
↖ Sextants
Select the following sextants for your maps:
Legion Encounter
+2 Strongboxes
Mirror of Delirium
Beyond
↖ Map Device
Use a Legion Scarab in your map device to increase the number of Legion encounters, providing more opportunities for loot and Headhunter buffs.
↖ Loot Overview
The loot you can obtain from this strategy is impressive. In 28 Dunes maps, expect to find divination cards, raw divines, chaos orbs, stack decks, incubators, and valuable uniques. The divination cards you'll want to focus on are Fortunate, which drop frequently and provide decent returns.
↖ Passive Skill Tree
The passive skill tree used for this strategy closely resembles the one used for Cemetery farming. It emphasizes increased item quantity and rarity, strongboxes, and Legion content. Adjustments can be made based on your preferences, such as skipping Beyond nodes if you're not using Headhunter.
↖ Conclusion
This Path of Exile Dunes map farming strategy offers a swift and efficient way to accumulate divination cards and other valuable items. It's particularly suitable for players looking to boost their in-game currency or acquire essential items. While Cemetery and Crimson Temple are also viable options, Dunes stands out for its speed and ease of execution.
Most Popular Posts
Popular Category Lists