Diablo 4 Eternal Realm and Season Start Uber Lilith Rogue Build
Many Diablo 4 players have been inquiring about a reliable Uber Lilith build that can stand the test of the Eternal Realm. It's true that most online builds are outdated or misguided when it comes to tackling Uber Lilith. But fear not, because in this guide, I'll provide you with an optimized build that will help you conquer Uber Lilith, even in the Eternal Realm.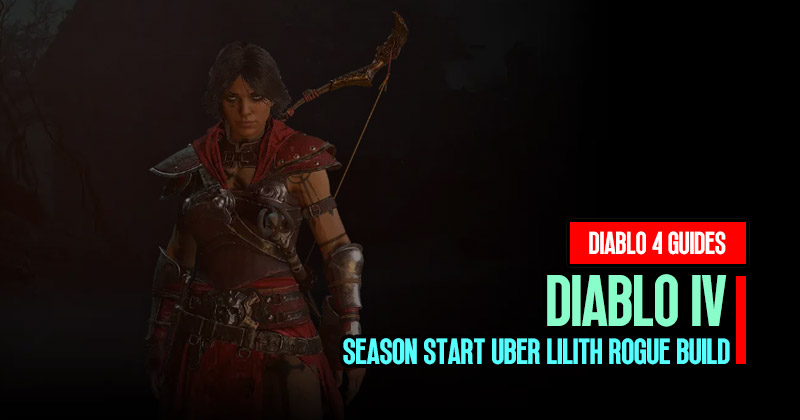 ↖ Strategy
The core strategy against Uber Lilith remains consistent: stagger her as quickly as possible to skip her phases and finish her off swiftly. To achieve this, I recommend using the "Cold Imbuement" skill to aid in staggering her, especially since we don't have access to certain Mulligan Hearts that assist with stagger effects like slow or knockdown.
↖ The Build
My Uber Lilith build is actually a modification of my PvP build, boasting over 600 poison damage and 250 vulnerable damage in the Reds calculator. This setup yields nearly 60,000 poison damage, making it one of the highest, if not the highest, damage-dealing builds in the game.
Build Planner: https://maxroll.gg/d4/planner/fj7c0bjk
Let's dive into the gear and skills you'll need to make this build work on the Eternal Realm:
↖ Gear Setup
Helmet: Cooldown reduction, Max life, Poison imbuement, Basic skill attack speed, and Noxious eyes aspect.
Chest: Poison damage, Cutthroat skill damage, Imbuement skill damage, and either 10 more damage or 63 dexterity, depending on your amulet's dexterity.
Gloves: Fist of Faith for stagger, Crit strike chance, Attack speed, Lucky hit, and Twisting blades for extra damage.
Pants: Damage reduction from clothes, Total armor, Dodge chance, and Damage after dodging and attack.
Boots: Penitent Griefs for crowd control during stagger.
Two-Hander Weapon: Crossbow with Vulnerable core skill damage, Vulnerable damage, All stats, and Dexterity. Use Accelerating aspect for increased attack speed.
Amulet: Energy cost reduction, Three ranks of all imbuements, Three ranks of Frigid Finesse, and either +10 dexterity or +10 damage.
Rings: Both rings should have Vulnerable damage, Poison damage, Crit strike chance, and Lucky chance.
Peregrine Board: Close Words combat board for Paragon points.
↖ Skills
| Skill | Points | Description |
| --- | --- | --- |
| Puncture | 1 | Slow and damage for crowd control. |
| Twisting Blades | 5 | Enhanced and improved for additional crowd control. |
| Shadow Step | 1 | For increased crit strike chance and stun. |
| Poison Trap | 3 | Enhanced for crowd control. |
| Exploiting Poison Trap | 3 | For damage. |
| Malice | 3 | For damage. |
| Dark Shroud | 1 | As the Numbers aspect. |
| Precision Imbuement | 3 | For crit strike chance. |
| Poison Imbuement | 5 | Enhanced, blended, and frigid finesse for damage. |
| Colt Imbuement | 1 | Enhanced and blended for staggering. |
| Bursting Venoms | 3 | Crit reactions for crit strike chance. |
| Adrenaline Rush | 1 | For energy regeneration. |
| Haste | 1 | For energy gain and attack speed. |
| Close Words Combat | 4 | Efficiency, Versatility, Tricks of Trade, and Eldritch Bounty for damage and utility. |
↖ Paragon Board Setup
| Skill | Points | Description |
| --- | --- | --- |
| Efficiency | 1 | For damage. |
| Versatility | 4 | For damage. |
| Tricks of Trade | 1 | For damage. |
| Bane | 3 | For poison damage. |
| Kenny | 4 | For non-physical damage. |
| Eldritch Bounty | 2 | For poison damage. |
↖ Glyphs
Make sure to optimize your glyphs according to the build for maximum damage output.
↖ Conclusion
This build is designed to excel in the Eternal Realm and offers unparalleled damage potential. By following this guide, you'll be well-equipped to handle Uber Lilith and other end-game content in Diablo 4. Keep in mind that perfecting your gear and optimizing your Paragon board and glyphs can further boost your damage output. So, dive into the Eternal Realm with confidence and show the world the true power of this build.
Most Popular Posts
Popular Category Lists