Runescape Herblore Gold Making Guide: Crafting Adrenaline Crystals
In this Runescape guide, we'll delve into a unique herblore Gold-making method centered around crafting adrenaline crystals. This method can yield substantial profits, but it comes with certain limitations due to buy limits on specific items. To maximize your Runescape Gold earnings, we'll be utilizing a combination of items and buffs, making this method highly lucrative.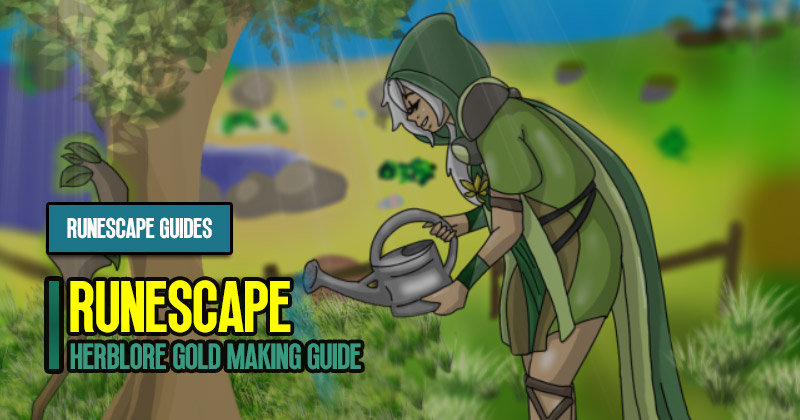 ↖ Requirements
Herblore skill
Inert adrenaline crystals
The Botanist's set
The Bridge of the Gods
Portable well
Botanist's mask and brooch
Cleansing crystals (optional)
Patience and preparation
↖ Profit Per Hour
You can expect to make approximately 13.8 million gold pieces per hour using this method. However, keep in mind that this method is subject to buy limits, which restrict the quantity of items you can purchase hourly.
↖ The Buy Limit Challenge
One major drawback of this method is the buy limits imposed on certain items. For instance, you'll need around 2.4K inert adrenaline crystals per hour, but you can only purchase 500 per hour. To overcome this limitation, plan ahead and stockpile the required items over several days before committing to the method.
Inert adrenaline crystals: 500 per hour
Spark: 1,000 per four hours
Primal extract: 10,000 per four hours
↖ Items Worth Investing In
For maximum profit, consider acquiring the Botanist's mask and brooch. These items significantly boost your earnings. Keep in mind that this method prioritizes profit over Herblore XP, with a modest XP rate of around 26k per hour.
↖ Method Overview
Gather the required materials: Inert adrenaline crystals and Primal extract.
Set up the portable well: This provides special effects that can trigger multiple times, potentially saving resources and creating extra products.
Use the Botanist's set and brooch: These items offer a 5% chance of obtaining extra resources, further boosting your profit.
Crafting adrenaline crystals: Combine one inert adrenaline crystal with one Primal extract at the well. This process transforms 3.7K gold pieces into 8.5K gold pieces, with additional savings on supplies and extra adrenaline crystals.
Stockpile items: Accumulate a substantial number of components over time to ensure you have enough to sustain a profitable session.
↖ Tips for Efficiency
Use a Primal extract on your action bar to quickly access it when crafting adrenaline crystals, saving valuable seconds.
Utilize the brooch and the Botanist's set to maximize the effectiveness of the method.
Conclusion:
While this herblore Gold-making method sacrifices XP gains for profit, it's an excellent way to accumulate wealth if you have the required resources and are willing to invest the time. You can even use the Grand Exchange to stock up on supplies, making it a viable long-term strategy for Runescape players looking to boost their bank balance.
Most Popular Posts
Popular Category Lists