ESO Necromancer Class Guide: Tips and Tricks For New Players
The Necromancer class was introduced to The Elder Scrolls Online through the Elsweyr expansion. If you're new to playing a Necromancer, this guide will provide you with a fundamental understanding of the class. Within this guide, we will dissect the skills, passives, and race suggestions to assist you in constructing your Necromancer character.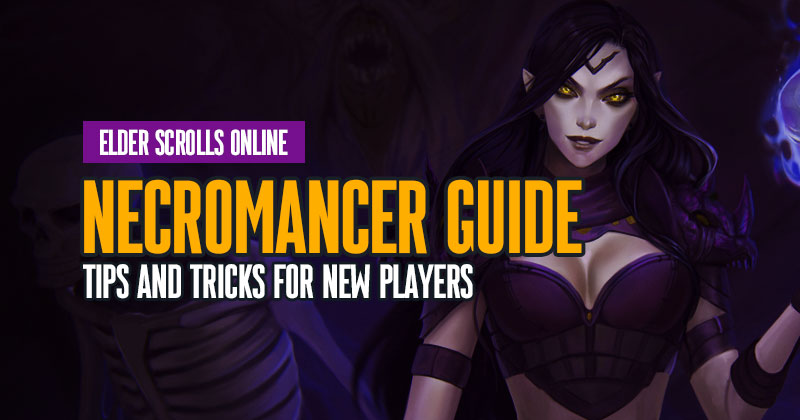 ↖ Race Selection
Choosing the right race for your Necromancer depends on your desired playstyle. Here are some recommendations based on different roles:
Magicka DPS
High Elf (Altmer): High Elves provide more spell damage.
Breton: Bretons offer exceptional magicka sustain.
Stamina DPS
Orc (Orsimer): Orcs are a strong choice for stamina Necromancers due to their bonuses in weapon damage, health, and stamina.
Dark Elf (Dunmer): Dark Elves also provide weapon damage and stamina bonuses, making them a decent option for stamina DPS.
Healer
Breton: Bretons excel in magicka sustain, crucial for healing.
Tank
Imperial: Imperials offer additional health and stamina along with resource recovery in combat.
Nord: Nords provide ultimate generation, health, stamina, and resistances.
Orc (Orsimer): Orcs are suitable for off-tank and DPS tank builds due to their health and stamina bonuses.
Remember that racial passives play a significant role in your character's effectiveness, so choose a race that complements your desired role.
↖ Pros and Cons
Versatility: Necromancers excel in various roles, from DPS to tanking and healing.
Strong DPS: They unleash potent damage with skills like Flame Skull and Blast Bones.
Unique Mechanics: Necromancers offer corpse manipulation and summoning for added strategy.
Resource Management: Passives like Corpse Consumption and Spirit Guardian aid resource management.
Survivability: Healing abilities and defenses make Necromancers durable in solo play.
Ultimate Synergies: Necromancer ultimates, like Frozen Colossus, work well in group play, offering major vulnerability.
Complexity: Necromancers can be complex, especially for beginners, due to unique mechanics.
Resource-Intensive: Some abilities demand high Magicka or Stamina, requiring careful resource management.
Corpse Dependency: Necromancer abilities rely on corpses, limiting effectiveness in certain situations.
Negative Effects: Abilities like Render Flesh can apply negative effects, necessitating careful management.
Ultimate Cost: Necromancer ultimates can be costly, demanding strategic timing.
Stigma: Some players may hesitate to group with Necromancers due to perceived dark themes, affecting social dynamics.
↖ Skills
The Necromancer class has versatile skills for DPS, healing, and tanking, divided into three skill lines: Grave Lord, Bone Tyrant, and Living Death.
Grave Lord (DPS)
Ability
Description
Morphs
Flame Skull
A spammable single-target ability that deals flame damage. Every third cast increases its damage.

Venom Skull (Stamina)
Ricochet Skull (Magicka)

Blast Bones
Summons a skeleton that runs toward a target and explodes, leaving a corpse.

Blighted Blast Bones (Stamina)
Stalking Blast Bones (Magicka)

Boneyard
Creates a frost AoE DoT effect. Consuming a corpse increases damage, and allies in the center can activate a frost attack.

Unnerving Boneyard
Harrowing Boneyard

Skeletal Mage
Summons a skeletal mage that attacks from range.

Skeletal Archer (Stamina)
Skeletal Arcanist (Magicka)

Shocking Siphon
A tether ability that deals shock damage and increases your damage done while slotted.

Detonating Siphon (Stamina)
Mystic Siphon (Magicka)

Frozen Colossus (Ultimate)
Summons a Colossus that smashes the ground, applying Major Vulnerability.

Glacial Colossus
Pestilent Colossus
Bone Tyrant (Tank)
Skill
Description
Morphs
Death Scythe
Conal AoE damage to enemies and self-healing.

Ruinous Scythe (Stamina)
Hungry Scythe (Magicka)

Bone Armor
Provides Major Resolve and Major Ward, increasing resistance.

Beckoning Armor
Summoner's Armor

Bitter Harvest
Sap health and gain ultimate from corpses.

Deadly Harvest
Necrotic Potency

Boneyard
Skill description not provided.
No morphs available
Grave Grasp
Snares enemies and inflicts minor maim.

Ghostly Embrace
Empowering Grasp

Bone Goliath Transformation
Ultimate: Transforms into a Bone Goliath, increasing max health and healing from attacks.

Pummeling Goliath
Ravenous Goliath
Living Death (Healing)
| Ability | Description | Morphs |
| --- | --- | --- |
| Death Scythe | A Conal AoE that damages enemies and heals you. | Ruinous Scythe (Stamina) and Hungry Scythe (Magicka) |
| Bone Armor | Provides Major Resolve and Major Ward, increasing your resistance. | Beckoning Armor and Summoner's Armor |
| Bitter Harvest | Sap health and gain ultimate from corpses. | Deadly Harvest and Necrotic Potency |
| Boneyard | As described in the Grave Lord skill line. | - |
| Grave Grasp | Snares enemies and inflicts minor maim. | Ghostly Embrace and Empowering Grasp |
| Bone Goliath Transformation | Transforms into a Bone Goliath, increasing max health and healing from light and heavy attacks. | Pummeling Goliath and Ravenous Goliath |
| Render Flesh | A burst heal that heals you and one other ally but applies Minor Defile. | Resistant Flesh and Blood Sacrifice |
| Expunge (Cleanse) | Removes negative effects from yourself at the cost of health. | Expunge and Modify and Hexproof |
| Life Amid Death | AoE burst heal with an additional heal over time if you consume a corpse. | Renewing Animation and Enduring Undeath |
| Spirit Mender | Summons a ghostly healer to heal you over time. | Spirit Guardian and Intensive Mender |
| Restoring Tether | Heals you and allies over time while linked. | Braided Tether and Mortal Coil |
| Reanimate (Ultimate) | Revives up to three dead allies. | Renewing Animation and Animate Blast Bones |
↖ Passives
The Necromancer class has several passives that enhance your abilities:
Grave Lord Passives
Reusable Parts: Reduces the cost of your next summon ability after one dies by 25%.
Death Knell: Increases your critical strike chance against enemies below 25% health for each Grave Lord ability slotted.
Dismember: Provides spell and physical penetration while a Grave Lord ability is active.
Rapid Rot: Increases damage with damage over time effects by 10%.
Bone Tyrant Passives
Death Gleaning: Restores magicka and stamina whenever an enemy dies nearby with a Bone Tyrant ability slotted.
Disdain Harm: Reduces damage taken from damage over time abilities with a Bone Tyrant ability active.
Health Avarice: Increases healing received for each Bone Tyrant ability slotted.
Last Gasp: Increases max health.
Living Death Passives
Curative Curse: Increases your healing done when you have a negative effect.
Near-Death Experience: Increases critical strike chance with healing abilities based on target's health.
Corpse Consumption: Generates ultimate when using an ability on a corpse.
Undead Confederate: Increases magicka and stamina recovery while a summon ability is active.
Related: Dragonknight Class Guide!
Conclusion:
The Necromancer class in The Elder Scrolls Online offers a wide range of skills and passives, making it a versatile choice for various roles such as DPS, healing, and tanking. Depending on your preferred playstyle and role, you can tailor your character's race, skills, and passives to excel in your chosen role. Explore the diverse abilities of the Necromancer class and experiment to find the build that suits you best in the world of Tamriel. Enjoy your journey as a Necromancer in ESO!
Most Popular Posts
Popular Category Lists