Diablo 4 Season 2 League Starter Rend Rupture Bob Barbarian Build
With the upcoming release of Diablo 4 Season 2, it's time to delve into a potent build that's set to dominate the battlefield. In this guide, we'll explore the Rend Rupture Bob build, designed to unleash massive damage and conquer bosses. This build leverages the changes in crit chance and crit damage to excel in the new season.
Build Planner: https://tinyurl.com/2a7jwzkc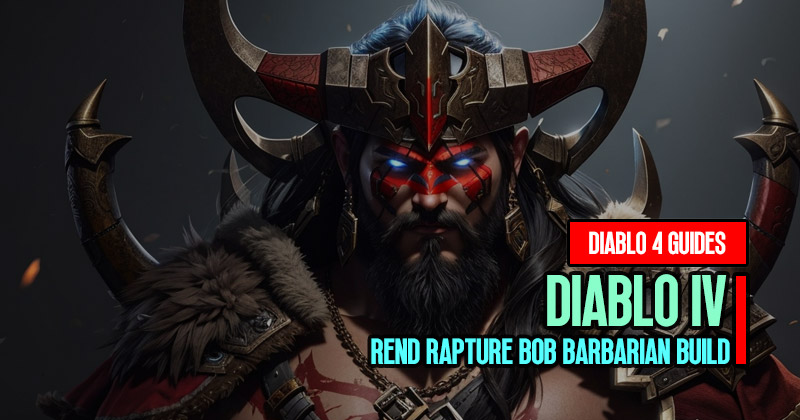 ↖ The Rend Rupture Bob Build
The Rend Rupture Bob build capitalizes on the significant changes to crit chance and crit damage scaling in Diablo 4 Season 2. As crit scaling has been reduced to 1.5, Damage Over Time (DoT) builds, such as this one, receive an indirect but substantial boost. DoT builds don't rely on crits, making them a natural fit for this new meta.
↖ Gear Setup
Let's start by breaking down the essential gear pieces for the Rend Rupture Bob build:
New Helm: This build focuses on bleeding damage, crit, and berserking. The new helm synergizes with multiple sources of berserking, boosting your damage output and providing cooldown reduction.
Disobedience: An important choice for armor stacking, Disobedience now stacks up to 66% armor. It pairs exceptionally well with the numerous bleeds you'll apply.
Unique Pants: These pants grant a 1.4 multiplier to damage when you're Unstoppable for 4 seconds. Combined with other abilities like Ghost Walker, this provides a significant damage boost.
200-Sword: Your weapon of choice, whether it's Grandfather or Fields of Crimson, both are formidable options for this build.
↖ Skills and Skill Tree
Here's a breakdown of the skills and skill tree choices that define the Rend Rupture Bob build:
Rend: Your primary skill, Rend, deals substantial damage over time. With this build, Rend becomes even deadlier, making it a powerful tool for boss-killing.
Berserking: Numerous sources of berserking are incorporated into the build, enhancing your damage and allowing you to maintain the berserking state for longer.
Rupture: Enhanced Rupture becomes a core part of your skillset. It scales off your main stat, synergizing perfectly with your gear, and grants a significant damage boost when you've been Unstoppable.
Shout - Generate Fury: Shout skills are vital for Fury generation, ensuring you have the resources to maintain your devastating attacks.
↖ Paragon Tree
In the Paragon tree, your focus should be on maximizing your damage while maintaining survivability:
Ira: Boosts your damage while berserking and provides damage reduction. An excellent choice for added survivability.
Carnage: Amplifies your berserking damage and duration, adding to your overall DPS.
Exploit: Essential for applying Vulnerable to enemies, increasing your damage output significantly.
Dis: Provides damage reduction and extra willpower range, ensuring you can handle tough encounters.
Blood Rage: A great source of berserking bonuses and damage, further enhancing your combat prowess.
↖ Conclusion
The Rend Rupture Bob build is poised to excel in Diablo 4 Season 2, capitalizing on the changes to crit scaling. As a Damage Over Time (DoT) build, it offers incredible boss-killing potential and outstanding damage output.
Most Popular Posts
Popular Category Lists