Poe 3.22 High DPS and Flexibility Tornado Shot Deadeye Build
The PoE Tornado Shot build has always been a fan favorite due to its flexibility and potential for high DPS. From a humble start in our 'play with me' series with 10-15 PoE divines, this guide showcases the evolution of a build that now boasts an investment of over 500 divines.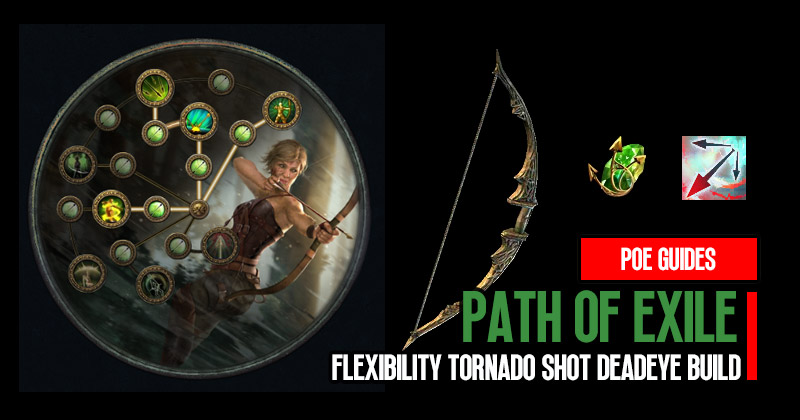 PoB Link: https://pobb.in/FnQg4-x7YVy2
↖ Investment Breakdown
Total Investment: Approx. 535 Divines
Minus Mage Blood: 200 Divines
Standard Bow (No +2 arrows): 135 Divines
Despite these reductions, performance remains impressive.
↖ Bow
Features: +2 arrows, high elemental DPS, strength, intelligence, critical chance, and attack speed.
Cost: 85 divines, although crafting might be cheaper.
Crafting Tip: Refer to YouTube guides on crafting this bow.
↖ Helmet
Cost: Approximately 20 divines, considering the implicits and crafting.
Features: Mana reservation efficiencies and reduced mana cost.
Crafting Tip: Spam intelligence essences for optimal stats.
↖ Amulet
Model: Hyrri's Truth with movement speed corruption implicit.
Cost: Around 80 chaos.
Tip: Prioritize high critical multiplier.
↖ Rings
Kikazaru: Budget-friendly; enhance with fertile catalyst for 20% efficiency.
Custom Ring: Fractured chaos resistance ring. Approximately 4-5 divines with detailed crafting steps provided.
↖ Other Key Gears
Chest: Six-link Hyrri's Ire (Approx. 1.5 divines)
Belt: Mage Blood (340 divines)
Gloves: Corrupted with critical chance (6-8 divines)
Boots: Focus on life regeneration, elemental resistances, and increased action speed.
Quiver: Emphasize on flat damage, bow damage, and attack speed.
↖ Flask Setup
Onslaught Flask (Evasion)
Diamond Flask (Critical Chance)
Quicksilver Flask (Attack Speed)
Sulfur Flask (Regen Life)
Note: Adjust based on personal needs and playstyle.
↖ Skill Links & Gems
Detailed breakdown provided for skills like Focus Ballist, Tornado Shot, Grace, Haste, Frenzy, Snipers Mark, Berserk, and Divergent Tornado. Additionally, gems like Divergent Inspiration and Awakened Ele Damage with Attacks are highlighted due to their significance in the build.
↖ Skill Tree & Jewels
Detailed Path of Building (PoB) link provided for a comprehensive view.
Highlight on the critical jewels such as Projectile Tattoo and Warrior's Tail for projectile boosts.
Lethal Pride jewel for double damage mods.
Large and medium cluster jewels optimized for resistances and damage.
↖ Final Thoughts
Path of Exile 3.22 Building an efficient Tornado Shot character requires attention to detail, especially when optimizing for different budget tiers. Whether you're starting with just a handful of divines or pushing towards the high-end gear, this guide provides insights and tips to make your journey smoother. Remember, the key lies in understanding the mechanics, prioritizing upgrades, and continuously tweaking as you progress.
Most Popular Posts
Popular Category Lists