Diablo 4 Season 2 Lightning Sorcerer League Starter Leveling Build
Welcome to this Diablo 4 Season 2 Lightning Sorcerer Leveling Build guide. In this guide, we'll walk you through a comprehensive leveling strategy designed to take you from Level 1 to 37 in just 2 hours. This efficient approach optimizes your skill tree progression and ensures a smooth leveling experience.
Buld Planner: https://tinyurl.com/4jj8mmcy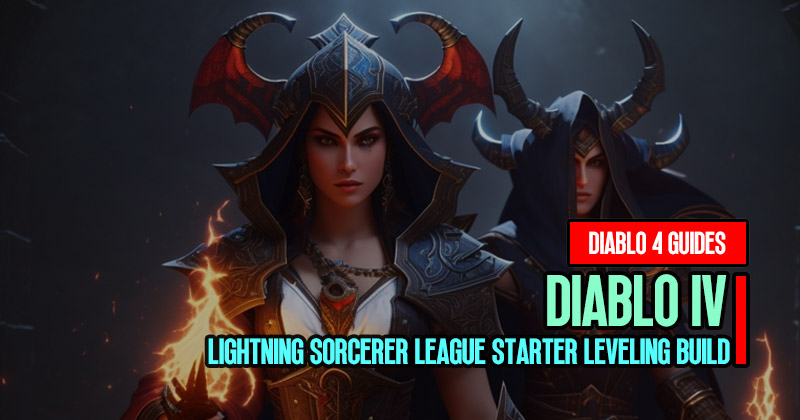 ↖ Initial Skill Selections
Begin with Arlash and the Flickering Arlash passive for a movement speed boost.
Allocate five ranks to Chain Lightning, the primary damage source for this leveling build.
Choose the Greater Chain Lightning passive for direct bonus damage due to low crit chance at this stage.
Unlock four skills: Teleport, Frost Nova, Hydra, and Ice Armor.
↖ Optimized Skill Tree Progression
Prioritize adding the Hydra passive for enhanced damage.
Select the Summon Hydra skill for improved effectiveness, especially with the buff in Season 2.
Integrate the Shimmering Frost Nova passive to recover Mana efficiently when surrounded by monsters.
Opt for Shimmering Teleport to gain a 30% damage reduction, enhancing survivability.
Invest in three ranks of Glass Cannon to boost your damage output.
↖ Further Skill Adjustments
Allocate points to Fireball, utilizing it as your enchantment to enhance damage.
Utilize Fireball explosion for efficient screen clearing after completing the enchantment quest.
Adjust your skill tree to prioritize crit chance and crackling energy for your ultimate skill.
Equip the Unstable Currents ultimate for significant damage output, activating it in the presence of multiple monsters.
↖ Aspect and Gear Recommendations
Enhance crit chance and crackling energy to fuel your ultimate and abilities.
Consider key passives like Overflowing Energy and Elemental Dominance for a balanced offensive and defensive approach.
Optimize gear, focusing on crit chance, crackling energy, and resistance to bolster your survivability.
↖ Level 1 to 15: Setting the Foundation
Begin your journey with Arclash and the Flickering Arlash passive to gain a valuable 18% movement speed boost.
Invest in five ranks of Chain Lightning as it will be your primary damage source throughout the leveling process. Select the Greater Chain Lightning passive for added direct bonus damage.
Unlock four essential skills: Teleport, Frost Nova, Hydra, and Ice Armor. The order of unlocking these skills doesn't significantly impact your progression.
First, add the Hydra passive for increased damage, and I recommend the Summon Hydra option, as it's buffed in Season 2.
Prioritize the Shimmering Frost Nova passive. It's particularly effective for regaining over half of your Mana when surrounded by enemies, leading to more Chain Lightning casts.
Opt for Shimmering Teleport to gain 30% damage reduction, which will enhance your overall survivability.
Following these choices, allocate points into the Glass Cannon skill for increased damage. By the time you reach Level 15, add Fireball to your skill set. Consider going for the enchantment as soon as you can, as it significantly boosts your damage output.
↖ Level 15 and Beyond: Fine-Tuning the Build
With Fireball, focus on stacking up to five ranks, but avoid putting points into Fireball passives. Notably, the radius of Fireball explosion from enchantment won't increase with the Enhanced Fireball passive.
Unlock the ultimate section but refrain from using Unstable Currents due to its extended cooldown. Instead, invest in three ranks of Crossing Currents to enhance your crit chance and two ranks of Electrocution for damage reduction.
Transition to an offensive build by prioritizing crit chance and crackling energy. Before choosing the Overflowing Energy passive, make the switch from Arclash to Spark as your basic skill to gain an 8% crit chance bonus.
With crit chance from passives and Crossing Current, shift your focus to the Destructive Chain Lightning passive to accumulate crackling energy effectively.
With these changes, remove all Glass Cannon points and Ice Armor from your skill set. Shift your attention to the Lightning Spear skill, and use the Invoked Lightning Spear to stun monsters through crit hits.
Eliminate all points invested in Hydra and add the Invigorating Conduit passive, allowing crackling energy to restore 12 Mana.
Replace two ranks of Electrocution with the Lightning Ultimate Unstable Currents.
Allocate the final three ranks to Convulsions to stun enemies with all lightning skills.
↖ Optimizing Survival and Defense
Enhance your build by allocating points into Crossing Currents, Electrocution, and Conduction to achieve damage reduction, movement speed, and more crit chance.
At this stage, consider the Protection skill and add three ranks to receive 30% maximum life as a barrier after casting a cooldown skill.
Prioritize damage reduction by investing in three ranks of Mana Shield.
Increase your damage output by adding Elemental Dominance with three ranks.
Point Warding is crucial for all resistance, making you a durable tank in Season 2.
Finally, three ranks of Convulsions will further bolster your survivability.
↖ Conclusion
With this Lightning Sorcerer Leveling Build, you're equipped to power through Diablo 4 Season 2 efficiently. Following this guide, you'll have the tools to swiftly level up, maximize your damage potential, and conquer the early game. Stay tuned for more Diablo 4 build guides and updates.
Most Popular Posts
Popular Category Lists