Diablo 4 Season 2 Twisting Blades Rogue Leveling Build Guides
Welcome to the Diablo 4 Twisting Blades Rogue leveling build guide for Season 2. In this guide, we'll dive into the intricacies of the Twisting Blades Rogue build, discussing everything from skill choices to gear recommendations and the use of vampiric powers. Whether you're new to the game or a veteran player, this guide will help you make the most out of your Season 2 journey.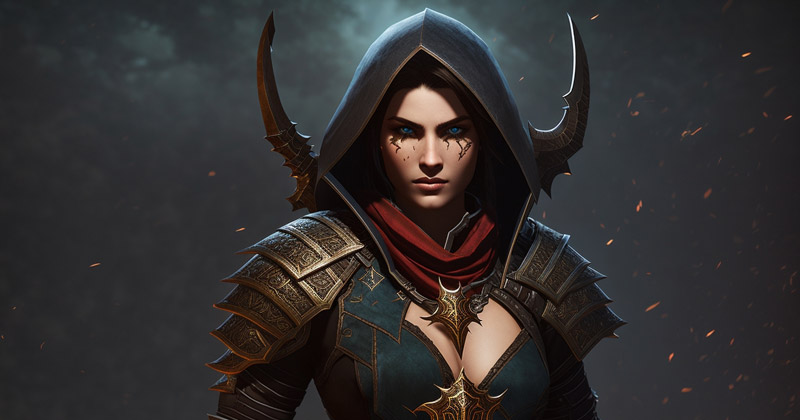 ↖ Skill Setup
Let's start by examining the essential skills that make up the core of this build:
Puncture: Throw a blade at a short distance, dealing 21% damage every third cast and slowing enemies. This skill is crucial for crowd control.
Puncture (Upgraded): Throws three blades in a spread, each dealing 35% of base damage. Hitting an enemy with at least two blades makes them vulnerable for two seconds, enhancing your damage potential.
Twisting Blades: Impale an enemy, dealing 63% damage and making them take 8% increased damage from you. The blade returns after 1.5 seconds, piercing the enemy again. This skill provides sustained damage and crowd control.
Shadow Step: Become unstoppable and quickly move through the shadows to stab your victim from behind for 72% damage, gaining 50% movement speed. This skill enhances your mobility and positioning.
Dash: This skill provides additional mobility with two charges, allowing you to navigate the battlefield effectively.
↖ Passive Skills
Weapon Mastery: Increases damage with swords by 9%, which complements the build's weapon choice.
Concussive: After knocking back or knocking down an enemy, gain 12% increased crit strike. This synergizes well with your crowd control abilities.
Evade: Reduces evade cooldown by 1 second when you hit an enemy, ensuring frequent use of this defensive skill.
↖ Imbuement Skills
Cold Imbuement: Enhances your crowd control capabilities and increases damage to controlled enemies.
Shadow Imbuement: Provides splash and burst damage, complementing the build's damage output.
↖ Vampiric Powers
Hemomancy: Your attacks deal a portion of your max life as physical damage to nearby enemies and heal you based on the enemies damaged. A reliable source of sustain.
Cursed Touch: Inflicts vampiric curse on enemies, which can spread to other nearby enemies. Boosts the damage dealt to cursed enemies.
Prayer in the Weak: Increases damage against vulnerable enemies, which are those affected by your vampiric curse.
Ravenous: Offers a chance to increase attack speed on a lucky hit, synergizing with your playstyle.
↖ Gear Recommendations
Prioritize gear with resistance bonuses, as maintaining capped resistances (70) is crucial for survival.
Focus on gear stats that enhance core attributes, crit strike chance, crit strike damage, max life, and imbued skill damage.
Utilize dual-wielded weapons, with one focusing on crit strike damage and the other on dexterity.
Slot gear with the appropriate aspects to maximize your build's potential, such as Blade Dancer's Aspect for Twisting Blades.
Consider using emeralds in your gear for increased max life.
↖ Gems
Emeralds and Rubies are your primary choices. Rubies have been buffed and provide a significant boost to your max life.
For jewelry, diamonds can be used to enhance your resistances.
↖ Build Planner
↖ Conclusion
The Twisting Blades Rogue leveling build in Diablo 4 offers a balanced mix of crowd control, damage output, and survivability. Whether you're a newcomer or a seasoned player, this guide will help you navigate Season 2 effectively, making your journey through Sanctuary a thrilling experience.
Most Popular Posts
Popular Category Lists