Diablo 4 Season 2 Unlocking Vampiric Powers Guides
With the dawn of Season 2 in Diablo 4, the Eternal realm brings to light an exciting new feature: Vampiric Powers. These are fueled by a novel crafting material known as Potent Blood. Let's dive into how you can harness these powers for your character.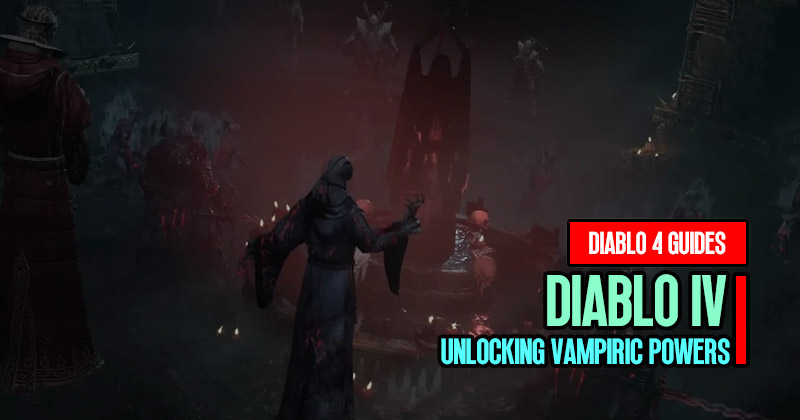 ↖ Unlocking the First Vampiric Power
Initial Steps: Begin by reading a specific in-game post.
The Adventure: Enter a seller's location and talk to the person there. Make your way to a designated area and defeat a few adversaries. After the battle, return to the seller to discover a trap awaiting you!
The Reward: After fending off your attackers and interacting with some items, you will unlock your first Vampiric Power named Undying. This also gives you access to the Vampiric Powers tab in your inventory.
↖ Navigating the Vampiric Powers Tab
Here, you'll find 22 unlockable vampiric powers. To unlock a power, you'll need to spend 25 Potent Blood.
↖ Acquiring Potent Blood
Blood Harvest Areas: Marked on the map, these areas host an event akin to a Hell Tide. The primary objective is to tackle a horde of enemies and obtain two essential items: Blooders and Seeker keys.
Note: We'll delve into Blood Harvest mechanics in a subsequent guide, so stay tuned.
↖ Choosing Your Vampiric Power
With 25 Potent Blood in hand, a button becomes active, presenting three vampiric power options. You can either unlock a new power or upgrade an already unlocked one. Make your choice wisely as there's no turning back once confirmed.
↖ Equipping Your Vampiric Power
The Sanguine Circle: Place your selected power into this circle.
Power Activation: Each Vampiric Power demands a specific "pack" cost. Packs are sourced from your armor pieces and are signified with unique symbols like crown (for Divinity), chalice (for Ferocity), and skull (for Eternity).
Example: With an armor set providing five packs of Ferocity, one of Divinity, and eight of Eternity, to activate a power like "Call Familiar" requiring more Divinity and Ferocity, additional packs must be secured or restructured.
↖ Modifying Pack Counts
Consumable Packs: These can be utilized to augment your equipment with extra packs.
Cleansing Acid Consumables: Use these to remove packs from gear, granting flexibility in adjusting your pack balance.
↖ Final Thoughts on Vampiric Powers
While the system might appear grind-intensive, especially considering the RNG element in power choices and the Potent Blood needed for upgrades, it's yet to be seen how it resonates with the Diablo 4 community.
Most Popular Posts
Popular Category Lists