Diablo 4 Season 2 New Bosses Location and Fights Guides
In patch 1.2, Diablo 4 Season 2 introduces five new bosses that provide exciting challenges and opportunities for unique loot. This guide will walk you through how to summon each of these bosses, discuss the valuable loot they drop, and provide a detailed example of how to summon Grigor the Galvanic Saint.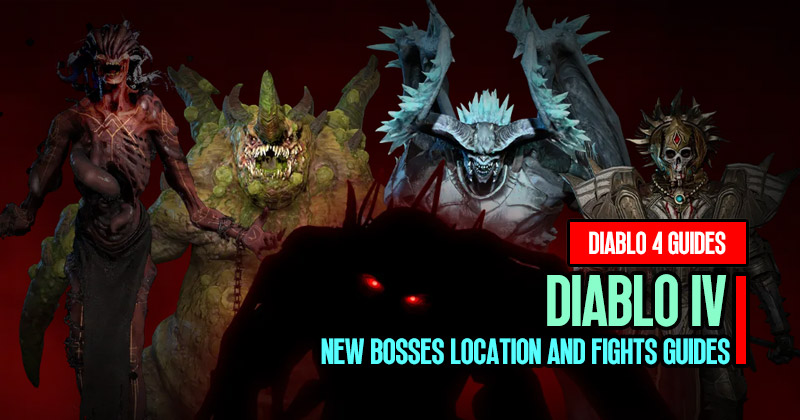 ↖ Echo of Varon
To summon Echo of Varon, gather malignant body parts from The Whisper caches as you progress through the game. This boss is relatively easy to summon, making it accessible for most players.
↖ Grigor the Galvanic Saint
Grigor can be summoned with living steel, which you obtain from the tortured offerings within HellTides. Look for chests that require 300 souls to unlock. This boss adds a bit of challenge to the summoning process, requiring you to venture deeper into the game.
↖ Beast in Ice
To summon the Beast in Ice, you need to complete level 30 or higher nightmare dungeons to obtain distilled fear. Craft a Glacial Fissure Nightmare Sigil with distilled fear to challenge this boss. This boss introduces a multi-step process and a higher difficulty level.
↖ Lord Zir
To summon Lord Zir, collect Exquisite blood from doing Legion Events and World bosses. Please note that you need to have completed the campaign to access this boss.
↖ Duriel, the King of Maggots
Duriel is summoned by combining an item received from Echo of Varon and Grigor the Galvanic Saint. Gather enough of these items to summon Duriel. He drops unique and Uber uniques that were previously harder to obtain.
↖ Loot from the New Bosses
Each boss in Diablo 4's patch 1.2 drops unique items that cater to specific character classes and builds. You can target farm these uniques by summoning the respective boss connected to your desired loot.
Here's a glimpse of the loot each boss drops:
Echo of Varon: Necromancer, Barbarian, Rogue, and Sorcerer-specific uniques.
Grigor the Galvanic Saint: Barbarian, Rogue, and Druid-specific uniques.
Beast in Ice: Barbarian, Rogue, Druid, and Necromancer-specific uniques.
Lord Zir: Barbarian, Necromancer, Sorcerer, Rogue, and Druid-specific uniques.
Duriel, the King of Maggots: A wide range of uniques and Uber uniques for various character classes.
↖ Where to Find the Bosses
The new bosses are scattered across the map, each with a designated location:
Echo of Varon: Malignant Burrow
Grigor the Galvanic Saint: Hall of the Penitent
Beast in Ice: Glacial Fissure
Lord Zir: Darkened Way
Duriel, the King of Maggots: Gap and Kass
These locations make it easier to summon and farm the bosses as part of your regular gameplay activities.
↖ Preparing for Boss Fights
Before taking on these bosses, it's crucial to prepare your character by maximizing resistances through potions and gear. Potions can increase your resistance by a set amount and a percentage, helping you reach the resistance cap of 70 with a max of 85. Make sure to craft and use potions tailored to the boss's primary damage type.
↖ Summoning the Bosses
We provided a detailed example of summoning Grigor the Galvanic Saint to give you an idea of the process. Each boss has its unique summoning requirements and locations, so explore the map and gather the necessary materials to summon them.
↖ Conclusion
Patch 1.2 in Diablo 4 introduces exciting endgame content with five new bosses. This guide equips you with the knowledge to summon and defeat these bosses, target farm unique loot, and enhance your Diablo 4 experience. Whether you're a seasoned player or new to the game, these bosses offer a fresh challenge and rewarding loot opportunities.
Most Popular Posts
Popular Category Lists