Diablo 4 Season 2 Best EndGame Boss Necromancer Builds
The most formidable Necromancer builds for Diablo 4 Season 2 endgame boss battles. Whether you're seeking unparalleled damage output, supreme survivability, or a balance of both, our comprehensive guide will help you conquer the toughest challenges in Sanctuary. Explore meticulously crafted builds, optimized for facing endgame bosses, and elevate your gameplay to new heights. With detailed explanations of each build's pros and cons, gear recommendations, and skill synergies, you'll have all the tools you need to excel in Season 2's most demanding encounters.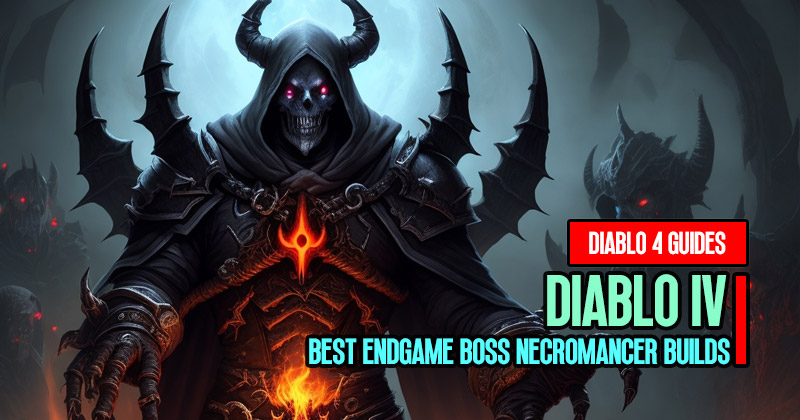 ↖ Overpowering Blood Surge Necromancer Build
The Overpowering Blood Surge Necromancer Build in Diablo 4 Season 2 is a potent and exciting choice for players looking to obliterate hordes of enemies with ease. With exceptional AOE damage, remarkable survivability, and strong resource management, this build is perfect for taking on end-game challenges. However, it does require manual blood orb collection and may face slightly longer boss fights due to its primary focus on AOE damage. Nonetheless, it's a versatile and enjoyable build that promises to keep you engaged and victorious in your Diablo 4 adventures.
Build Planner: https://tinyurl.com/827wzbb6
Pros
Exceptional AOE Damage: This build excels at annihilating large groups of enemies, making it ideal for clearing dungeons and other content with multiple foes.
Excellent Survivability: With a combination of fortification, healing, and life regeneration, this build ensures your Necromancer can withstand tough encounters.
High Attack Speed: Achieving impressive attack speed through skill combinations and gear enhances your damage output.
Resource Management: Vampiric powers, skills, and item choices ensure you have a steady flow of resources to unleash powerful attacks.
Versatile for End-Game Content: The build is suitable for tackling end-game content, including boss fights and challenging dungeons.
Cons
Manual Blood Orb Collection: To maximize the benefits of this build, you'll need to manually pick up blood orbs, which can be somewhat challenging in intense battles.
Limited Single Target Damage: While capable of dealing with single targets, this build truly shines in AOE scenarios, and boss fights may take slightly longer to complete.
↖ Unbeatable Blood Surge Necromancer Build
The Unbeatable Blood Surge Necromancer Build in Diablo 4 Season 2 is a powerhouse, offering exceptional early game power and continued dominance as you progress. With excellent survivability, versatile damage output, and efficient resource management, it's a well-rounded choice for all types of content. While it requires the sacrifice of minions and manual resource collection, the benefits far outweigh the drawbacks. If you're seeking an unstoppable Necromancer build for Season 2, look no further.
Build Planner: https://tinyurl.com/mr368yn9
Pros
Exceptional Early Game Power: This build becomes exceptionally strong early on, allowing you to breeze through leveling and early content.
Outstanding Survivability: The combination of increased health, resistances, and fortification makes your Necromancer a tanky force to be reckoned with.
Versatile Damage Output: The build offers a flexible damage output, making it equally effective against groups of enemies and single targets.
Resource Management: With efficient resource management, you can maintain a steady flow of primary resources, enabling powerful attacks.
Effective Legendary and Vampiric Powers: The build utilizes essential legendary nodes and vampiric powers to enhance damage and survivability.
Cons
Sacrifice of Minions: As you progress, minions become less viable, leading to their removal, making it harder to keep them alive during combat.
Manual Resource Collection: You'll need to manually collect blood orbs during battle, which can be cumbersome in intense situations.
↖ Powerful Infinus Necromancer Build
The Diablo 4 Infinus build is a versatile and powerful choice for Season 2, excelling in damage output, boss killing, mobility, and survivability. With the XF Falls ring and an updated bossing spec, this build is now a top contender in both speed farming Diablo 4 Gold and boss fights. If you're looking for a well-rounded and formidable build to conquer Diablo 4's challenges, Infinus is an excellent choice.
Build Planner: https://tinyurl.com/4xx4thee
Pros
Exceptional Damage Output: Infinus build shines with its remarkable damage output, capable of handling Tier 100 nightmare dungeons effortlessly.
XF Falls Ring: The XF Falls ring provides a significant boost to your damage-over-time abilities, enhancing your AOE damage potential.
Improved Boss Kill Speed: Thanks to several adjustments, this build now offers a much-improved boss killing experience, going from a lackluster boss killer to a solid contender.
Impressive Mobility: Infinus maintains its outstanding mobility, utilizing Metamorphosis for better evasion and maximum movement speed.
Exceptional Survivability: This build's survivability is top-tier, allowing you to tackle challenging content with ease.
Updated Bossing Spec: Discover the new bossing setup that significantly enhances your damage output and boss-killing efficiency.
Comprehensive Build Planner: Access the most up-to-date Infinus build on Maxwell with direct links to our Discord community for constant updates.
Cons
Speed Farming Setup Limitations: While the Infinus build excels at speed farming, its speed farming setup may not be as versatile as other options.
Limited Utility of Certain Uniques: Some unique items, like Lidless Wall, may not be the best choice for this build in certain scenarios, limiting your options.
Most Popular Posts
Popular Category Lists