Diablo 4 S2 Fury Hammer of the Ancients Barbarian Build
Welcome to our extensive guide on mastering the Hammer of the Ancients Barbarian build in Diablo 4 - a build known for its mind-blowing damage, rapid clear speeds, and exceptional resilience against Ubers. This guide will walk you through the core components, playstyle, and gear choices to help you dominate your enemies and become an unstoppable force in Sanctuary.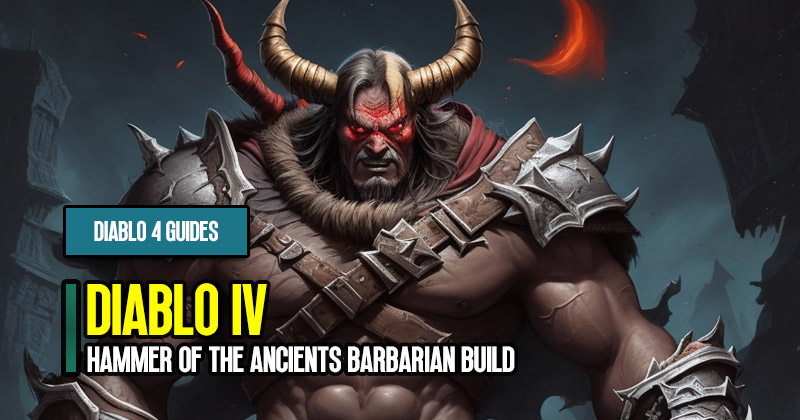 ↖ Key Components of the Build
Berserking Focus: The heart of this build revolves around berserking, specifically utilizing the Blood Rage Legendary Paragon node. This node calculates 25% of your total damage while berserking as a separate multiplicative damage source, essentially allowing you to double dip on damage.
Tusk Helm of Yit the Mighty: This unique helmet plays a crucial role by enhancing your berserking state. If you proc another source of berserking while already in this state, you have up to a 60% chance to become even more enraged, granting you 15% more damage, 2 Fury per second, and 10% cooldown reduction.
Tibolt's Will: This legendary item increases your damage by 20-40% for 4 seconds whenever you become Unstoppable, also granting 50 primary resource. It complements the build's focus on Fury management and max resource stacking.
Banished Lord's Talisman: Essential for overpower builds, this unique item guarantees an overpower after spending 300 Fury, with critical strikes that overpower having their damage increased by up to 120%. This is particularly synergistic with the Fury-intensive nature of Hammer of the Ancients in this build.
↖ Vampiric Powers and Their Synergies
Metamorphosis: Enhances your Unstoppable state, synergizing with Tibolt's Will.
Prey the Weak: Boosts damage to vulnerable enemies, enhancing your damage output.
Sanguin Brace: Provides fortify and critical hit chance, supporting both your tankiness and damage.
Blood Boil: Ensures guaranteed overpowers, complementing the Banished Lord's Talisman.
Ravenous: Grants immense attack speed due to the build's high movement speed, ensuring frequent and powerful Hammer of the Ancients hits.
↖ Playing the Build
Focus on maintaining and maximizing your berserking state through strategic use of War Cry and Wrath of the Berserker, and alternate between Lunging Strike and Hammer of the Ancients to make the most of the Earth Striker aspect. Ensure you're casting your shouts close to enemies and staggering your abilities for optimal berserk uptime.
↖ Stacking Max Fury
A core strategy of this build is stacking Max Fury through gear, skills, and the Paragon board, which directly amplifies the damage of Hammer of the Ancients.
↖ Resource Management
Despite the high Fury cost of Hammer of the Ancients in this build, managing your resources is seamless thanks to Tibolt's Will, Unrelenting Fury, and Paragon board perks.
↖ Build Planner
↖ Concluding Thoughts
This Hammer of the Ancients Barbarian build is a powerhouse, delivering astounding damage, speed, and resilience. Whether you're a seasoned Barbarian player or new to the class, this build is sure to impress.
Most Popular Posts
Popular Category Lists