Diablo 4 S2 Machine Gun Necromancer Build Guides
The exhilarating journey of mastering the Machine Gun Necromancer in Diablo 4. If you are craving for a build that hits like a machine gun and offers relentless attack speed without essence issues, you are in the right place. Let's dive in and dissect this build to ensure you are armed and ready for the battlefield.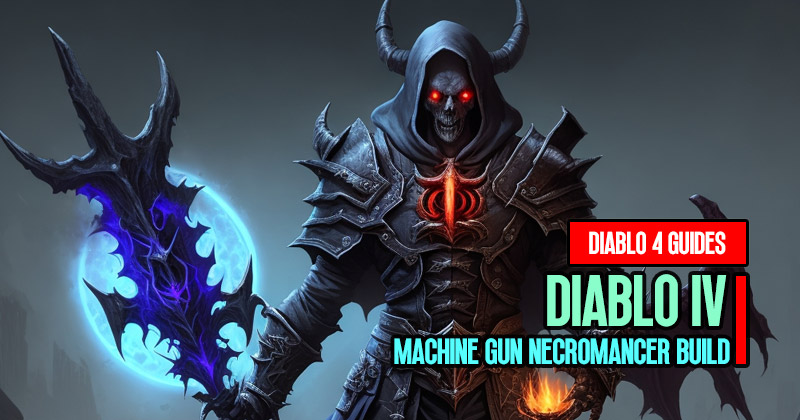 ↖ Build Overview
The Machine Gun Necromancer is a powerhouse, capitalizing on immense attack speed and resource regeneration. This build enables players to maintain a constant barrage of attacks, ensuring that enemies are obliterated in no time. With the right gear and skills, the Necromancer transforms into a relentless force, channeling the essence with precision and speed.
Build Planner: https://tinyurl.com/mutk43e3
↖ Gear Setup
Weapon: Opt for the Grandfather for its substantial crit damage.
Ring: Starless Skies is crucial as it reduces the Essence cost of your core skills after casting, helping maintain your resource pool.
Armor: Focus on pieces that boost your attack speed and provide essence on kill.
Accessories: Ensure you have items that increase your crit chance, crit damage, and provide additional multipliers for your damage output.
↖ Skills and Abilities
Bone Spear: Your primary attack, bolstered by the Starless Skies ring for reduced essence cost.
Corpse Explosion: Use strategically for additional damage, although with this build, its necessity is diminished.
Metamorphosis: Combined with Tri-Bol Will, it renders you unstoppable and replenishes your essence swiftly.
Evade: A crucial skill for resource regeneration, further enhanced by gear that reduces evade cooldown on attack.
↖ Playstyle and Strategy
Resource Management: Utilize the Starless Skies and Metamorphosis to maintain your essence, ensuring a constant stream of attacks.
Mobility: Stay mobile and utilize evade to keep your resources topped up and to avoid damage.
Attack Speed: Maintain your rapid attack speed to maximize damage output. Utilize gear and Paragon points to boost this further.
↖ Paragon Boards and Skill Trees
Paragon Boards: Focus on offensive nodes to increase your damage output while maintaining a balance with defensive nodes to ensure survivability.
Skill Trees: Opt for nodes that enhance your Bone Spear, increase your attack speed, and provide additional critical damage multipliers.
↖ Closing Thoughts
The Machine Gun Necromancer is a build that promises fast-paced gameplay and a rain of destruction upon your foes. With the right gear, skills, and playstyle, you can dominate the battlefield, making every session feel exhilarating.
Most Popular Posts
Popular Category Lists