Diablo 4 S2 Blood Lance Necromancer Uber Lilith and Tier 100 Nightmare Dungeons Build
In the dark world of Diablo 4, the Blood Lance Necromancer build stands out as a formidable force, capable of dealing massive damage and conquering even the most challenging content. In this guide, we will delve into the inner workings of this build, focusing on how to maximize your damage output, obliterate Uber Lilith, and clear Tier 100 Nightmare Dungeons with ease.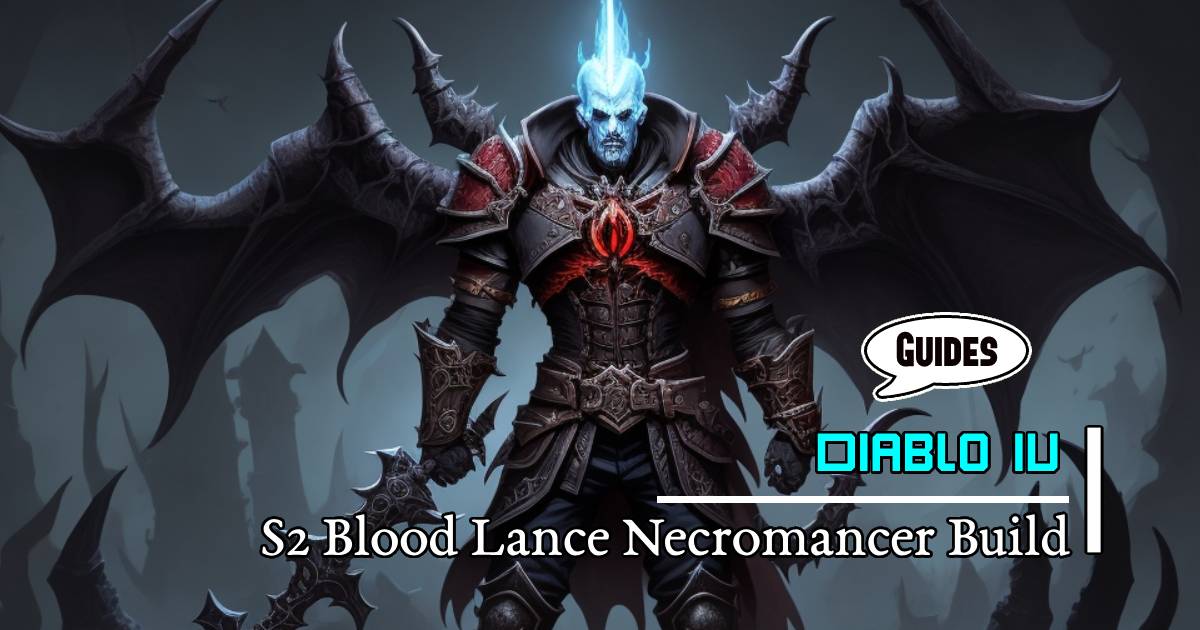 ↖ Key Items That Supercharge the Build
Now, let's explore the two Diablo 4 items that transform the Blood Lance build into a powerhouse.
Blood Moon Breeches: These boots provide maximum life, damage reduction, more curse skills, and two ranks in the Amplify Damage passive. The real game-changer is that enemies affected by your curses take 70% increased Overpower damage, which is a multiplicative damage boost.
Banished Lord's Talisman: This item from Duriel offers Critical Strike, Overpower damage, fine resource generation, and two ranks in all core skills. After spending 300 of your primary resource, your next core skill is guaranteed to Overpower on a Critical Strike. This mechanic results in a significant damage boost.
Godslayer Crown (Optional): While not essential, this unique helmet enhances your survivability and damage. It grants maximum life, damage reduction, and a 20% bonus damage. Additionally, stunning, freezing, or immobilizing elite enemies or damaging bosses triggers a 42% damage increase for three seconds.
These items synergize with the build's mechanics, making each Critical Strike and Overpower even more devastating. For maximum damage, the Blood Lance build reaches its full potential when equipped with these items.
↖ Fine-Tuning Your Build
To further optimize your Blood Lance build, consider these enhancements:
Unique Glyphs: Invest in appropriate glyphs to bolster your damage output. For instance, the Control glyph can be beneficial against normal mobs, while the Blood Drinker glyph provides bonus Fortify as you pick up orbs.
Ring Augments: Pay attention to your ring augments, ensuring they complement your build. Look for affixes such as Critical Strike chance, Critical Strike damage, and other stats to enhance your character's overall effectiveness.
Paragon Board: Allocate your Paragon points wisely, prioritizing intelligence, dexterity, and willpower. Remember to balance these attributes to maintain a potent character.
Bone Graph Board: Utilize the Bone Graph board to enhance your build further. Depending on your preferences, consider the "Control" glyph for multiplicative damage against stunned and slowed enemies.
↖ Build Planner
↖ Conclusion
The Blood Lance build in Diablo 4 is a powerhouse, capable of obliterating foes with ease. By understanding its gameplay loop, equipping the right items, and fine-tuning your character, you'll transform into a force to be reckoned with. Whether you're taking on Uber Lilith or Tier 100 Nightmare Dungeons, the Blood Lance build is your key to success in the dark world of Diablo 4.
Most Popular Posts
Popular Category Lists