Diablo 4 S2 Formidable Boss Slayer Necromancer Build
Are you a Necromancer in Diablo 4, looking to become a formidable boss slayer? In this guide, we'll delve into a powerful build that can deal up to 300% more damage to bosses, including Duriel. Join us as we explore the unique items, skills, and strategies that make this build a force to be reckoned with.
Build Planner: https://tinyurl.com/yc8mzddu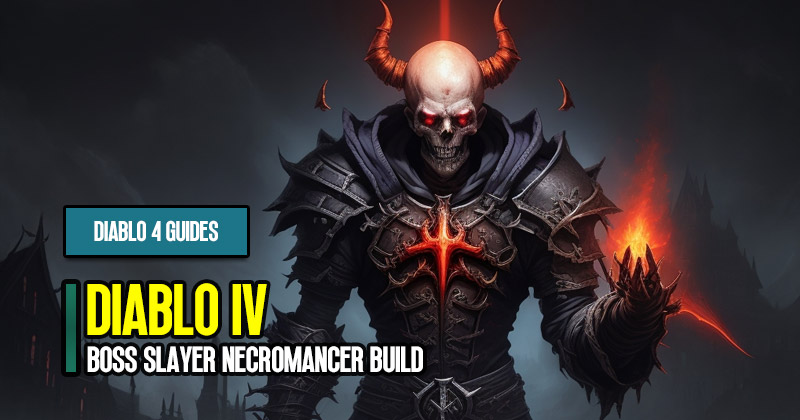 ↖ Unique Items
God Slayer: Unleash devastating damage with this unique item that offers cooldown reduction, maximum life, damage, crowd control, and more. Stun your enemies and deal increased damage to bosses.
Black River: Surprisingly high damage output makes this weapon a must-have for your Necromancer. Triggering corpses and boosting your lucky hit chance can lead to explosive damage.
Xast Sinking: Enjoy cooldown reduction and lucky hit chance, which synergize perfectly with your build. Trigger massive bursts of damage against your foes.
↖ Skills and Traits
Huge Flesh: Maximize your damage potential with this skill, as it significantly boosts your damage output.
Stagger: Consider investing points in this skill to stagger enemies more effectively during boss fights.
Increased Attack Speed: Prioritize this trait to trigger more basic attacks and enhance your overall damage.
Paragon Points: Allocate your points wisely, focusing on bonus damage, injury damage, and damage while healthy.
Lucky Hit Spell: This skill grants you a 20% chance to increase your attack speed by a staggering 49.3%, making it a secret weapon for this build.
↖ Skill Rotations
When facing bosses, follow these rotations for maximum damage:
Debuff the boss with Decrepify and cast Bone Storm to start lowering your active spell cooldowns.
Initiate the battle by casting Corpse Explosion to kickstart your damage over time.
Spam various skills like Corpse Explosion, Cops Tal, and basic attacks while keeping an eye on your blood Mist and Bone Storm cooldowns.
Use Blood Mist when needed to become Unstoppable and deal massive damage. Timing is crucial here.
This build's damage ramps up exponentially as the fight progresses, making it highly effective against bosses.
↖ Paragon Points
Maximize your Paragon points to gain bonuses in damage, toughness, and utility. Discover the secret ability that boosts your attack speed significantly, and learn how to adapt your Paragon points as you progress.
↖ Adjustments for Nightmare Dungeons
If you plan to use this build in Nightmare Dungeons, you can make a few adjustments:
Replace the God Slayer with a normal helmet to increase your armor and survivability.
Utilize boots that enhance your mobility to navigate dungeon challenges effectively.
Keep an eye out for LW War to enhance your build further once you acquire it.
↖ Conclusion
In conclusion, this Diablo 4 Necromancer build guide offers an in-depth look at a powerful boss-slaying build that can deliver up to 300% more damage. With the right gear, skills, and strategy, your Necromancer can become a force to be reckoned with in the world of Diablo 4. Stay tuned for more guides and updates on Diablo 4's ever-evolving world.
Most Popular Posts
Popular Category Lists