How to Fast Level ALT Necromancer from 1 to 100 in Diablo 4 S2
Diablo 4 enthusiasts! If you're ready to master the dark arts as a Necromancer, you've come to the right place. I've logged a ton of hours playing Diablo 4, and now I'm ready to tell you all about leveling as a Necromancer. Ready to go from level 1 to level 100 with me? Let's go!
Build Planner: https://tinyurl.com/yn48jem7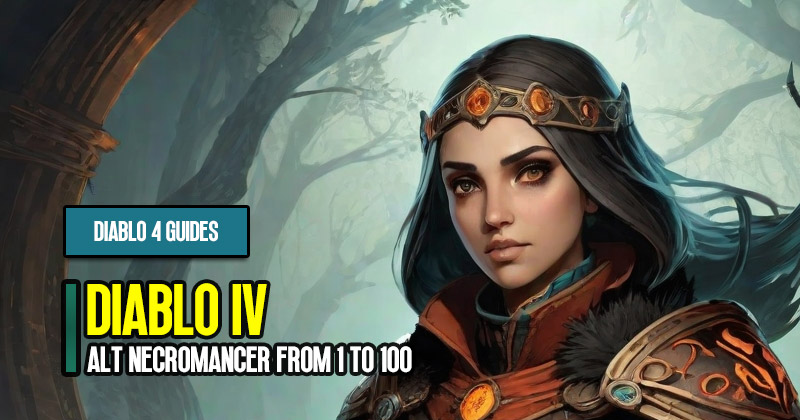 ↖ Step 1: Level 1 to 35 - The Foundation
Key Skill: Iron Maiden - Forget Decrepify, Iron Maiden is your bread and butter here. It's a powerhouse for generating essence, keeping your energy high while obliterating enemies left and right.
Activities: Focus on whisper quests. They're a treasure trove of riches and experience. In Season 1, aim to spend most of your time in Blood Harvest – it's packed with whispers, elites, and Vampiric blood siphons, perfect for farming XP.
↖ Step 2: Level 35 to 45 - Gear Up
Transitioning to World Tier 3: You're not quite ready for World Tier 3 content, but don't sweat it. Tackle four strongholds and a couple of Legion Events to boost yourself to level 45.
Gear Strategy: Now's the time to don your sacred gear and collect your Capstone loot. You're ready to return to blood harvest and other World Tier 3 content.
↖ Step 3: Levels 45 to 55 - Overworld Dominance
Activities: Focus on HellTides and Legion Events. You're gearing up for the Tier 4 Capstone dungeon, ideally at level 55.
Avoid Nightmare Dungeons: Stay clear of these until level 50, as they don't yield glyph XP before then.
↖ Step 4: Level 55 to 60 - The Ancestral Push
Legion Events and Strongholds: Continue in World Tier 4. Six strongholds can easily get you to level 60.
Ancestral Gear: Once you hit 60, it's time for ancestral gear, which boosts your item power.
↖ Step 5: Level 60 to 75 - Nightmare Mastery
Nightmare Dungeons: With your upgraded gear, these become a breeze. You'll fly through them, gathering XP as you go.
Activities: Keep up with Legion Events and HellTides, and prepare for Uber bosses.
↖ Step 6: Level 75 to 100 - The Final Grind
Uber Bosses: Take action now to get top-tier equipment.
Glyph XP: Focus on Tier 100 dungeons for efficient glyph leveling. This is a game of patience and persistence.
↖ Step 7: Preparing for the Abatar of Zer
Glyph Leveling: Get all your glyphs to level 21 by farming Tier 100 nightmare dungeons.
Gear Optimization: Look for high total armor percentage gear to prepare for the tough challenges in the Abatar of Zer content.
That's a lot to take in, but remember, Diablo 4 is about the journey and the destination. Whether you're blasting through enemies as a Tempest Necro or delving into the Blood Mancer build, the key is to enjoy the ride and adapt as you progress. So, gear up, get out there, and let the spirits guide you to Necromantic glory!
Most Popular Posts
Popular Category Lists