Diablo 4 S2 Most Powerful Builds Ranking after Post-Malignant Update
The Malignant update continues to bring Diablo 4 to life, and players are eager to know which builds will dominate. Our team of testers and analysts have compiled the definitive list of the top 10 builds in Diablo 4. Start with the Druid class and end with the most powerful build.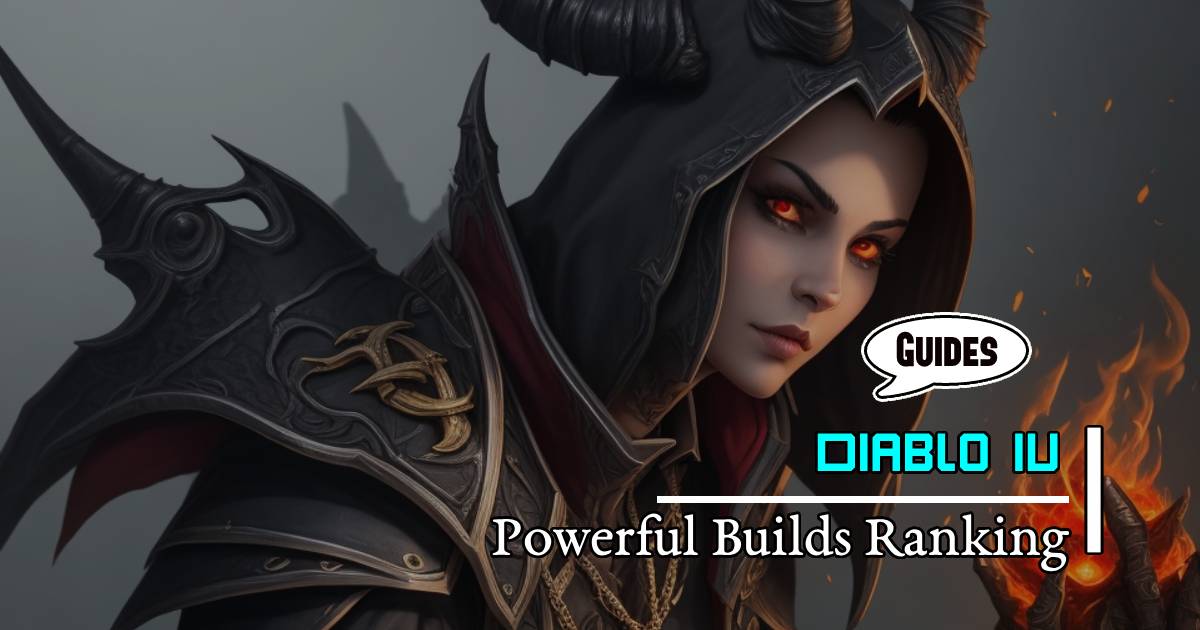 ↖ Ranking 10: Druid - Werewolf Tornado Build
This build is well-balanced, powerful, and versatile.
The ability to pull enemies with the Malignant ring makes it an effective grouping tool.
Suitable for tackling a wide range of scenarios, it has excellent speed and burst potential.
Pros:
Great for medium-range gameplay, allowing for safer play in dangerous situations.
Excellent movement speed for speed clearing.
Good burst potential and effective at grouping enemies.
Cons:
Lacks the extreme DPS of some other builds.
Not as dominant in the current meta compared to more broken builds.
Build Planner: https://tinyurl.com/2dk7z3c6
↖ Ranking 9: Twisting Blades Build - Rogue
With the latest unique ring enhancements, Rogue's Twisting Blades build is a powerful build.
It combines powerful burst, AOE, and mobility to make it an excellent build.
It should reappear stronger in the coming seasons.
Pros:
Strong burst and AoE damage, especially with the new unique ring enhancements.
High mobility and evasive gameplay.
Effective in both AoE and single-target scenarios.
Cons:
Overshadowed by more overpowering builds in the current meta.
Doesn't utilize the combo point system as efficiently as other builds.
Build Planner: https://tinyurl.com/kyj3h2j8
↖ Ranking 8: Sorcerer - Infinite Mist
Infinite Mist provides near-constant damage immunity even when dealing with packs of mobs, making it ideal for high-difficulty content.
It clears tier 100 mobs effortlessly and handles Uber Lilith without difficulty.
Pros:
Near-constant damage immunity in group fights.
Impressive burst damage for clearing Tier 100 packs.
Potentially well-suited for upcoming Blood Forge events.
Cons:
Less effective in single-target DPS compared to other builds.
May not excel in current meta focusing on single-target burst.
Build Planner: https://tinyurl.com/387bzerr
↖ Ranking 7: Sorcerer - Charged Bolts Build
The Charged Bolts build is a medium-range, high-survivability build that's especially effective against tougher enemies, and it uses the Fireball enchantment and Xals for explosive AOE damage.
Pros:
Superior survivability while maintaining relevant DPS.
Effective against both groups and single targets like Uber Lilith.
Utilizes fireball enchantment for explosive AoE damage.
Cons:
Lower single-target DPS than other sorcerer builds.
May become more relevant with changes in the meta, particularly in Blood Forges.
Build Planner: https://tinyurl.com/sn7krxkw
↖ Ranking 6: Sorcerer - Blizzard/Ice Spikes Build
Build with high DPS and crush bosses quickly, this build shines in its ability to layer attacks for maximum effect.
It requires a bit of setup but once it's up and running, it's incredibly effective.
Pros:
High DPS once fully ramped up.
Effective mob clear with the ability to cover large areas.
Good for setting up attacks on bosses during their immune phases.
Cons:
Requires time to build up to full effectiveness.
Slightly behind in DPS compared to the top builds.
Build Planner: https://tinyurl.com/bd2z4pb2
↖ Ranking 5: Barbarian - Upheaval Build
The Red Fur unique ring enhances the Upheaval's critical hit capabilities.
It is excellent for both mob clearing and boss fighting, offering a safer playstyle without sacrificing power.
Pros:
Effective for both mob clearing and single-target damage.
Unique playstyle with a mix of range and damage.
Enhanced critical hits with the new Malignant ring.
Cons:
Less immediate damage compared to some other Barbarian builds.
Requires specific setups for maximum efficiency.
Build Planner: https://tinyurl.com/2xpta83s
↖ Ranking 4: Necromancer - Bone Spear Build
Sacriligious ring enhances burst and DPS on this one-button build, which is great for long-range combat.
Pros:
Extremely high burst damage.
Simple to play with a one-button build concept.
Effective at long ranges, making it safer in difficult content.
Cons:
Lacks the utility and versatility of more complex builds.
Highly reliant on specific item synergies to maximize effectiveness.
Build Planner: https://tinyurl.com/2tefe9m7
↖ Ranking 8: Rogue - Combo Point Cap Breaking Build
Build offers strong burst and effective mob clearing.
It is an expertly crafted build for season 2, taking advantage of the Will of Tool and Condemnation.
Pros:
Exploits the combo point system for massive damage.
Effective in both mob clearing and single-target scenarios.
Unmatched in burst capability due to the combo point cap exploit.
Cons:
Likely to be nerfed or fixed in future updates.
Overreliance on a specific mechanic that might not be sustainable.
Build Planner: https://tinyurl.com/dzufbsdw
↖ Ranking 2: Barbarian - Hammer of Ancients Build
This build offers massive burst damage and overpowering damage, making it a fearsome choice no matter what the situation is.
Pros:
Capable of dealing billions in damage in a single hit.
Excellent for one-shotting enemies in Tier 100 and against world bosses.
Inherently tanky, making it suitable for frontline combat.
Cons:
Less versatile than other builds.
Reliant on specific setups for maximum damage output.
Build Planner: https://tinyurl.com/52ykj6v6
↖ Ranking 1: Sorcerer - Ball Lightning Build
The Ball Lightning build offers consistent, high DPS without the need for setup, making it an ideal build for quickly clearing mobs and handling any challenge.
Pros:
The highest consistent DPS in the game.
Extremely effective for speed clearing and open-world content.
No setup required, immediate damage output.
Cons:
Can be less effective in confined spaces or against spread-out enemies.
May lack the burst damage of the top melee builds.
Build Planner: https://tinyurl.com/2kpyubyh
↖ Conclusion
In Diablo 4, these builds represent the pinnacle of power.
There are many ways to enjoy the game, and each offers a unique approach to overcoming the challenges.
Whether you prefer brute force of the Barbarian or cunning tactics of the Rogue, there is a build here for you.
Most Popular Posts
Popular Category Lists