FFXIV Eureka Unlocking and Completing Guides in 2023
Eureka is a fun and rewarding experience in FFXIV in 2023. It allows players to obtain relic weapons and armor, upgrade their gear, and gain experience. This comprehensive guide will cover everything you need to know about unlocking and completing Eureka in 2023.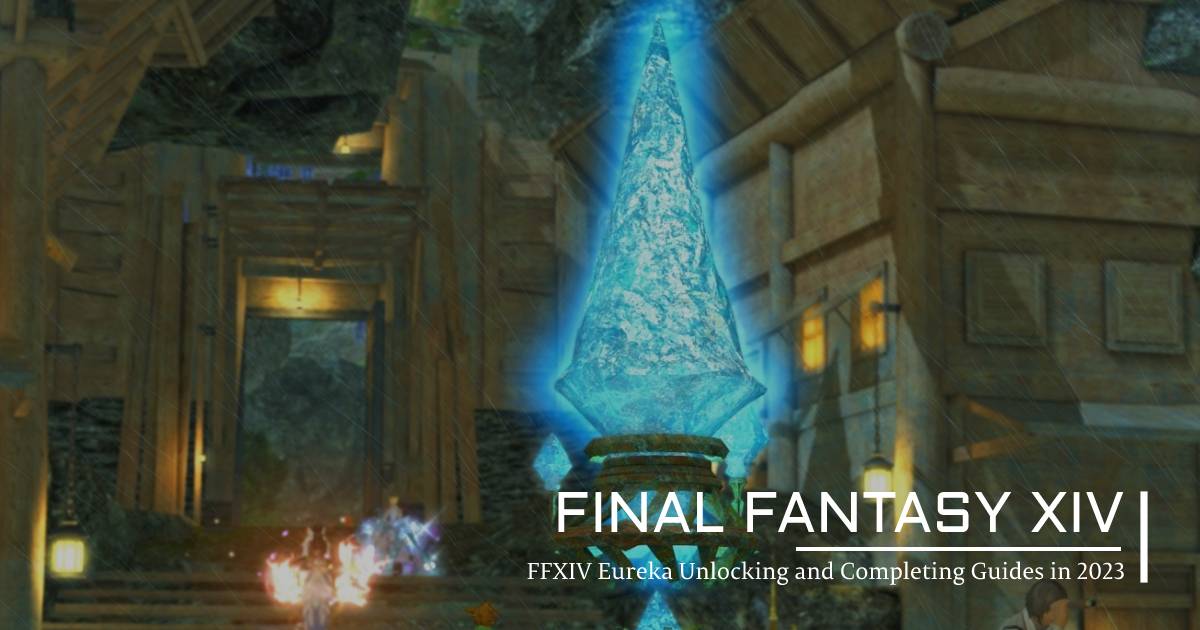 Before you enter Eureka, make sure to have the necessary items and gear for your class. Melee jobs should get Cryptic Seals, while caster jobs should get Damascine Cloth from the market board. These items will allow you to buy a special armor piece from the Nostalgic Fellow in Pier One Kugane, giving you an elemental bonus and making you significantly stronger in Eureka. Also, get some Potions of Harmony, giving you a 10% EXP buff in Eureka. An alchemist can craft these potions with materials from Pagos.
Make sure you have your level 70 job weapon from the job quest, as this will be necessary to upgrade into a relic weapon. You can buy it back from a Calamity Salvager in the major city-states if you have discarded it. Bring the original copies of your level 70 job gear to Eureka if you want a dyeable version.
Once you are in Eureka, attune to the Etherite at the start and use the Magia Board to give yourself an offensive or defensive bonus. Most of the time, put all your points into the offensive bonus. The challenge log will help you reach level 9 quickly. Use Eureka Tracker to look up which enemies spawn where and make it easier to find enemies around your level. Look out for Elementals around the map, which are colored fairies that will give you a regen and EXP boost that lasts for one hour.
Once you reach level 9, join an NM or Fate Train. To join a Fate Train, go into Shout chat and say that you are looking for a group for NMs or Fates. Join a Fate Train party to give everyone in the party a gold rate and ensure that everyone gets a lot of EXP from Fate. Respect hold times and ask for a res if you die instead of respawning, as death results in de-leveling.
To upgrade your relic, acquire some Anmos Crystals and turn them into Protein Crystals at Geralt in the main hub of Anmos. You will need 1300 Protein Crystals and three Pazuzu Feathers. Obtain Pazuzu Feathers by doing the Pazuzu Fate or trading Protein Crystals for them at the Expedition Bird Watcher in the main hub area. You will need an extra 900 Protein Crystals if you decide to buy all the Pazuzu Feathers.
Reach level 35 by doing the challenge log and all the fates in the zone. Do all the Eureka quests in the zone to acquire the kettle from Geralt? The kettle will allow you to collect frosted protein crystals, necessary to upgrade the relic within Pyros. Rush to level 40 or 41 as fast as possible by using the reflect farming method. Join the NM train and start farming your Pyros crystals once you reach levels 46-48. You will need 650 Pyros crystals and five Penthouselia flames to complete the relic. To get the glowy armor set, get the non-glowy armor set in Pyros and discover all 50 logos actions in the zone.
Finally, be aware of sleeping dragons throughout the zone. Slow walk (by pressing your walk key) and make sure you don't aggro them. Eureka can seem daunting, but with the right tips and tricks, you can make your journey through the zones easier and much more enjoyable.
Most Popular Posts
Popular Category Lists