PoE 3.21 Lightning Arrow Deadeye Crucible Starter Build
Welcome to the Lightning Arrow Deadeye build guide! This build focuses on clearing maps efficiently, though it may sacrifice some bossing power. It is recommended to obtain some good gear to maximize damage output, but it is possible to progress through the Atlas and obtain the first two Voidstones with just a 5-link.
POB: https://pobb.in/_OXdgQMhiLPn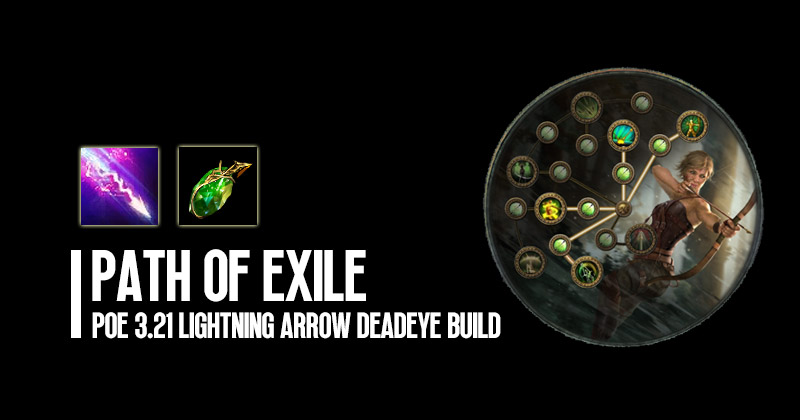 To start off, you can use Caustic Arrow, Galvanic Arrow, or Split Arrow until level 12, depending on your preference. Look for triple green colors and a GGB/GGR socket if possible. Pick up Onslaught, War Banner, and Frostblink from Nessa, and receive Mirage Archer, Dash, Quicksilver Flask, and Shrapnel Ballista as quest rewards. Look for Iron Rings, Lapis Amulets, and Heavy Belts to increase your resistances and life.
At level 12, start using Rain of Arrows and Added Cold Damage with Burning Arrow. This should be strong enough to defeat Brutus with ease. Afterwards, pick up Blink Arrow. At level 19, Precise Technique will give you more damage as long as your accuracy is higher than your life, so focus less on life nodes.
At level 20, Graceful Assault allows you to drop Onslaught for another damage gem. At level 22, obtain Point Blank for extra damage. In Act 2, obtain Herald of Ice, Herald of Thunder, Blood Rage, Faster Attacks, Trinity, and Elemental Damage with Attacks for 4 alterations. In Act 3, get Purity of Elements and Sniper's Mark. War Banner and Herald of Thunder can be dropped at this point.
Around Act 8, complete the Cruel Labyrinth to swap to Lightning Arrow. Use Lightning Arrow, Greater Multiple Projectiles, Trinity, and Elemental Damage with Attacks. When done with the Merciless Labyrinth, get an early endgame setup consisting of Determination, Lightning Arrow, Tornado, Hydrosphere, Cast when Damage Taken, Steelskin, and Mark on Hit.
For early gear, use a Thicket or Imperial Bow with Wrath, Hatred, Anger, or Zeal essences. For an early endgame bow, craft on an ilvl 82 one. Look for life and resistances, and fix strength and intelligence issues with Essences of Spite or Rage and an Agate Amulet and Heavy Belt.
Most Popular Posts
Popular Category Lists