POE 3.21 Builds: Dominating Summon Raging Spirit (SRS) Necromancer, 51M DPS
Welcome to the build guide for a Poison Summon Raging Spirit Necromancer with a massive 51 million DPS in POE 3.21. This build is designed for players with significant POE currency to invest in and who want to dominate the endgame content. It is focused on using SRS to deal massive amounts of poison damage to enemies while also having excellent survivability through minions and energy shields.
PoB Link: https://pastebin.com/9A4XSdNH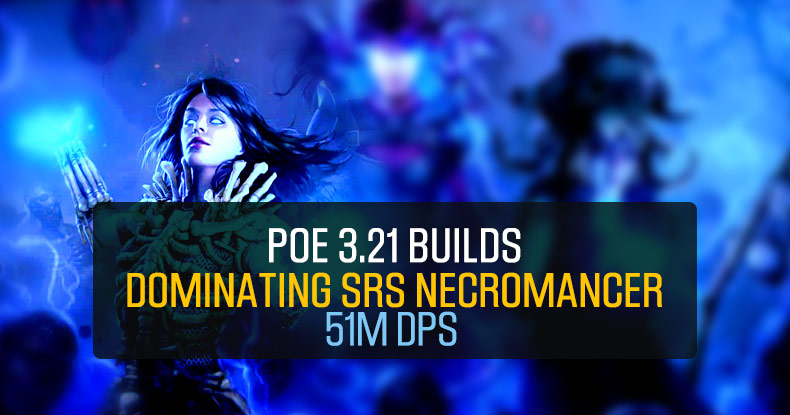 Overview
The gameplay for this build revolves around summoning SRS and using Desecrate to generate corpses for Flesh Offering. The Vaal Haste aura and Summon Stone Golem will provide additional buffs, while the Raise Spectre will provide extra damage.
Convocation, Enduring Cry, and Steelskin can be used for survivability. This build is designed for endgame content and requires expensive gear to achieve its full potential. It provides high damage output and strong defense, making it a great choice for players who enjoy the Necromancer playstyle.
Passive Tree, Ascendancy, Bandits and Pantheon
Passive Tree: We will follow the same passive tree as the previous build, but we will add some points to get Mind Over Matter, Divine Shield, and Mastery to recover 5% of minion life on minion death.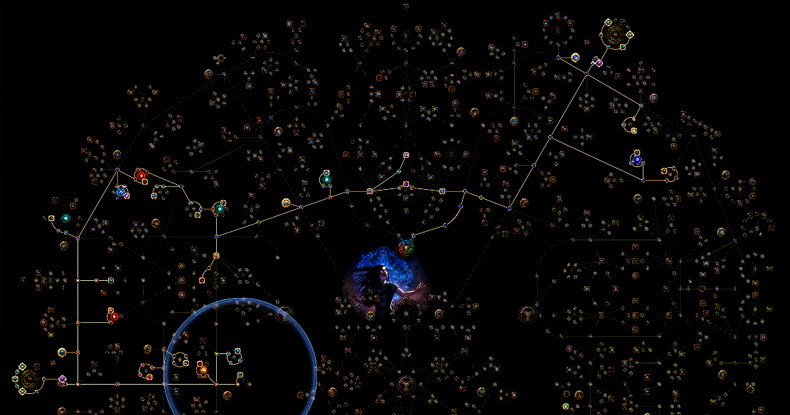 Ascendancy: The Ascendancy is Necromancer with Mistress of Sacrifice, Commander of Darkness, Plaguebringer, and Corpse Pact.
Bandits: We will choose Alira for the 20% increased mana regeneration rate, 15% increased global critical strike multiplier, and 5 mana regeneration per second.
Pantheon: We will choose Soul of Arakaali for the 50% increased Recovery of Life, and Energy Shield, if you've stopped taking damage over time recently and Soul of Lunaris for the 5% chance to Dodge Attack and Spell Hits if you've been hit recently, and 1% additional Physical Damage Reduction for each nearby enemy, up to 8%.
Gems, Gear, Jewels and Flasks
Gems: The primary skill for this build is Raise Spectre (SRS). Here are the key gems that you will need for this build:
Raise Spectre: Used to summon the Spectres that deal massive poison damage.
Larger Multi-Projectiles: Increases the number of projectiles Wraiths fire, thus increasing their overall damage output.
Minion Damage: Increases the damage dealt by your minions.
Vicious Projectiles: Increases your minions' critical strike chance and critical strike multiplier.
Empower: Increases the level of your gems, resulting in more damage dealt by your minions.
Other important gems include Flesh and Stone, Malevolence, and Despair. Flesh and Stone provide increased physical damage reduction and blind nearby enemies, making them less likely to hit you or your minions. Malevolence increases the damage dealt by your minions, while Despair applies an additional curse that increases the damage taken by enemies affected by it.
Gear: Here is a list of the key items required for this build:
The Covenant: Provides increased chaos damage and minion life and grants you the Desecrate skill.
Allelopathy: Gloves that grant your SRS the Spell Cascade support gem, increasing the number of SRS spawned.
Fenumus' Shroud: Provides increased chaos damage and a chance to inflict spider's web on enemies, slowing them down.
Kingmaker: Provides additional critical strike chance and damage and grants fortify and Culling Strike to nearby allies.
Aegis Aurora: A shield that provides an increased energy shield and a chance to recover it when you block.
Garb of the Ephemeral: Provides increased life and energy shield and makes you immune to critical strikes and ailments.
Unset Ring: Allows you to socket an additional aura, such as Malevolence or Haste.
Jewels: The key jewels to use for this build are:
Watcher's Eye: Provides additional damage while affected by Malevolence.
Ghastly Eye Jewel: Provides increased minion damage.
Searching Eye Jewel: Provides increased chaos damage.
Flasks: Here are the recommended flasks for this build:
Divine Life Flask: Provides instant healing and removes bleeding.
Quicksilver Flask: Provides increased movement speed.
Basalt Flask: Provides increased physical damage reduction.
Stibnite Flask: Creates a smoke cloud that blinds nearby enemies.
Atziri's Promise: Provides increased chaos damage and life leech.
Conclusion:
With this build, we can dominate the endgame with a 51m DPS Poison SRS Necromancer. It requires expensive items but can do all content and is very tanky. We have updated the build, adding Mind Over Matter, Divine Shield, and Mastery to recover 5% of minion life on minion death. We have also added an extra aura slot with All's Uprising and an Unset ring.
Most Popular Posts
Popular Category Lists