Path of Exile Crucible Ancestral Vision Build Guides
Welcome to this POE 3.21 Builds guides about Ancestral Vision, the new unique item introduced in the Path of Exile Crucible. This item offers players a 50% chance to avoid elemental ailments such as freeze, ignite, shock, scorch, and more. This can be a game-changing feature for players, as ailments can often be deadly and unavoidable.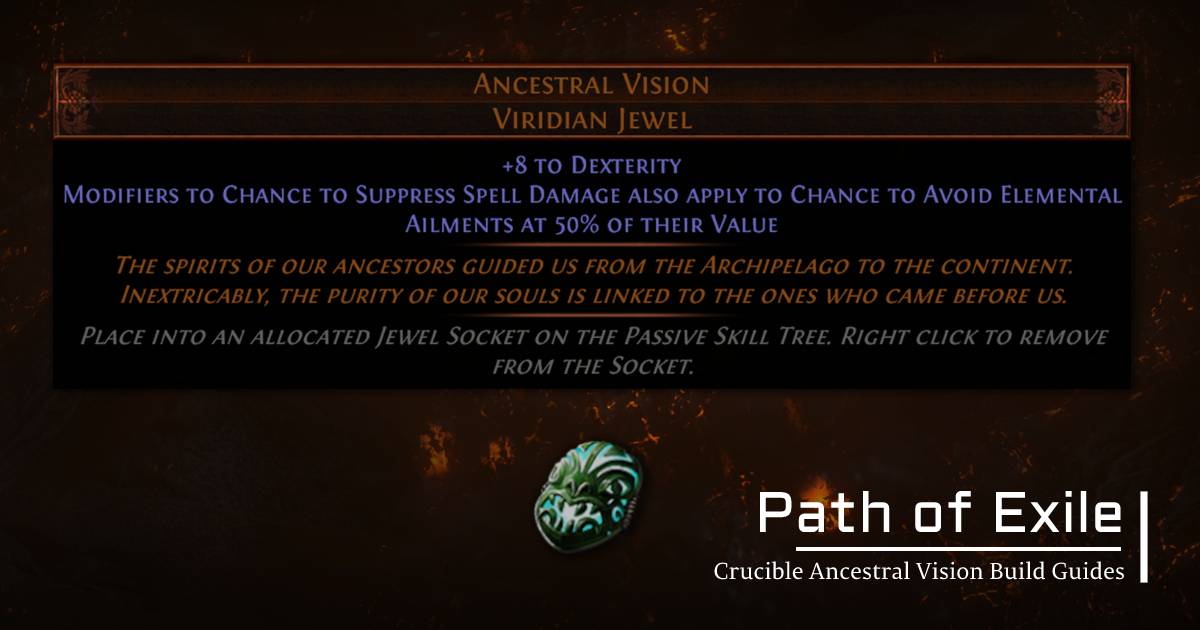 Freeze immunity is a valuable asset for players to have, and players can obtain this through flask affixes or pantheons. Ignite, shock, scorch, and brittle can cause massive amounts of damage, and scorch can even reduce resistance, making it more challenging to survive. Ancestral Vision offers a chance to avoid these ailments and take only half damage from enemy spells, making it an invaluable source of defense.
To achieve a 100% chance to avoid elemental ailments, players can look at several potential sources. One of the easiest ways to obtain a 50% chance is by rolling a pair of boots with the Eldritch implicit through the Essence of Loathing. For raiders, there are buffed cluster nodes and life nodes near the Raider area that offer the chance to avoid ailments and maximum resistance. It's also possible to obtain up to 35% on your chest piece.
Ancestral Vision is an excellent option for both high-budget and low-budget builds. It allows players to use a rare jewel for something else, such as a storm chat and can be rolled for as low as one or four divines. Additionally, it offers broad immunity, coupled with other powerful defensive benefits that can be incredibly useful.
In conclusion, Ancestral Vision is a fantastic poe item for players looking to enhance their defensive capabilities in Path of Exile. Its unique features offer players a chance to avoid elemental ailments and take less damage from enemy spells, making it a valuable asset in any build. By utilizing the various sources available, players can achieve a 100% chance to avoid ailments, making Ancestral Vision an even more potent item. So, try it out in your next build and stay safe from elemental ailments!
Most Popular Posts
Popular Category Lists